Competitive Data for retailers
Strengthen your pricing by utilizing the best in class competitive data service with:
Product matching
Custom scraping and crawling
Easy and fast integration
Careful support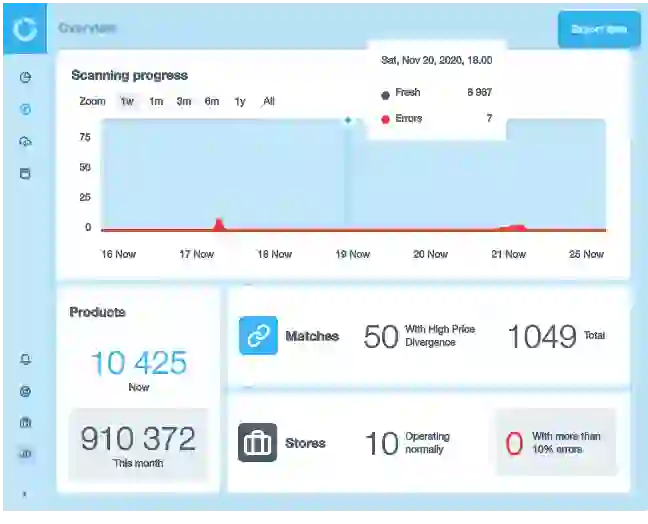 Competera helps retailers to cover every pricing need
Competitive Data fits best retailers with strong e-commerce channel and large product portfolio.
Cost-plus
Margin-centric
Ad hoc repricing
Human-driven decision
Market-driven
Competitor-centric pricing triggered by market changes
Regular repricing
Constant manual check
Data dependence
Rule-based
Based on rules and business constraints
Automated real-time repricing
Human-supervised
Market-share focused
Elasticity-based
Mix of rules & demand-based pricing
Goal-oriented repricing
Manager as a strategist
Portfolio coverage
Personalized
Shopper-centric pricing
Individual offers based on LTV
Balance between customer demand and business goal
Competera Pricing Platform
A unified workplace with an easy-to-use interface
Competitive Data
High-quality, timely product matches and data scraping covering any region, currency, or language in a single dashboard – designed for retailers with tens of thousands of products.
Pricing automation
Coherent, fast and flexible pricing with defined workflows and a transparent cause & effect analysis of every price change. Details
Price optimization
Elasticity-based price setting driven by demand patterns, products cross-impact and more than 20 pricing and non-pricing factors. Details
Who wins with Competitive Data?
Competera is an industry-agnostic platform most suitable for retailers with a certain business type and maturity.
Online and omnichannel

retailers with strong e-commerce
From hundreds to tens
of thousands products
in portfolio
Presence in one or multiple markets regardless
of regions
Quality validated by results
Competera collects and delivers tens of millions of competitive prices daily. With a 99% average match and delivery rate, our clients can be assured of the highest quality of any data they need.
Every data point is secured by the SLA agreement and goes through both manual and automated quality assurance procedures before the information goes live. After various checks for data types, data completeness, comparing dataset with previous dumps, etc., the transparent data collection appears right in a convenient user dashboard. Flexible. Scalable. Bespoke.
Get the latest info on prices, shipping prices, availability, sellers, promo, product attributes or any other product characteristics of your competitors. In short, Competera scrapes any competitive pricing data present on the screen or in code of direct competitors' websites or price comparison websites and marketplaces.
What's more, you can schedule scraping according to your requirements – once a month, a week, a day, or even every 15 minutes. Your matches will be on time regardless of format, languages, markets, pricing zones, currencies, and other factors.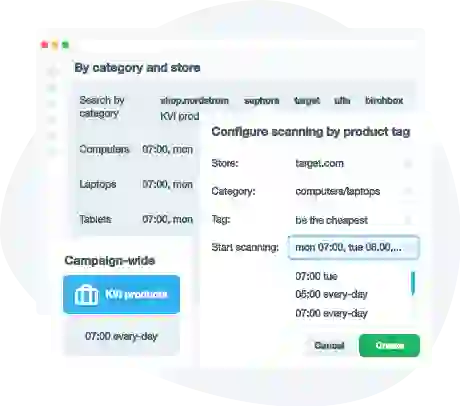 Dedicated adoption and service
Our team fully manages a seamless and straightforward integration of the Competera platform considering retailer's technical and business expectations. All it takes is to provide a small amount of your data and choose an integration option (FTP, Amazon S3, Azure Blob storage, API, Flat files, etc.)
After the successful start, every client receives a dedicated high-touch customer success manager acting to advise, implement and fine tune our service to your specific needs.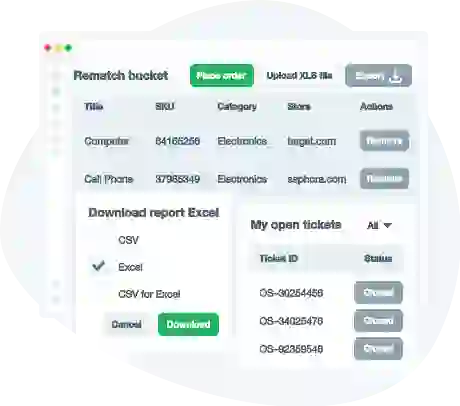 Analyze instead of just collecting
Competera allows retailers to visualize the competitor price monitoring data, providing you with answers to any question concerning the market. Who is your real competitor? What is your price positioning or price index?
Get various insights to make informed and genuine pricing decisions.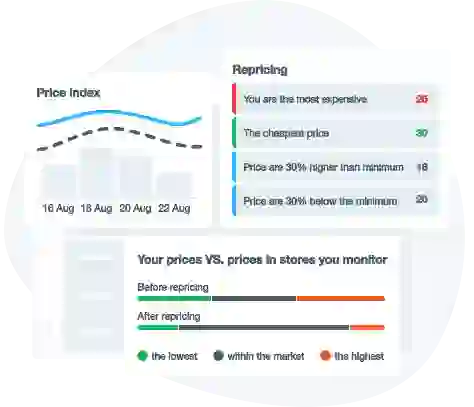 Uncover the full potential
of Competitive Data
See how to use insights on the promos, stock, and credits of your competitors to enhance your competitive pricing strategy.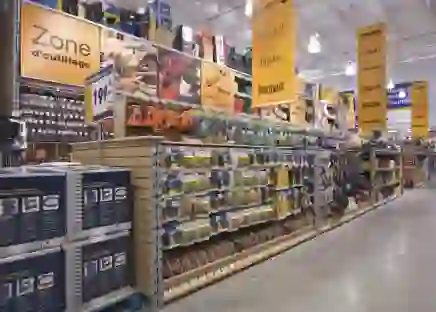 Get started in two weeks
Competera integration is fast and seamless, and the Competitive Data operation can be described as follows
Input data
Product lists integration

Competitors
lists integration

Competitors vs Product category mapping

optional

Product
matches specs

Data scraping specs

Full Crawl specs

Product
matching

Data scraping preparation

Data scraping

Full сrawling

Data scraping QA

Full сrawl QA
Product Matches
Automated and manual matches of your products vs. competitors covering the most sophisticated product groups and industries
Data Scraping
Get any fast-changing data like prices, stock availability, shipping prices, etc. with the required frequency.
Full Crawl
Extract full catalogs from e-commerce websites in a structured way to use it for assortment and content analysis