Elevate Your Pricing from Intuitive
to Data-Driven Strategies That Work
Hit the right revenue-margin targets, experiment with winning pricing scenarios, and focus on what really matters. Competera is here for you to make this easy.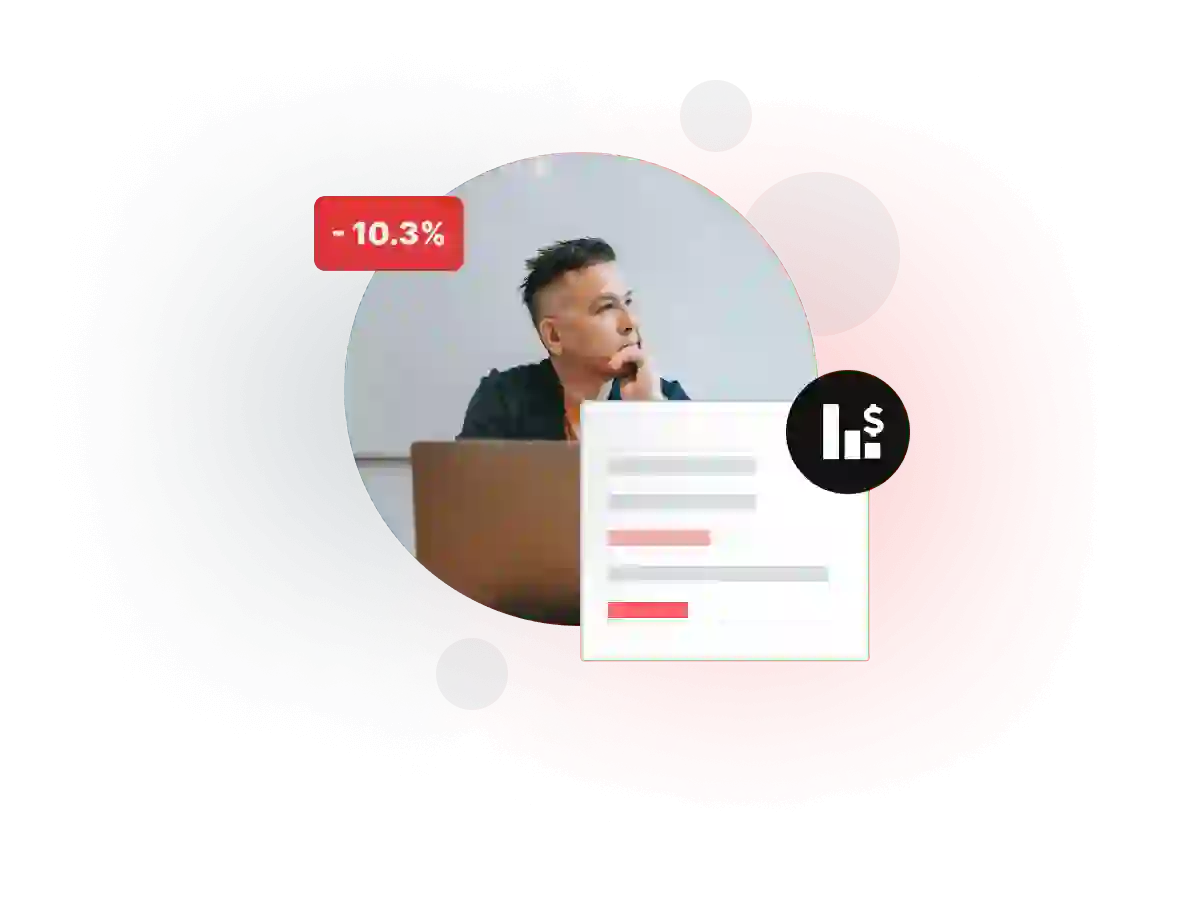 Try Different Scenarios
Benefit from the "What if?" feature to foresee pricing scenarios' impacts and balance your stakeholder needs. Adjust, experiment, and customize your pricing forecasts across SKUs. From prioritizing KVIs to promo campaigns and more, our seasoned Price Architects ensure you have the optimal pricing.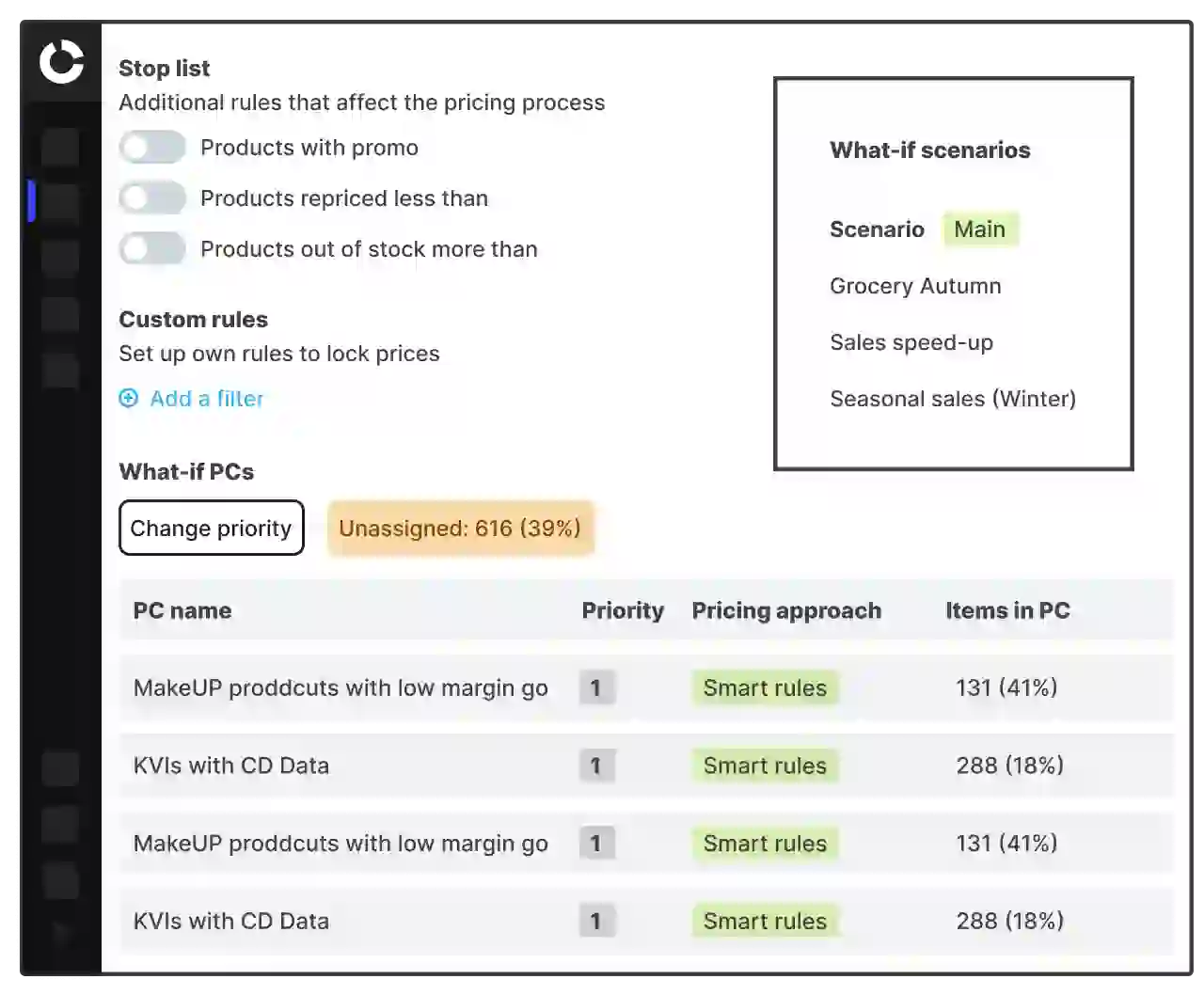 Put in Order Your Process
Decrease repricing time from 60 to 4 hours weekly with auto-adjustable prices for each SKU. You can shift focus from managing individual product prices to a broader category or group approach. With our tailored scrapping logic, all the data you need lands in ready-to-digest datasets in real-time.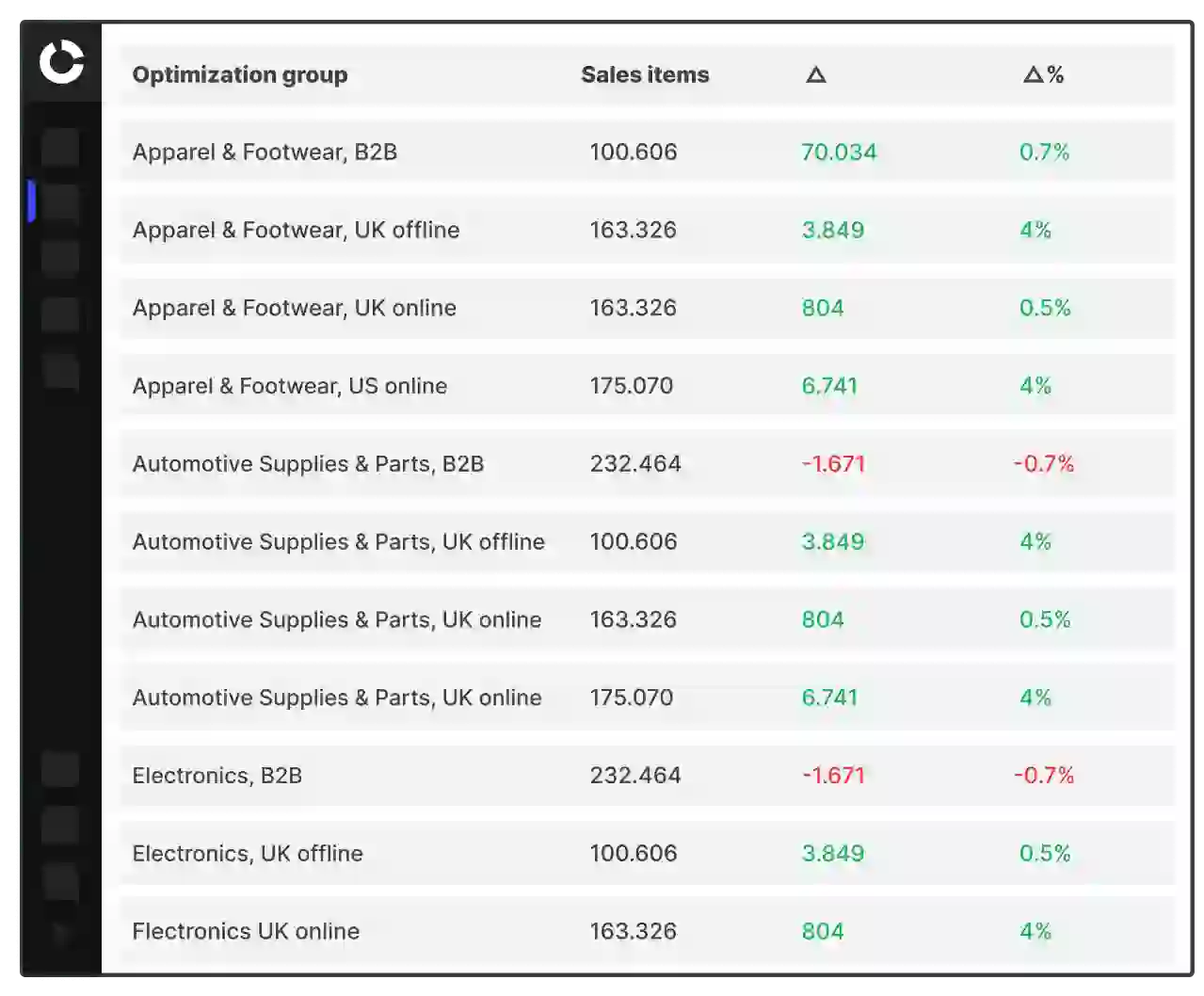 Your Price Transformation Journey Starts Here
Our Price Architects are co-pilots who stand by your side throughout the entire pricing journey. Focus on achieving your strategic pricing goals while we help with tactics and routine tasks.
Personalized

Shopper-centric pricing

Individual offers based on LTV

Balance between customer demand and business goals

Optimized
Elasticity-Based

Real-time repricing

Manager defines goals

Portfolio coverage

Forecast impact

Automated
Rule-Based

Based on rules and business constraints

Market-share focused

Automated repricing

Human-supervised

Manual
Market-Driven

Competitor-centric pricing triggered by market change

Constant manual check

Regular repricing

Data dependence

Cost-Plus

Human-driven decisions

Ad hoc repricing

Margin-centric
Success Is a Journey. Let's Complete It Together
Experience a profound impact on your bottom line with four pillars of pricing transformation by Competera.
Expertise-Driven Consulting
Proven track of record for 90+ clients
Helping with optimal pricing since 2014
Organizational change management
Supreme Technical Solution
Real-time market data
Matchings quality ~ 98%
2.4B annual data points
Committed to Help
Reducing repricing time by 50%
Up to 8% of recovered revenue
Up to 6% margin loss prevention
Dedicated Project Team
Seamless technical integration
PoC to try before buying
Maintenance Support
"Competera's platform is a great tool for price optimization and price management. As a user, I really appreciate the Competera dashboard which gives me the opportunity to work on any level — from the portfolio level to going as deep as the SKU level. With Competera, we know which strategy is gonna benefit us the most and go from there."
"We believe Competera is the best in the industry. Their platform provides a set of tools, including market-based pricing and AI-driven demand-based pricing, that offers solutions to an immediate need, as well as our long-term plans. They have quickly become a strategically important player that we entrust with enabling a core element of our business."
Kamera Express has been working for 5+ years with Competera. During our partnership, we switched and expanded the number of competitors we monitor multiple times. We also started using the Competera API to integrate competitor data into our ERP system to automate pricing decisions further and use dynamic pricing based on availability. Competera helped us a lot over this time, gave us more data on competitor pricing strategies, and supported us daily in margin discussions with our suppliers.
"Price benchmarking and promotion analysis reports have been well received and appreciated across Markets. Pricing and Category managers can use reports with minimal training, thanks to very intuitive and user-friendly UI/UX. Also, the high dashboard up time, data freshness facilitated by daily crawls, data export features, and customization of price comparison logic has proven to be a game-changer for our teams."
Let's talk about pricing!
With Competera, you also join a powerful Retail Pricing Family that can help you grow your business and solve challenges faster.
Pricing Academy
Dive deep into our comprehensive courses, designed to empower your pricing strategies and methodology. Your journey towards pricing excellence begins here.
Learn more
Community
Connect, explore, and grow with pricing professionals globally. Discover the latest insights, news, and discussions shaping retail pricing.
Join Community
Pricing Hero Podcasts
Gain knowledge from experienced Pricing Managers. Listen as they unravel their experiences, share valuable tips, and navigate the retail pricing universe.
Listen to Podcasts
Start a Pricing Journey with Competera
Let's align how well Competera will
cover your needs.