How to calculate Price Index. Formula
Get to know your Competitors' Impact On Your Sales In 15 Minutes
Do you know who your real competitors are? Maybe the first companies that come to mind are in the same industry as you, with a similar business model. On paper this sounds like a good way to determine competitors. But they may not necessarily be your true market rivals, and if you are creating your pricing strategy based on non-competitors, your strategy will fall short.
Luckily, there's a simple workflow you can follow to single-out your real competitors, calculate their impact on your sales, adjust your pricing strategy, and avoid price wars.
How To Define Your Real Retail Competitors
To find out who exactly influences your sales, you first need to calculate the Price Index.
According to Wikipedia, Price Index is a normalized average (typically a weighted average) of price relatives for a given class of goods or services in a given region during a given interval of time. The same Wikipedia article displays very complex formulas to explain the idea of PI, but we are here to share with you a much simpler method you can apply directly to your business with minimal effort.
Example:
The simplest example of Price Index usage is for the end of the week, month, quarter, or year when the retailer wants to discover the reasons why their net profit decreased. As long as the Price Index is directly connected to sales, it's easy to see using historical sales and pricing data.
Below you'll find a theoretical and practical part on how to define your real competitors and their impact on your sales.
Price Index Calculation
To calculate the price index, firstly, you need to collect all the price overlaps pairs (the intersections of products that you and your competitors have).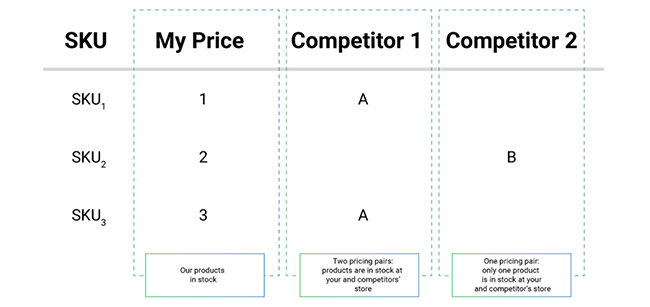 Once you have this information, you need to calculate the price index for each product and for each competitor. To do this, you need to divide the cost of a competitor's product by the cost of a similar position from your range.

To calculate the average price index, you can use the following formula: divide the sum of the received price indexes by the number of competitors.

Lastly, to see how competitor prices influence your sales, you need to determine the average price index for each competitor. This can be calculated by the following formula:

Now you can visualize all the data you've calculated onto a graph to discover all the deviations.

If you add your sales metrics to the same graph, you'll be able to easily define which competitors impact your sales (in the graph below, Competitor 2 is the most impactful).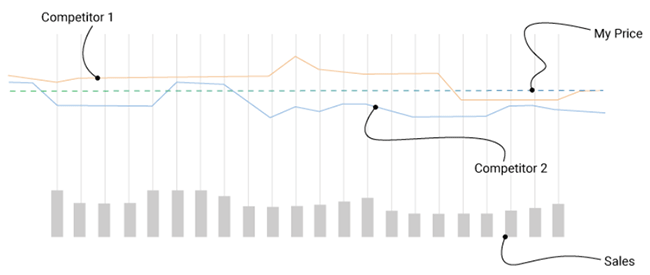 Coming Soon: Your Direct Competition Revealed
If you're interested in:
Discovering your main market rivals
Finding out which competitors impact your sales
Having a detailed comparison report of your product portfolio
Refinig your repricing process
Submit your email for premier access to our up-and-coming competitor comparison technology
So How Exactly Can a Retailer Calculate The Price Index?
There's a simple flow you can follow to calculate the Price Index using the above formulas.
Collect fresh and accurate competitive data on prices and stock

To get a reliable result, you need to use reliable raw data. This is why it is essential to monitor competitor's prices and stocks on a daily basis. For some industries, e.g. electronics, it's necessary to monitor prices multiple times per day. Otherwise, you're data is likely to be outdated and you'll be comparing yourself to competitor prices that no longer exist.

Create a Single Spreadsheet With All the Data You've Collected

In order to manage your data, you need to store it in a single place.

Apply Formulas From the Previous Paragraph

So long as you're already familiar with MS Excel or another spreadsheet building software, applying formulas to your data in your spreadsheet should not be too complex of a task.

Build a Chart

This bullet point is not obligatory, but very useful to better visualize deviations and recognize the dependencies between competitor's changes and your sales results.

Add All Your Sales Data

As we mentioned before, the Price Index is useless without sales data. The Price Index shown by itself will give you market data, but will tell you nothing about market impact without sales data.

Discover the Exact Activity That Affected Your Sales

With all of this information properly calculated and demonstrated, you'll be able to see what and who affected your sales at a given time.
Complexity of Calculation
Implementing these calculations is easier said than done.
The first issue retailers usually face is regarding data quality. Some of them grab data from marketplaces, instead taking data from their rival's website directly. Other companies use self-made parsers. Some hire people to scrape data manually, or buy cheap solutions that deliver low-quality data. This low-quality data often leads to poor pricing decisions.
However, even if you resolve any issues regarding data quality, you may still have problems with data processing or analysis. Errors caused by human factors can occur at any stage of this process; during data collection, its consolidation, analysis, or your repricing process, for example.
Knowing all this, you can now define your key competitors in 15 minutes. However, the preparation process can be complex, and take much longer than 15 minutes unless you're using an advanced pricing solution for your data needs. Advanced software allows you to automate all the processes on data mining and merging, price comparison and price changes, which saves you the time and frustration of collecting and comparing all of this data manually. You can check out a dedicated case study that gives an in-depth look into how advanced software can be implemented in this regard.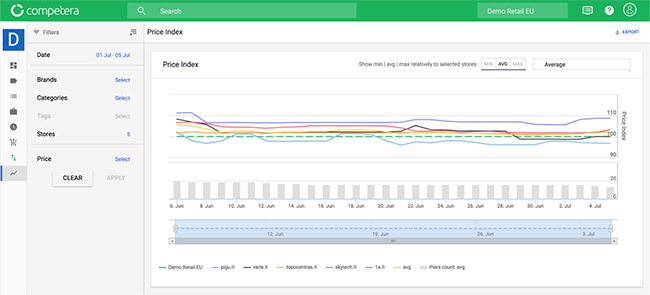 With that said, if you define your key competitors correctly, you'll be able to choose the best products for promotion, set competitive-yet-profitable prices, forecast demand and inventory, increase total sales by driving associated products, and much more.
Calculate the Price Index, discover your market landscape, uncover detailed insights from collected data, and make smarter business decisions!
Summary:To maintain a balance in an omni-driven retail world, determining your key competitors is crucial. To reach this goal, you need to collect reliable data, calculate the Price Index, and obtain an automated system to create an efficient repricing flow. This article discusses the topic of Price Index calculation itself, and how it is conducted.
Originally published at Capterra.