Competition-based Pricing for Retailers
Increase your revenue utilizing pricing triggered by market changes. You'll get a holistic pricing environment powered by pricing rules and enhanced competitive coverage.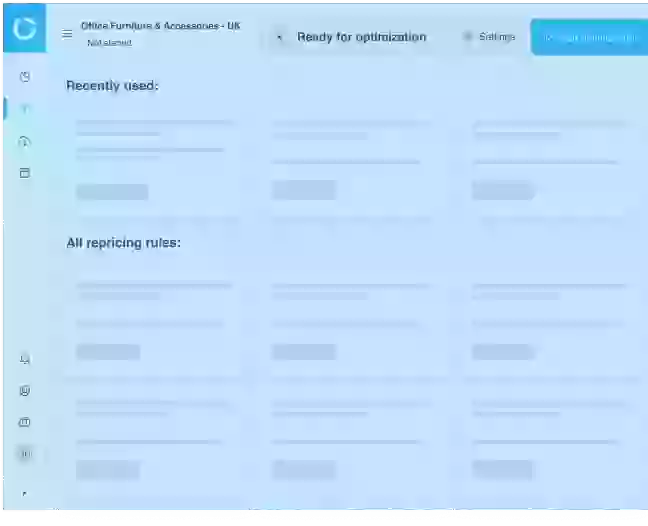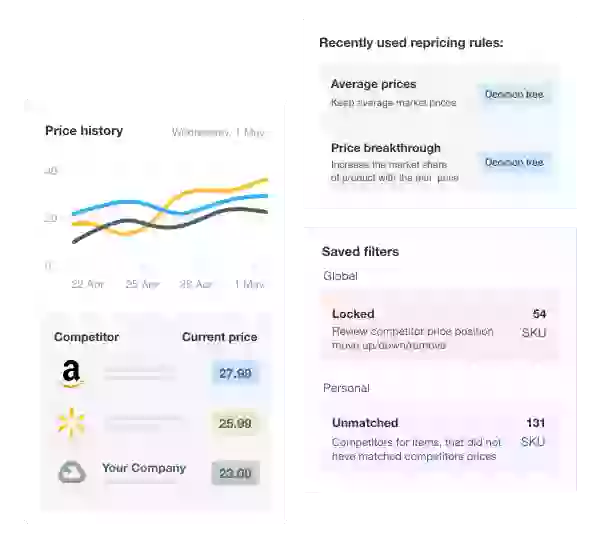 Retail Fit
Competera is an industry-agnostic solution suitable for omnichannel, mono- or multi brand retailers with a certain business maturity.
Cost-plus
Margin-centric
Ad hoc repricing
Human-driven decision
Market-driven
Competitor-centric pricing triggered by market changes
Regular repricing
Constant manual check
Data dependence
Rule-based
Based on rules and business constraints
Automated real-time repricing
Human-supervised
Market-share focused
Elasticity-based
Mix of rules & demand-based pricing
Goal-oriented repricing
Manager as a strategist
Portfolio coverage
Personalized
Shopper-centric pricing
Individual offers based on LTV
Balance between customer demand and business goal
Competera Pricing Platform
A unified workplace with an easy-to-use interface
Competitive Data
High-quality, timely product matches and data scraping covering any region, currency, or language in a single dashboard – designed for retailers with tens of thousands of products. Details
Pricing automation
Coherent, fast and flexible pricing with defined workflows and a transparent cause & effect analysis of every price change. Details
Price optimization
Elasticity-based price setting driven by demand patterns, products cross-impact and more than 20 pricing and non-pricing factors. Details
Getting started in 2 weeks
There are only 3 steps to start utilizing a сompetition based pricing engine and reprice thousands of your SKUs twice faster.
Step 1
Add your data
Product lists, competitive data, data used in pricing rules
Step 2
Set your rules
Choose preset or customizable rules and constraints to execute your pricing strategy
Step 3
Reprice
Get optimal prices and feed them into your ERP
Get full control over each SKU in your portfolio
With Competera, you'll get all the tools to make a right pricing decision. Customized product lists, interpretation of business rules for each SKU, highlights of market changes, pricing history of your competitors, days before the stock clearance, and much more.
Historical data are generated and processed automatically, taking the necessary information from the business ERP.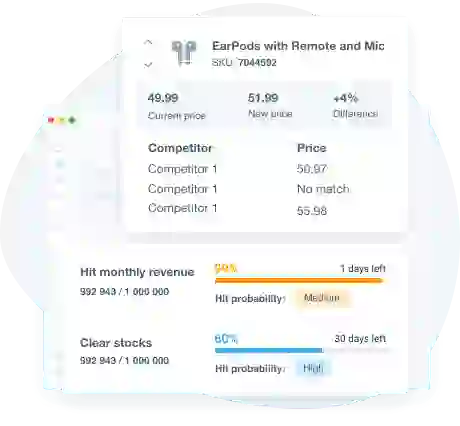 Business rules instead of manual routine
Your pricing logic can be built upon any data including competitive data from direct sellers or marketplace (e.g. Google shopping), sales, cost data, Google Analytics data, promotion or stock clearance attributes, etc.
Choose your business rules from our preset library or customize your own. Competera will provide a transparent price-setting process with cause & effect analysis and deliver optimal prices right in your client's dashboard.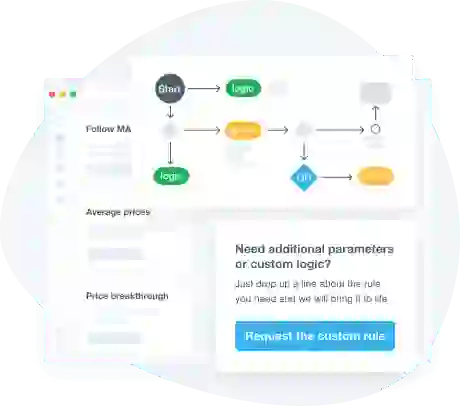 Сompetition pricing trusted by market leaders worldwide
Outstanding competitive coverage
Obtain integral market understanding of competitors' pricing and non-pricing information to perfect your pricing strategy. With the ready-to-use information you'll be able to increase sales without the reduction in profit.
Monitor marketplaces and price comparison websites instead of direct competitors sites.
Diversify the monitoring frequency based on the product role.
Reduce competitor monitoring costs – split the competitors list by product groups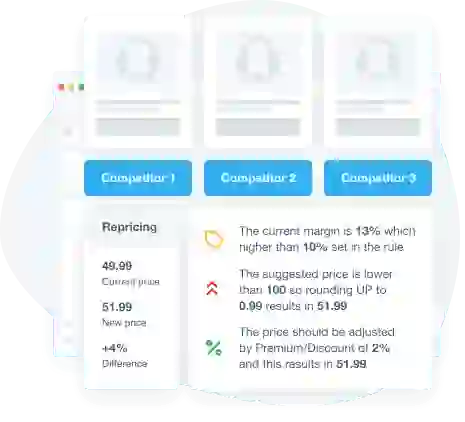 No more variability problem
Using outdated pricing approaches, such as tables, there is always a variability problem. One mistake in a formula can cause the whole system to fail.
With Competera, your business will get rid of such issues. Our platform is subject to strict architecture and agreed rules. Moreover, you can design your own rules hierarchy which is not supported by other outdated solutions.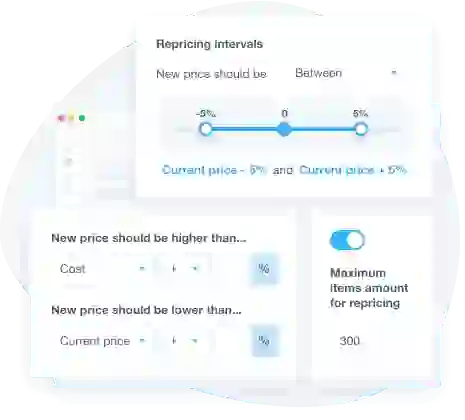 What else for competition based pricing strategies?
Competera features allow each pricing team to play by their own rules, selecting the right functions when you need them.
Pricing logic based on any constraints and variables
SKU-level price interpretation
Own library of common pricing rules and constraints
Own and competitors' stock execution