100% Quality Data
Right In Time
For those who don't know, online shop price monitoring is an extremely time-consuming and resource-intensive process. Here at Competera headquarters, we created a special technology of price crawling that's constantly improved and already provides quality data crawling for more than 100 clients. It is easy-scalable and can be quickly configured to fit your business.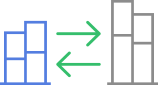 Mind-Blowing Product Comparison Technology
Competera crafted a unique algorithm for comparing products. The process is fully automated with a team of professionals dedicated to provide manual support for matching products. You get the highest quality output data & product comparison. Our matching technology is being constantly improved making it smarter and more powerful on daily basis.

User-Friendly
With Flexible Integration
The system is incredibly easy-to-use. All features are simple and straight-forward allowing you to make customisable reports on your own. There's no need to request any personal coaching to learn the basics. If you need ERP integration or API for any BI tool that is used in your business – Competera can be easily integrated for your best convenience.