Retail industry is full of challenges. Labor and supply chain costs increase, negotiations with suppliers get more difficult, and the competition intensifies. Above all, building comprehensive and personalized customer experience remains the core dimension in retail competition. Online, omnichannel, and brick&mortar retailers are all striving to build a unique shopping experience at the junction of pricing, assortment planning, and marketing. In this article, we show how Competera will help your team to become a personalization rockstar.

Personalization is everywhere and there is no better example than retail to show how game-changing it is. Epsilon's recent research found that 80% of consumers seek for personalized shopping experience, yet only 12% of marketers are satisfied with the level of personalization they offer to clients. Obviously, building personalized customer experience is not possible without a tech proficiency and data-savvy approach inside the business.
Willing to build a relevant and highly-personalized shopping experience, offline and online retailers invested more than $203 billion in digital technologies this year. Personalization begins with pricing as it's the first thing customers consider while shopping. What retail needs are enhanced managers and customer-centric tech solutions to grab analytical insights on sales, consumer preferences, market trends, seasonality, and other pricing factors.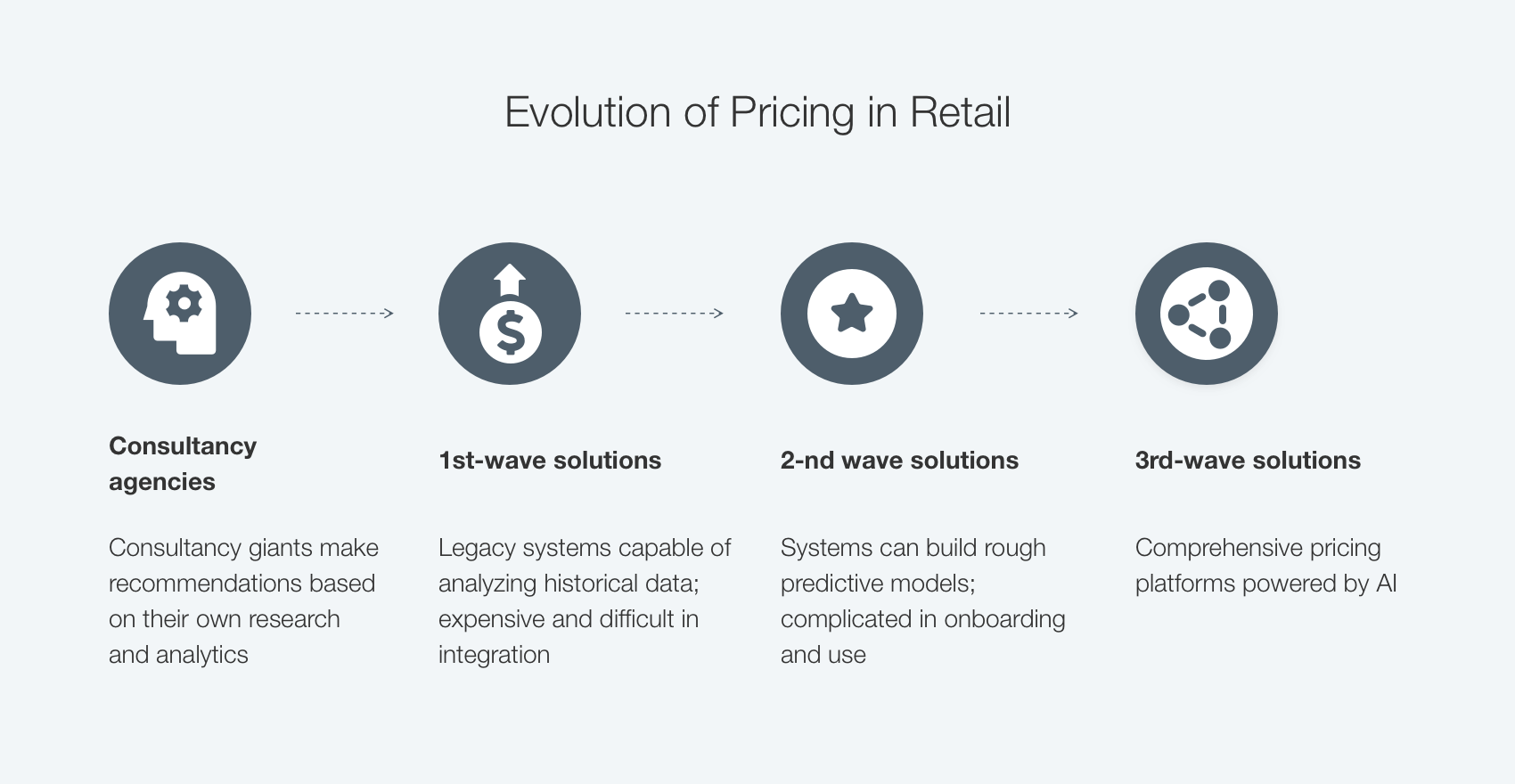 The third-wave tech solutions enable retailers of all types to reach automated and goal-driven optimal pricing. This means that the retail giants are no longer unquestionable trendsetters in building personalized shopping experience.
Competera was one of the pioneers boosting recent tech shift in the industry. In the last few years, we reaffirmed our position as one of the top pricing solutions in retail and here's why: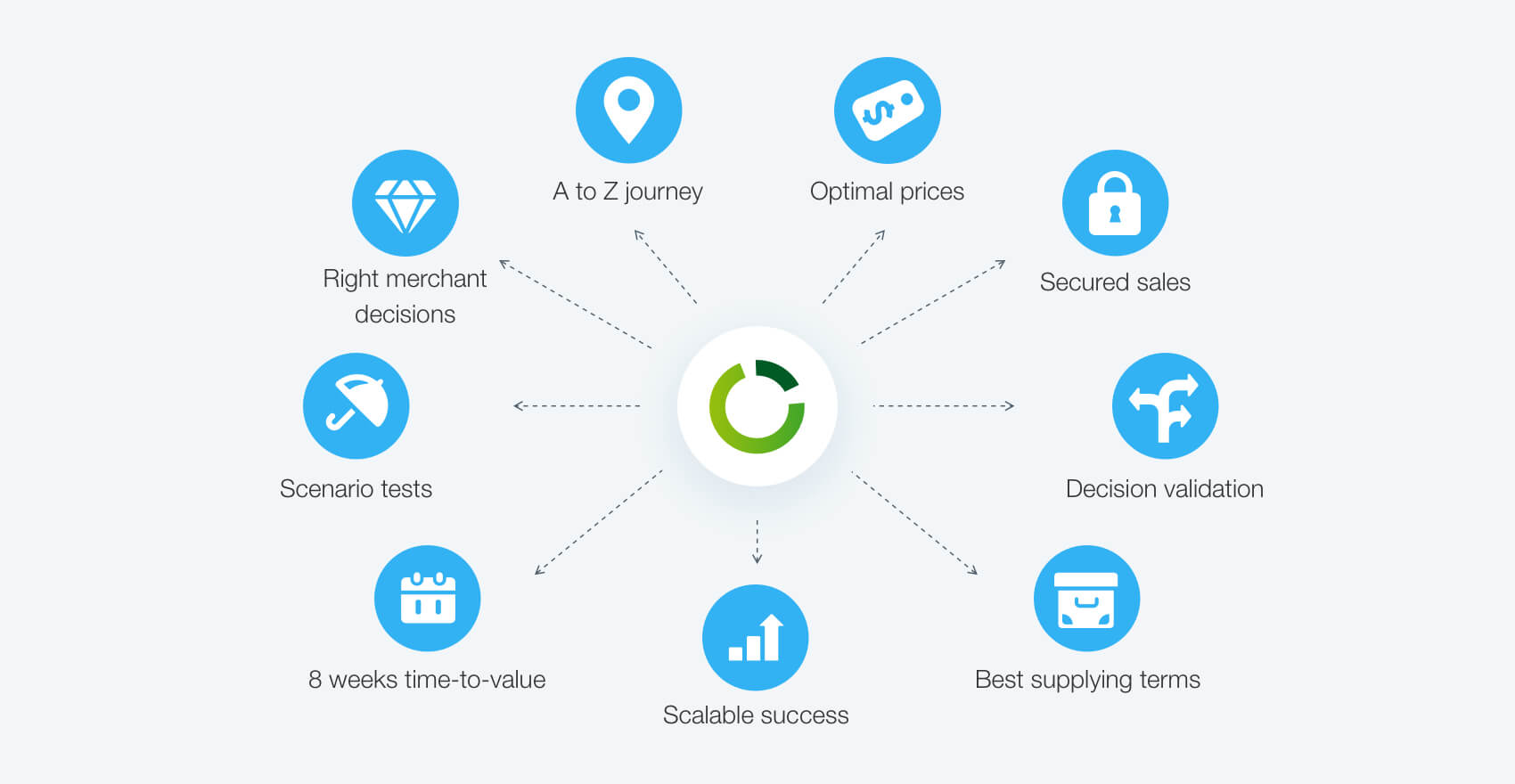 1. Our software helps Category Managers to drive the best sales impact with right merchant decisions every day
Retail business is run by humans and for humans. That's why we designed a solution helping each Category Manager to develop as a professional. With Competera, CatMans can gain an ultimate control of all operations from category strategic management, merchandising planning, negotiations with suppliers, and assortment management to promotions and pricing decisions.
ue to refocus on action instead of process, CatMans can enhance their skill set dealing with multiple tasks with less time and increased efficiency. We know what software tyranny is and, therefore, made a solution that not only boosts business performance but is also easy in use due to advanced customization.
2. We lead retailers of any business maturity from A to Z
Most of price optimization tools are targeting only a specific group of retailers depending on their business maturity and, most often, short-term goals. Due to poor flexibility, these solutions are no longer valid after the industry or retailer goes through transformations. With Competera, you get an adaptable solution that is scalable to large and mid-sized retailers of any maturity working in any county or region and with all kinds of assortment range.
In a pricing journey to customer value, retailers usually go through four main stages. The first three include cost-based, competition-based, and automated rule-based pricing. Then, a retailer is finally capable enough to reach a goal-driven price optimization. Competera helps to go smoothly through each of these stages, shifting from traditional and market-driven policy to automated and goal-driven optimal pricing.
3. Optimal prices and promos due to advanced insights at the junction of pricing, assortment management, and marketing
Comprehensive and ultra-personalized customer experience is built upon pricing, assortment management, and marketing. Disregarding any of these dimensions means missing customers' expectations and a failure to build full-value shopping experience. That's why we developed a single platform gathering multiple market insights and all anomalies at one place.
Competera platform is as a fully fledged workstation that can be fueled with diverse types of data (ERP, GA, e-commerce platforms, and data providers) to help your commercial team set elasticity-based prices and promos at portfolio, store, region or country level. The blend of diverse analytics on pricing, assortment management, and marketing takes all insights into a single screen enabling your team to stay proactive and keep ahead of the rivals.
4. Your commercial team will get real-time notifications if they are losing money
We help to identify events that require prompt actions before you start losing money. These include MAP violations by competitors and releases of products with unanswered promo and better credit conditions. The system also delivers notifications right after you become an exclusive seller of a particular product or run out of stock with another.
Using these insights you can secure your optimal prices and prevent competitors from becoming unique sellers. Competera's conditioned alerts help to monitor your strategy's implementation and improve the performance of each category manager. The platform contributes to goal management by tracking progress and detecting issues where more efforts are needed.
5. Measurement of every decision outcome: find which decisions helped to increase sales or damaged price perception
Each six weeks we give you a comprehensive vision of the overall performance based on four key metrics: revenue, sales items, gross profit, and profit margin. Every time your team does repricing, the platform generates anticipated figures based on current and optimized prices in regard to each separate metric.
Comparing the recommended prices with the current ones, your commercial team can identify decisions that can contribute to the growth in either revenue, sales items, gross profit, and profit margin as well as prevent cannibalization between products in your portfolio, a "race to bottom", and damages to price perception.
6. One platform to find new sales opportunities, know everything about competitors and get better buying conditions from suppliers
Using Competera, you can maximize profits by becoming a unique seller and be the first to identify the customers needs of tomorrow. Your commercial team will have a complex analytics on competitors' prices, product images, client reviews, promo and credit conditions, RRP/MAP, product description, marketing labels, stock availability, and complimentary products listings.
The platform also suggests opportunities for new promotions based on a product's influence on consumer value perception. Using insights on MAP violations and special promo conditions, your managers get fully equipped to negotiate the best conditions with suppliers.
7. Repeatable and scalable revenue success with modeling prediction accuracy of 90-98% depending on product or industry
After a retailer reaches a particular maturity level, it becomes clear that the ultimate use of rule-based approach is not enough to reach a goal-driven price optimization. Predicting impact of new prices on demand is the next step and that's where Competera helps.
To reach the model forecast accuracy of 90-98% (exact rate depends on market, product or industry), we apply a two-stage machine learning approach. First, the algorithm makes a precise calculation of the effect of price changes on sales. Second, the advanced math coins price recommendations for the whole assortment based previous results.
8. Our time to value is only 8 weeks
Competera makes onboarding smooth with an entire integration taking up to 8 weeks. That means in 2 months, you get proven results of the pilot and the first ready-to-use recommendations. The time to value we offer is one of the best in the market. If another vendor states an ability to complete integration more promptly, we bet the feature set is substantially limited.
Competera's time to value is the same for markets and industries of any complexity. We help companies working in apparel and footwear, automotive supplies, electronics and computers, home improvement, pet supplies, toys and hobbies, sex toys, and sporting goods. Your industry is not here? No panic, it's only a fraction of the list.
9. Competera's Sandbox helps target goals in the best way possible for e-commerce, omnichannel and brick&mortar retail
Competera helps clients to find the best pricing strategy in a proactive way. We offer a range of modules enabling your commercial team to test various scenarios including predefined strategies and custom ones with your own specific constraints and targets. The Sandbox feature predicts the outcomes of each particular strategy. Just one example: with Sandbox, your commercial team can identify KVCs and KVIs flawlessly and, eventually, price those products competitively while charging more on other categories and items.
Building comprehensive customer experience in different types of retail is not the same. That's why Competera offers different pricing and operations journeys for e-commerce, offline, and omnichannel retailers. We help to manage prices based on differences in consumer preferences, price sensitivities, and other factors within each type of retail. Competera is a multi purpose sidekick navigating retailers through each stage of the pricing journey.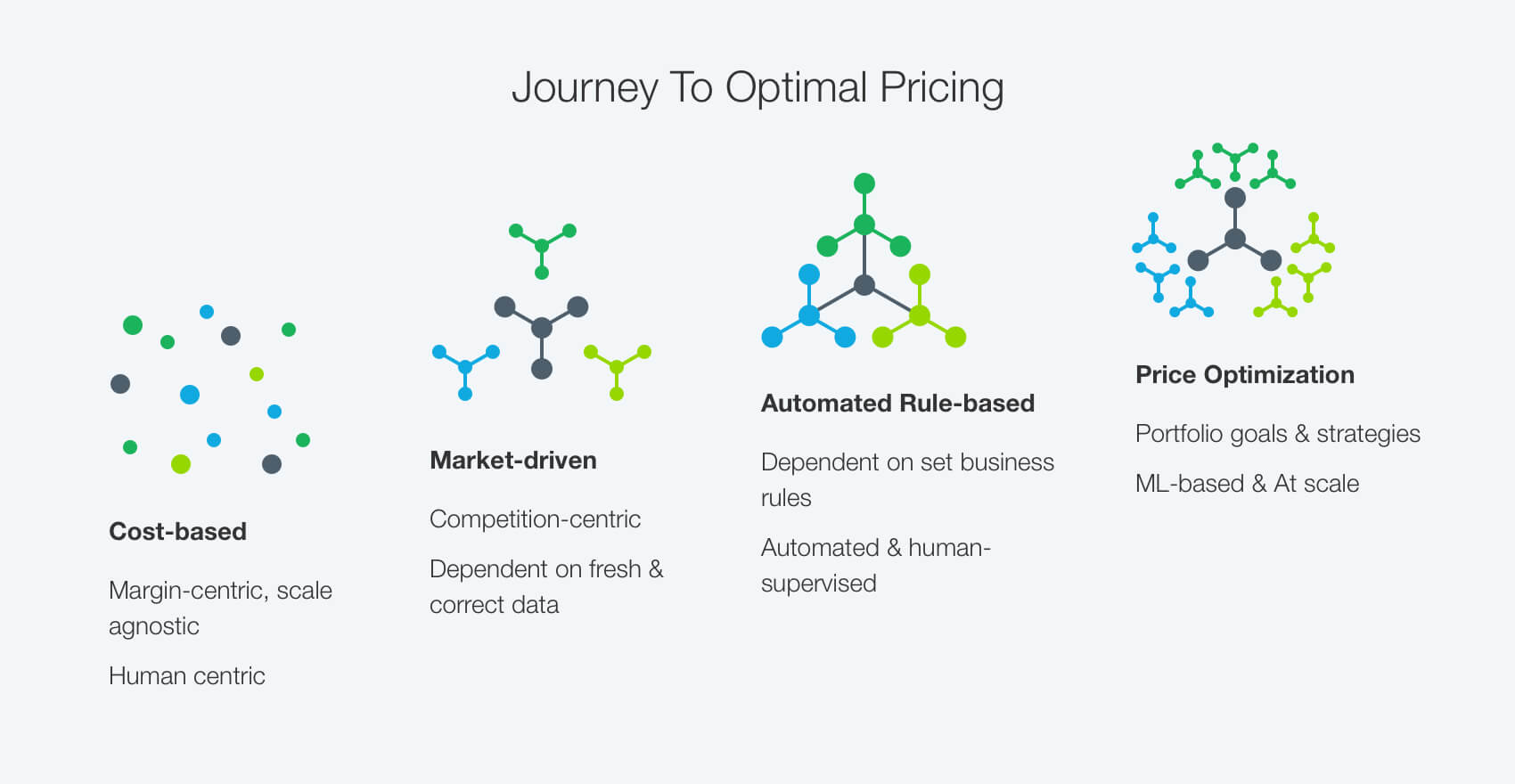 Retail landscape is changing with an unprecedented dynamics. Managers are ought to take dozens of proper and timely decisions every day. Competera is always there to accelerate your team with the next best move. Try our pilot and enjoy the new way of working right now!