Advanced Pricing Software For Retail Teams
Competera is a cloud-based platform for brick&click retailers. It provides price and promo recommendations based on brand perception, consumer demand, and individual business rules.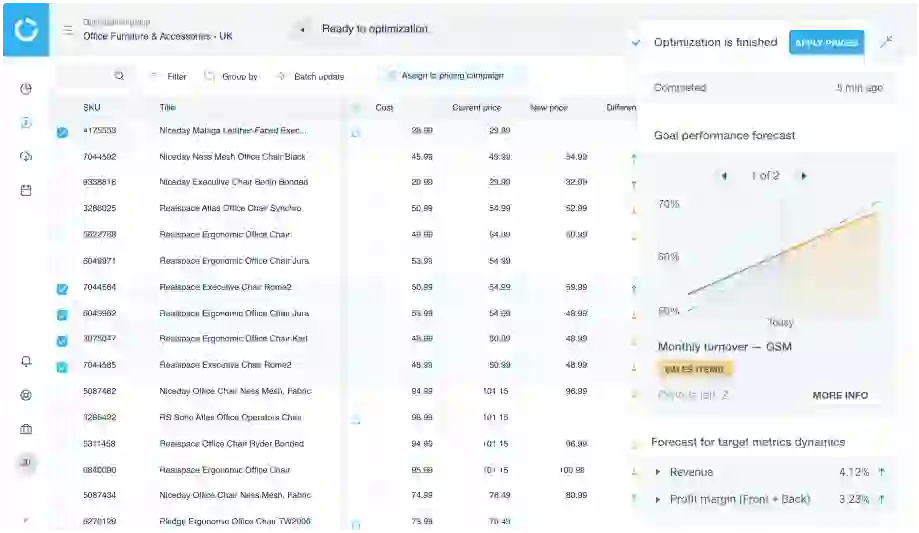 Does your sales uplift compensate for your discounts?
Do higher prices cover your fall in sales?
Do you know the reasons behind your margin
losses?
Retail Fit
Competera is an industry-agnostic solution suitable for omnichannel, mono- or multi brand retailers with a certain business maturity.
Cost-plus
Margin-centric
Ad hoc repricing
Human-driven decision
Market-driven
Competitor-centric pricing triggered by market changes
Regular repricing
Constant manual check
Data dependence
Rule-based
Based on rules and business constraints
Automated real-time repricing
Human-supervised
Market-share focused
Elasticity-based
Mix of rules & demand-based pricing
Goal-oriented repricing
Manager as a strategist
Portfolio coverage
Personalized
Shopper-centric pricing
Individual offers based on LTV
Balance between customer demand and business goal
Competera Pricing Platform
A unified workplace with an easy-to-use interface
Competitive Data
High-quality, timely product matches and data scraping covering any region, currency, or language in a single dashboard – designed for retailers with tens of thousands of products. Details
Pricing automation
Coherent, fast and flexible pricing with defined workflows and a transparent cause & effect analysis of every price change. Details
Price optimization
Elasticity-based price setting driven by demand patterns, products cross-impact and more than 20 pricing and non-pricing factors. Details
How Competera's software works
Combining the experience of Competera's pricing
and solution architects, we guarantee to build
an optimal pricing model in 60 days.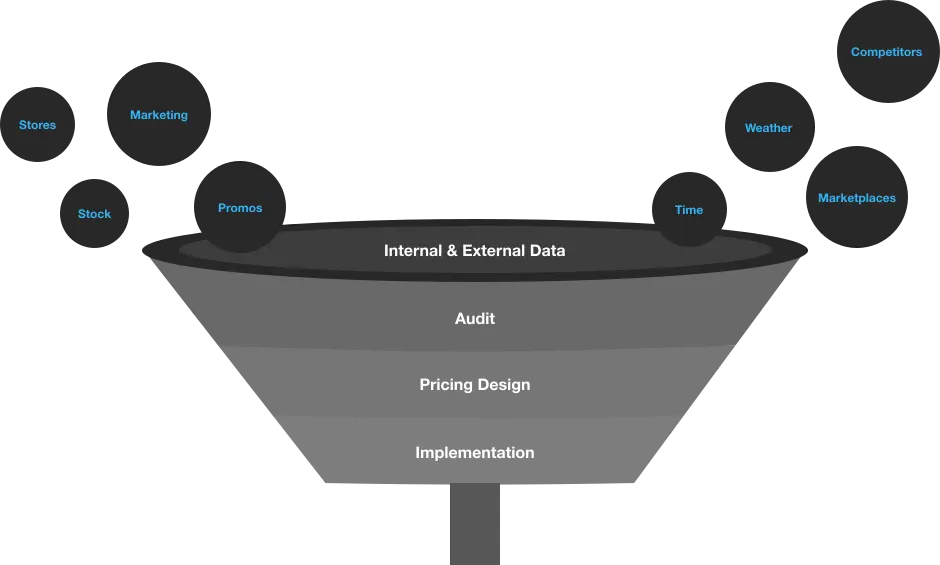 Competera Platform
Competition-based engine
Preset and customizable pricing rules
Pricing logic based on any constraints and variables
SKU-level price interpretation
High quality competitive data
Smart rules engine
True KVIs suggestions
True competitors identification
Analytical toolkit
Individual pricing strategy and business rules design
Demand-based engine
Pricing recommendations based on demand elasticity
Cross-impact effect of different SKUs' price changes
Manage strategies with several KPIs (target and constraint)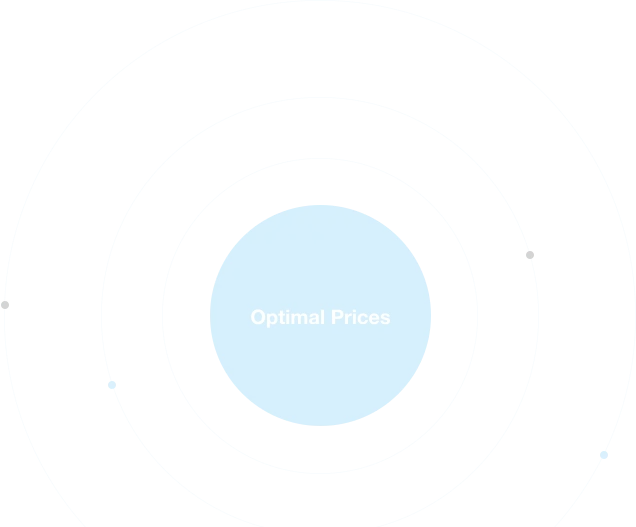 The proof is in the numbers
Take a look at the results of companies who have already taken advantage of our price optimization software:
Enterprise-grade Software
With Competera, you get dedicated solution and pricing architects to guide you through your journey to optimal pricing. Our proof of concept model allows you to measure if Competera is right for you before full deployment of the system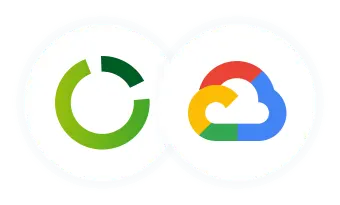 Trusted Security Solution

Retailers use advanced software to optimize a wide range of pricing-related operations in mix management, marketing, supply chain, and pricing itself. In today's retail, pricing software is used on a daily basis as an indispensable means of operational and strategic development. Advanced pricing solutions may contribute to revenue boost up to 15% and a profit margin increase by 5%. Besides the direct economic benefits generated by pricing software, the latter is also an effective means of goal management and resource planning.

The history of pricing software traces back to the mid-1990s when the first prototypes of modern solutions were released. The first wave solutions were capable of processing historical data being at the same time particularly rough in procession, integration, and daily use. Then, the second wave solutions appeared at the beginning of the 2000s. With a poor time-to-value and plenty of difficulties in onboarding, these prototypes have never become commonly used in retail. Finally, the third year solutions were released in the 2010s making an optimal value offering possible.

In a highly competitive environment, the price remains a core capability used by retailers to gain an upper hand in the market. In addition to that, the price is also the most important element sought by customers eager to receive a personalized and unique shopping experience. These facts give good reasons to state that pricing software will continue to remain a crucial factor defining the retail development in the next decades as well as each player's capability to offer optimal value to customers.
Competera acts confidentially, so we never blend customers' data in the storage or process it in a shared infrastructure within our clients. Being an official Google technological partner, we create a separate Google Cloud project for each business to ensure that all of the data is fully separated, encapsulated, and will never leave the cloud.
Try, Succeed, Repeat
Every price recommendation from Competera is based on cross-impact between products in your portfolio and dozens of pricing and non-pricing factors.
Maximize revenue without losing profit margins
Switch from traditional to a goal-driven approach
Set optimal prices using ML-driven recommendations