Price Optimization for retailers
Hit all of your business goals via portfolio pricing approach empowered with cutting-edge ML technologies. With Competera Price Optimization, your business gets:
Price recommendations based on demand elasticity
Price optimization to hit two targets at the same time
Fact-based pricing with the whole category in mind
Competera helps to cover every pricing need
Price Optimization is one component of our product portfolio. Discover all pricing solutions designed for retailers with different pricing approaches.
Cost-plus
Margin-centric
Ad hoc repricing
Human-driven decision
Market-driven
Competitor-centric pricing triggered by market changes
Regular repricing
Constant manual check
Data dependence
Rule-based
Based on rules and business constraints
Automated real-time repricing
Human-supervised
Market-share focused
Elasticity-based
Mix of rules & demand-based pricing
Goal-oriented repricing
Manager as a strategist
Portfolio coverage
Personalized
Shopper-centric pricing
Individual offers based on LTV
Balance between customer demand and business goal
Competera Pricing Platform
A unified workplace with an easy-to-use interface
Competitive Data
High-quality, timely product matches and data scraping covering any region, currency, or language in a single dashboard – designed for retailers with tens of thousands of products. Details
Pricing Automation
Coherent, fast and flexible pricing with defined workflows and a transparent cause & effect analysis of every price change. Details
Price Optimization
Elasticity-based price setting driven by demand patterns, products cross-impact and more than 20 pricing and non-pricing factors.
Who wins with Price Optimization?
Competera is an industry-agnostic solution allowing to reprice products at any level from specific categories and stores to countries and world regions. However, for certain industries the performance is at its best.
1000+ SKUs under
management
Solution for any size and complexity
At the heart of Competera Price Optimization is a unique engine for searching optimal price points. It can simultaneously set prices for any number of products with surgical precision.
When calculating new prices, the algorithm identifies cross-product dependencies and demand patterns, taking into account own elasticity, cross-elasticities, sales cannibalization, and up to 20 other pricing and non-pricing factors.
Forget black boxes: every recommendation is explained
get insights on what was behind the Price Optimization engine's decisions;
check out how the set limitations have impacted the search range;
find out what the demand elasticity curves look like;
understand how the new price point impacts own product sales and what halo effect it has on other products in the category.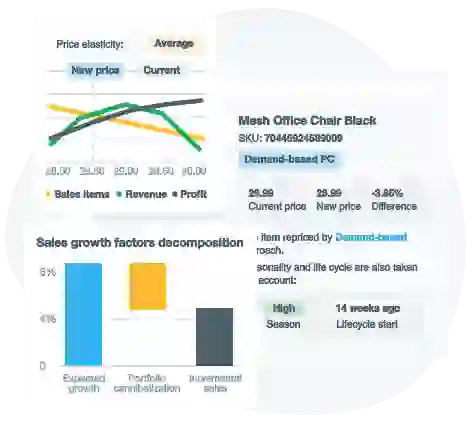 Hit your targets
Typically, a pricing manager can operate with up to 10% of key positions in different categories. Competera expands their capabilities to cover the whole product portfolio.
Price Optimization makes it possible to adjust and run a wide variety of pricing strategies. All you need is to select the metrics to grow and to protect. The rest will be done by the machine.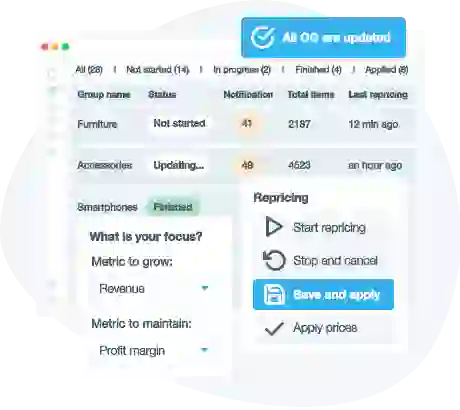 Outstanding accuracy
With Competera Price Optimization, businesses can operate with short-term sales forecasts of 90+% accuracy. It means you can predict the impact of your decisions and determine their effectiveness risk-free.
Thanks to high accuracy, you can forget about unjustified pricing actions, incorrect promo ROI estimations, or margin-draining stock clearance.
See Price Optimization in action
An omnichannel Eastern European consumer electronics retailer with $500 million in annual turnover wanted to stop copying competitors' pricing moves and make their business more profitable. Competera helped Foxtrot to:
Maximize revenue without losing profit margins
Stop mimicking the pricing moves of competitors
Switch from reactive to proactive pricing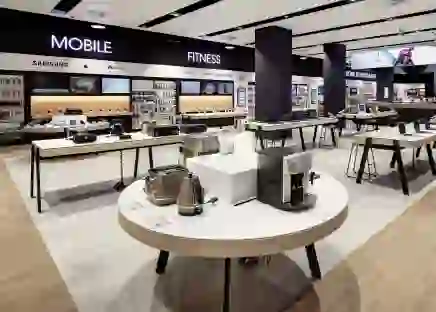 How to get optimal pricing in 60 days
Competera considers your entire product portfolio when creating price predictions. Optimal prices are determined in a 4-step process:
Step 1
Add 2 years worth of transactions, stocks, price lists, promo calendars and product references
Step 2
Define your targets and choose a repricing model to increase sales volume or revenue, optimize promo, clear stock
Step 3
Add your rules and constraints
Step 4
Get optimal prices, apply price recommendations, and feed in to your ERP
Why Choose Competera Price Optimization?
AI-driven
Competera adapts the latest AI, machine learning and deep learning algorithms to the needs of retailers, helping them switch to fact-based pricing. It brings a shopper-centric experience with prices and a balance of margin and turnover.
Rapid
High speed equals short time to profit. It takes only 6 weeks to fully deploy a customized solution that fulfills client needs. Compared to other types of solutions, our time-to-value is outstanding.
Tech Made Simple
Competera Price Optimization features allow each pricing team to play by their own rules, choosing different pricing solutions and modules for specific tasks. And do so with ease and convenience – in one dashboard.