Optimal prices your customers trust
Competera enables retailers and brands to increase customer trust by setting and maintaining optimal prices in real-time. Our AI algorithms continuously re-calculate billions of possible price combinations helping retailers to rebound 6% of previously lost margin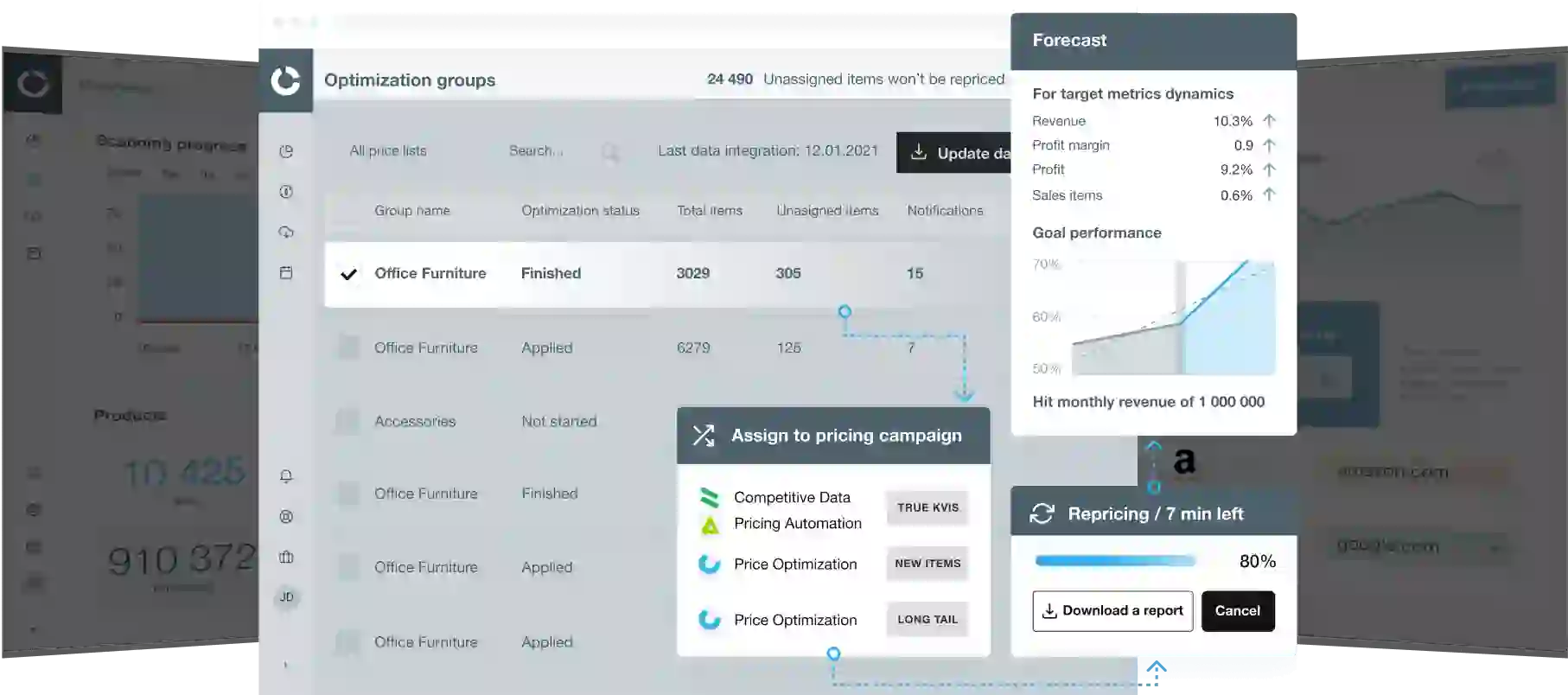 Start to win with Competera right now
Advanced technology is the key to growing bottom-line sustainably. The future belongs to real-time ML-driven pricing.
Reduce repricing time by 50%
Up to 8% of recovered revenue
Up to 6% margin loss prevention
Real-time competitive data
Traditional pricing approaches don't meet customers expectations and lead to profit loss
Reactive
Сhanging prices when something has already happened. So, it is not you who set the rules, but your suppliers or competitors define your next move.
Limited
Merchants & pricing managers use manual or semi-automated outdated pricing logic and consider no more than 3 pricing factors.
SKU-centric
Merchants are focused on specific SKUs overlooking the cross-product impacts which results in cannibalization effect
External factors
Internal factors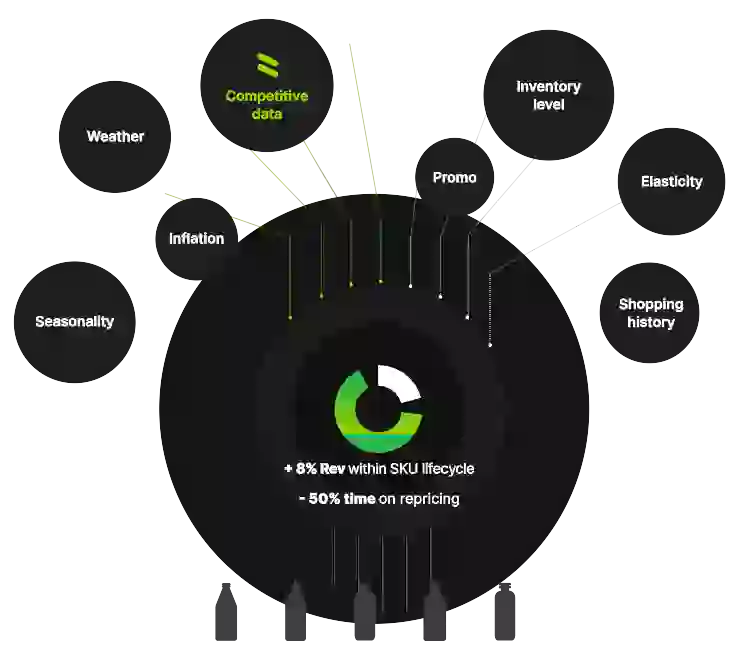 New entry
KVIs
Overstock
Promo items
Traffic generators, Long tail
Initial price engine

Efficient AI-augmented Intro Price benchmarking

Optimal rate of sale from day 1 of a new product sales

Automation engine

Rule-based recommendations

Markdown engine

Cascade price reduction to clear stock

Liquidation recommendations

Promo engine

Learn contributionof each promo element

Choose top-performing promo scenario in promo sandbox

Optimization engine

Price recommendations based on demand elasticity
Uncover the full potential of Competera's AI pricing
Read how Competera's pricing solutions help retailers across different industries.
Software to power your pricing
Competera offers a unique technology blend make pricing process easy and effective.
Our elasticity-based AI pricing is driven by demand patterns, non-linear dependencies and products cross impact — calculating 20+ internal and external factors which guarantee gross margin.
No more manual analysis of outdated competitor pricing — our self-learning competitive data platform provides real-time access to all of your competitors' prices with the matching quality of up to 98% accuracy.
Unlimited scale & usability — our user-friendly dashboards and personalized analytical reports are easy to use for merchants and pricing managers and can be scaled to an unlimited number of products and categories.
Get consultation from Competera's pricing experts
Let's find the best pricing approach
covering your business needs.
Please fill out the form to discover
main features of Competera
Best Analytics / BI Solutions
E-commerce Germany award
Price Optimization Solutions
Constellation
Trusted Vendor 2022
Crozdesk
Top 3 startups at the AI Summit
London Tech Week
Now Tech: Pricing and Promotion
Forrester
G2 High Performer 2022
G2 Crowd