Article Navigation
Retail analytics and big data basics
A successful retailer today cannot do without up-to-date large data volumes. In fact, we need so much information, we even call it "big data."
What is big data
The term "big data" refers to an extreme volume of data, which is also high in velocity, since much of it is generated in real time. Big data can be collected and analyzed, but it is beyond the reach of traditional databases.
What is retail analytics and why use it
Our dynamic, ultra-competitive environment obliges retailers to have a full grasp of the market situation and to know for sure what is retail analytics.
Algorithmic marketing proved to be much more precise in the long-run than the expert decision making.
Gathering and analyzing information in the old-fashioned way is practically impossible and totally ineffective. The same goes for work organization and methods of communication.
Meanwhile, retail analytics solutions and strategies offer exciting possibilities for strategic planning, routine operations and interaction with customers, bringing them to the next level.
While retail analytics and big data are changing the world, let's check out our list of trends evolving in the industry.
1. How to analyze retail data
How to analyze retail data in 10 minutes? Visualization allows us to quickly highlight the opportunities for growth where it is needed in a lucid form. The company management may easily immediately see this opportunity or analyze the performance in just 10 minutes.
Sharing figures is always a challenge. Presented in a traditional way, numbers merge together and become much less informative than we would expect them to be.
This is especially the case with regards to complex market studies abundant in indicators.
Basically, nothing's easier than perplexing people with excessive numerics. Confusing information comes down in value as we lose interest and turn towards a more comprehensible content.
The question is: how can one produce it?
Visual retail analytics puts an end to unintentional garbling and ensure a quick understanding of the core issue. By making data more meaningful and illustrative, we entice the audience and build more reliable partnership relationships.
Those who have already implemented this strategy on a large scale (e.g., Japanese brand GooDay), managed to boost their sales and reduce inventory levels.
In a nutshell, modern customers want to estimate their experiences before paying for them, and technological developments provide plenty of opportunities.
To present analytics in a timely manner, retailers employ business intelligence platforms allowing to govern data in a visually compelling format.
2. Retail analytics strategies. Changing the environment with AR
Augmented Reality is another great example of how visuals can be handled. According to the Accenture Augmented Reality Survey, only less than a quarter of shoppers didn't see how they could benefit from AR back in 2014. This number is likely to be shrinking as more people get familiarized with the technology. We just can't go wrong saying that seeing is believing... and saying "yes" to more purchases.
Global market leaders have already added this option to their armory. For instance, an app IKEA Place, introduced right after iOS 11 release, makes use of Augmented Reality to let users see how different items would match their homes and offices. What's more, visuality becomes dynamic.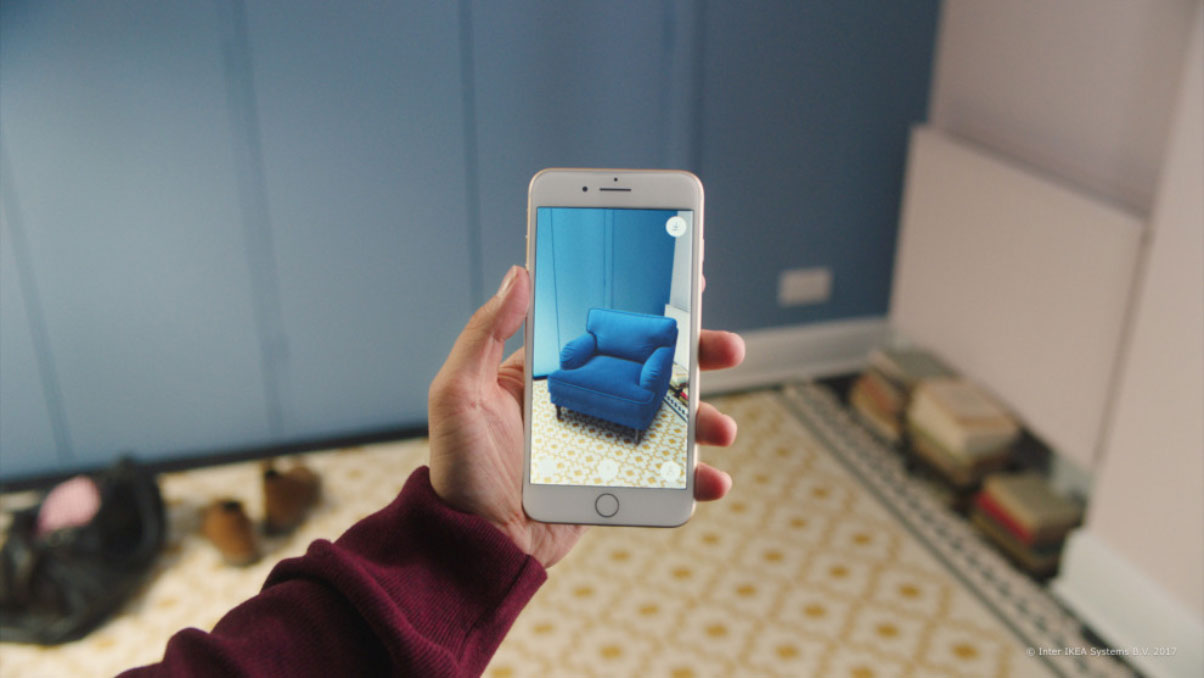 Character rendering, videos and 3D modeling enrich customer experiences through first-of-its-kind campaigns, such as an app themed on The Walking Dead series – AMC and Mountain Dew co-project.
Two companies engage customers in a chase after new "walkers" which can be unlocked once Mountain Dew packaging is scanned.
Naturally, AR capabilities are beneficial for external projects and internal operations. It is a great tool to aid meetings and other daily activities, to facilitate analysis and planning.
Understanding a product range, inventory, customer satisfaction, and supplier offers has never been easier. The numbers come to life and become verbally adept in the universe of retail analytics.
3. Make use of Machine Learning
Artificial Intelligence and machine learning are two hot issues allowing to aggregate impressive amounts of information.
The AI assistants will adjust to the buyers and will train themselves for the particular buyer (customers today have keen demand for personalization).
The second important point of AI and neural networks is dynamic pricing and precise demand prediction.
Corporate giants use smart algorithms not only to analyze a situation on the market but to predict possible changes and customer behavior, overall and for specific outlets. Surprisingly enough, robots have quite a flair for human psychology.
Sony Pictures Home Entertainment is on the list of companies well-versed with machine learning. Having integrated this attribute into their general strategy, the company managed to increase sales while mitigating risks.
However, it's not only about analytics and action plans. Machine learning is on the verge of modifying the very process of buying. Aided by a smart mixture of apps and sensors installed in the brick-and-mortar stores, it lets us choose the products we like and leave right away, without ever approaching the till.
Think about this for a moment:
Amazon has already opened its first Amazon Go stores with no checkout required. How cool is that?
4. The AI retail analytics software. Relying on robots
To automate the processes to the fullest, Amazon is also investing into robots that handle physical work. Amazon's robots have a computer vision and versatile AI software to recognize objects and interact with them. In 2017, this company brought self-acting equipment to nearly one-fifth of their fulfillment centers, and it seems there's more to come in the entire industry.
Innovation is within sight for many manufacturers today. Nike has funded a robot developing startup Grabit to accelerate its production processes, and ended up assembling the upper part of shoes in less than 60 seconds. It takes up to 20 minutes to execute the same task manually!
Impressive, right?
Yet, some robots are completely invisible. They dwell in a computerized environment and eagerly talk to consumers. According to Ubisend's 2017 Chatbot Report, almost 60% of shoppers know what the chatbot is and 35% would like to see more retailers utilizing this kind of software.
Although three quarters of respondents have never spoken to a chatbot before, nearly as many reported instantaneous answer as their top priority. And that's exactly why conversation simulators are so valued.
Reaching the desired outcome and ease of experience are two other important factors to be taken into account without fail. After all, it is the quality of communication that really matters to the customer.
5. Retail analytics solutions
The aforementioned opportunities are priceless by themselves. However, to achieve truly outstanding results we combine and merge their potentials.
Such amalgamation enables retailers to manage all the processes seamlessly, with no need to jump between applications. Fortunately, hardware RAM and human brain overload have become a thing of the past.
Instead of fiddling with a range of applications for various purposes (both internal and external), retailers choose new generation apps that help accumulate data analytics, govern the workflow, visualize figures and plan further steps – all by virtue of a smartphone.
Ultimately, retail analytics software is becoming more sophisticated and easy-to-use. For instance, voice-controlled digital assistants are mastering their natural language skills to simplify the interaction with users.
And again, natural language narratives are about to blend with visual analytics to improve the quality of shopping.
Have these trends aroused your business curiosity? Hopefully, they have! Use big data to play big and achieve desired results. The time has come.