Pricing Strategy
Key Value Item (KVI) is an item in product assortment that drives the value/price perception of a retailer by customers. To put it simply, KVIs are the products the prices for which are most often compared by consumers. That's the right strategy is so important to manage KVIs.
According to a recent survey by PwC, 44% of respondents weekly shopped in brick-and-mortar stores in 2018, up from 40% in 2015. Besides, only 21% of those surveyed as part of a recent study of the US retail market stated that they are primary online shoppers.
Although offline shopping still holds the field, customers tend to use digital tools to make their shopping experiences more rewarding in terms of a better price offer, delivery time and payment options.
The eCommerce market is expected to keep growing and account for no less than 17.5% of total global retail sales in 2021. With retail becoming more digital, businesses should harness the following emerging trends when dealing with KVI and KVC:
shoppers tend to check and compare prices online before making purchases either in a brick-and-store shop or on the web (according to McKinsey, the number of such buyers is 50% to 70%)
successful retailers use dynamic pricing and price optimization software to rapidly respond to the ever-changing market and set an optimized competitive price
buyers expect retailers to provide personalized offers basing on their customer footprint
new digital tools track many parameters of customer and competitor behaviour, which generates great amounts of data necessary for retailers sell more at a better price thanks to being constantly updated about the market changes
How to define KVCs and KVIs
Properly defined and organized KVCs and KVIs, along with several other key elements underpinning well-balanced pricing decisions, bring increased customer engagement and loyalty, and profit. It also allows you to manage your sales targets, such as turnover or margin, and achieve their balance better. However, finding true KVIs is a non-trivial task.
In our opinion, each type of SKU has its own journey – with its unique solutions and management approaches. To find true KVI products, you need to understand the structure of the product basket and correctly assign other products to categories that require different repricing strategies.
At Competera, we offer to carry out segmentation by ranking products taking into account price elasticity and cross elasticity, product characteristics (brand/category/...), sales statistics, analysis of competitors' influence, etc. To do this, we use deep learning bespoke algorithms and a two-staged approach. Learn more about this technology here.
How do KVCs and KVIs help generate more revenue?
Before anything else, retailers have to enlist KVCs, or categories which are the most attractive to customers, and KVIs, or products in these categories which drive perceived value the most, and adapt them by price zone or geography. Then they set optimized prices for the selected products based on competitors' pricing, their current objectives, including target market share and profit targets, and price elasticity.
In addition to pricing, KVCs and KVIs are managed differently from other products in terms of space allocation and layout of product setting, marketing and promo activity.
To keep a pricing strategy optimized, retailers need to refresh their KVCs and KVIs as often as possible.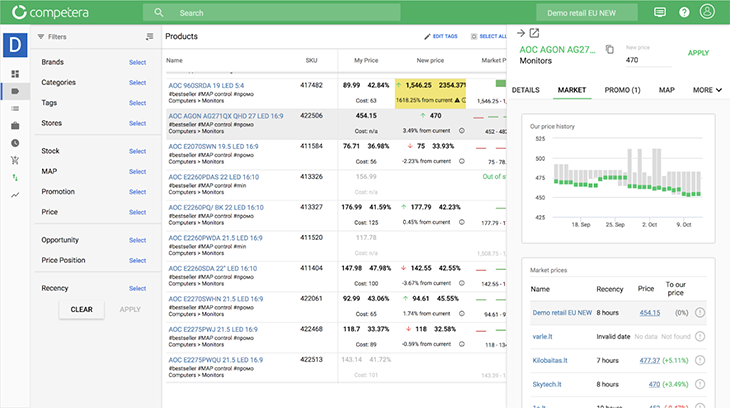 Monitoring the prices of KVI products
How to manage KVCs and KVIs
How do retailers decide which items to include in the lists? The decision is usually made basing on the three following factors:
How many items were sold and at what price?
What are the products and categories which attract the highest number of customers?
What products have the highest competitive intensity?
There are four types of KVIs:
Perceived value drivers. Commonly used items which have been popular with consumers for a long time.
Drivers of assortment perception. A pre-selected range of products which shape customers' purchasing decisions in a certain category by showing what shoppers should buy.
Traffic drivers. High-demand products.
Basket drivers. Low-velocity items which lead to buying additional products.
To make the most of the trends, McKinsey is offering several ways of transforming KVIs selection approach:
Use new data sources. As stated by a PwC report, consumers ranked social media the number one source for getting advice on what to buy. User activity in social networks, combined with the information on the online customer behaviour such as search queries and purchase rates, can provide retailers with an abundance of data necessary to increase customer engagement
Create a flexible set of product segments which can be dynamically fine-tuned according to the market demands. To segment products properly, businesses require high quality and fresh data.
Update KVIs more often. Trained algorithms can refresh pre-selected sets of items depending on the market dynamics
Flexible data-powered KVI management enables retailers to rapidly react to market changes and cater to customers' needs before competitors, thus leading to a significant increase in revenues.
Conclusions
KVC and KVI are essential for creating a winning pricing strategy since they are core products for which retailers set prices. In the modern digital retail environment, where competitors employ data collection and price optimization software, while customers use online resources both to shop and gather information about products, businesses need to embrace every opportunity provided by technology to make sure their offers are as flexible and personalized as possible when forming the KVC and KVI lists.
FAQ
---
Key value item (KVI) in retail represents a product with high volume and low margin. To put it simply, KVIs are the most frequently purchased products.
What is a key value category?
---
Key value category is a group of products that involves a large number of KVIs.