Competitive Pricing Analysis
How to implement a Competitive Pricing Analysis and Strategy from Scratch?
When you're comparing competitor prices to optimize them in your store, you use the competitive pricing strategy, the key element of dynamic pricing.
Want to know more about how competitive strategy boosts your sales? Keep on reading!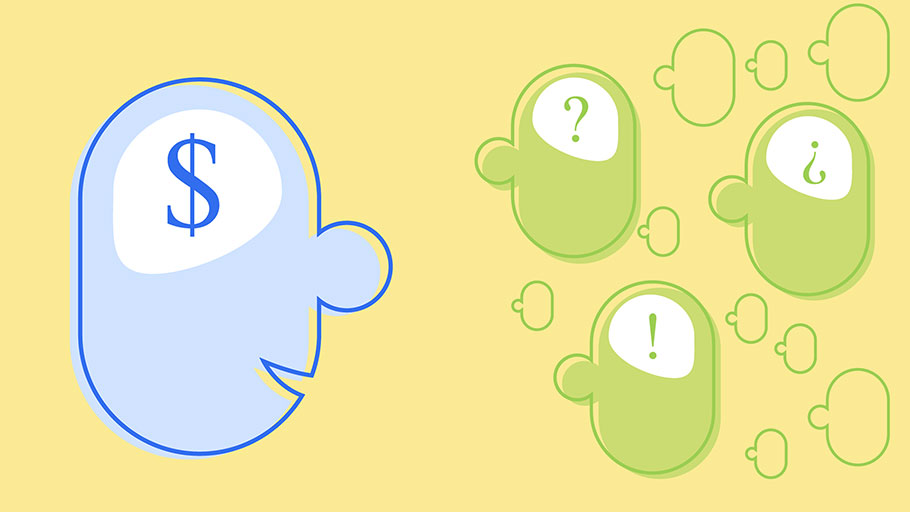 What is competitive analysis
Definition of the competitive pricing analysis is setting a retail price of a product by competition. Today it's closely related to the data crunching and cloud computing, which means that the process is highly automated. It's common knowledge that hi-tech solutions are critical under fast-paced market conditions such as ours. We thereby need to cover a lot of ground on why and how to do competitor pricing analytics.
According to Forrester Consulting, 81% of buyers compare the offers of several stores in search of a better offer.
It is due to the publicity of data of online retailers.
An optimized competitive price for the product significantly increases sales in your store, allows more viable marketability and improves retailer-supplier relationships.
On the contrary, if retailers fail to keep up with competitor costs and change them accordingly, they immediately fall overboard. It is especially noticeable during a holiday season since in pursuit of presents buyers demonstrate a genuinely instantaneous reaction.
Let's face it.
Сompetitive pricing strategy entices customers better than anything else.
Competitive pricing strategy
Five tricks to implement it step by step
1. Determine the quality of data
Competera works with 200 retailers from around the world, and we know for sure that analyze competitors, it's crucial to use complete and accurate data. As part of a survey of retailers from six countries, we identified such indicators of data quality:
The depth of comparisons. Take everything into account: color, technical characteristics and other parameters not available on the main product card.
Percentage of errors. Speed and accurate automatic comparison process may be mixed with careful manual comparison to get the best results.
Percentage of data found. Due to various reasons, it's sometimes impossible to find any information on the competitor's website, then the data is not full.
The freshness of data. It's best to use the relevant data collected no later than two hours before the repricing.
Data delivery time. The data should be delivered to the internal system of a retailer in 20-30 minutes to make the comparison analysis more effective.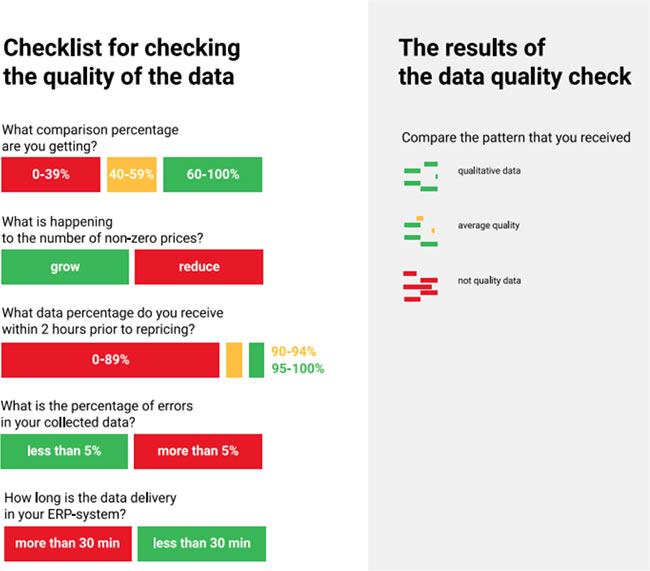 2. Know what to analyze
Monitoring the prices of your rivals with competitive intelligence tools is the first step to introducing competition based pricing.
The second step is to analyze them and make decisions. To do this, you need to take into account:
Price Index. It's the most important indicator for the competitive pricing strategy, which displays the positioning of your store in comparison with competitors, and helps to understand which of them influences sales more than others. By researching this index, you will realize which products to sell more expensively without losses, and which ones to lower.
Promo-activity of competitors. In the same study, Forrester Consulting indicated that at least a third of customers are trying to find discounts before buying the goods. It is essential to continuously monitor what actions are conducted by competitors in order to optimize the promotional offers.
Availability of goods. If you see that the competitors are running out of goods, make a decision according to your pricing tactics.
Anecdotal evidence suggests that a great many people see competitive pricing solely as a peer group analysis.
However, the definition of competitive price analysis stipulates a thorough study of internal company data, which also affects competitive pricing. You know the list and the cost price of your product or service, the desired margin, the planned sales volume. Use this data to better analyze the effectiveness of pricing.
One way or another, a smart pricing is impossible without a profound knowledge of the market and your position on it.
Primary competition, which is where your direct competitors belong. They go after the same buyer category that you do.
Secondary competition is the one that focuses on upscale/downscale versions of your assortment. You can get wiser and develop big picture thinking if you look here.
Tertiary competition includes products which are indirectly relevant to yours. This information might be helpful when you are ready to consider creating a product expansion.
It's always a good idea to keep this information well-organized for further reference. Categorization also helps to keep abreast of market dynamics and analyze opportunities.
4. Investigate their websites
To gain a greater insight into the market and competitors' positioning, spend some time browsing their websites and social media accounts. There's a range of objectives to keep in sight:
study products descriptions;
check out visual presentation;
examine social media activity;
see if they are optimized for mobile;
have a look at customer support and feedback options;
test their rate of response.
Furthermore, you can sign up for a newsletter and become a follower on social media. Try to understand what attracts clients to your rivals' products. Is it because of the cost, or is there something else, invisible to the naked eye? What do they do to stand out and capture buyers' attention?
Needless to say, these are just a couple of examples to illustrate how you can benefit from open source information. The more key points you identify (and make use of), the faster your progress will be. This kind of investigation will improve your selling instinct and prepare you for a big game.
5. Competitive pricing intelligence: breakdown
Although the software will do the lion's share of work, you are the one to set a direction and define goals. While learning the ropes of how to do a price analysis, you may come across the following pricing opportunities:
raise the bar and set the cost above average;
be below the competition;
take your cue from competitors and fix an equivalent cost.
Effective competitive pricing
How to build it and develop retail pricing strategies
Professor of University of Washington Charles Toftoy characterized pricing as "... part art and part science", and it is hard not to agree with him.
On second thought, we can take courage and add one more word to this apt quotation.
A game.
Let's take a look at how these elements team up.
The essence of effective competitive pricing is in qualitative data and its analysis. To make the right decisions, it is important for the retailers to study the competitors real-time in order to understand what value a product represents for the end user.
Based on this data, you may create a business, and develop your retail pricing strategies to choose the right models and pricing scenarios.
When these processes are set up, the high-speed game starts where competitive pricing helps to increase sales, market share, margins, improve interaction with the supplier, etc..
Now you know how to check competitors' data like a professional. As is the case with the art, you need creativity and perseverance. As with the science, you have to be knowledgeable, so keep expanding your horizons. Finally, competitive pricing is always a challenge to meet.
Therefore, develop the skill of strategic planning, watch your competitors every day, use their experience, make them predictable and be better than them!
Outperform your competitors with Competera Price Intelligence Platform
Try Competera