How to Build a Competitive Pricing Strategy from Scratch
Retailers willing to outsell their competitors and boost their revenue, use a competitive pricing strategy based on analyzing historical and competitive data. Building such a strategy requires the knowledge of the market, or data about competitors, clear business goals and time.
The article outlines several pieces of advice on how to craft an effective pricing strategy.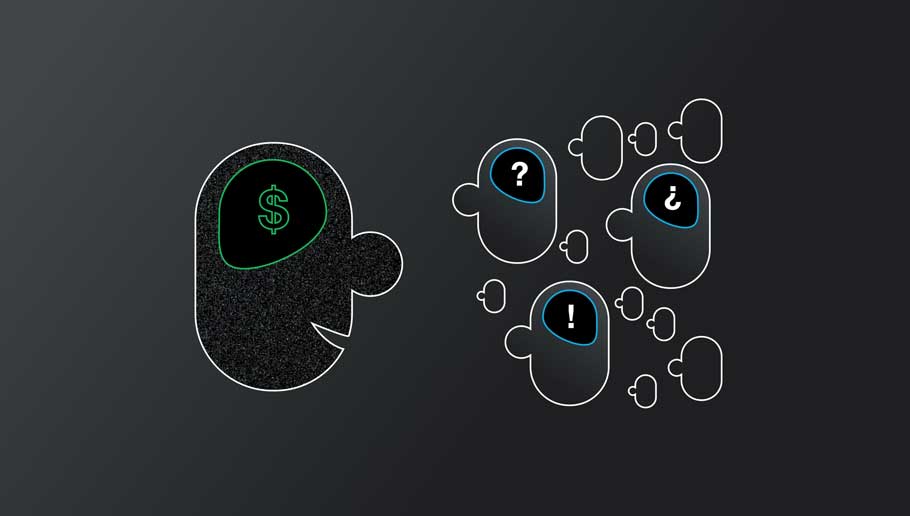 Why Is Competitive Pricing Strategy Beneficial?
According to Forrester Consulting, 81% of buyers compare the offers of several stores in search of a better bargain. Thus those retailers who can collect and analyze the market data, map their position against competitors and craft an optimal price, which also factors in their current business goals, win.

Competitive pricing strategy helps businesses attract more customers with the help of an optimal price, and thus significantly increase sales, optimize cooperation with suppliers, and boost revenue.
1. Determine the Quality of Data
Competera's portfolio includes over 130 clients worldwide, which gives it grounds for stating: complete and accurate data is crucial to analyze competitors. Retailers from six countries surveyed by Competera agreed upon the following criteria of high-quality data:
The depth of comparisons. Retailers need to take everything into account: color, technical characteristics and other parameters not available on the main product card.
The percentage of errors. Manual comparison enhances automatic solution and ensures better results.
The ratio of planned and delivered data. Data can be incomplete since the algorithm may lack information which is not available on the competitor's website.
The freshness of data. Retailers should use the data collected no later than two hours before repricing.
Data delivery time. The data should be delivered to the retailer's internal system every 20-30 minutes to make the comparison analysis more effective.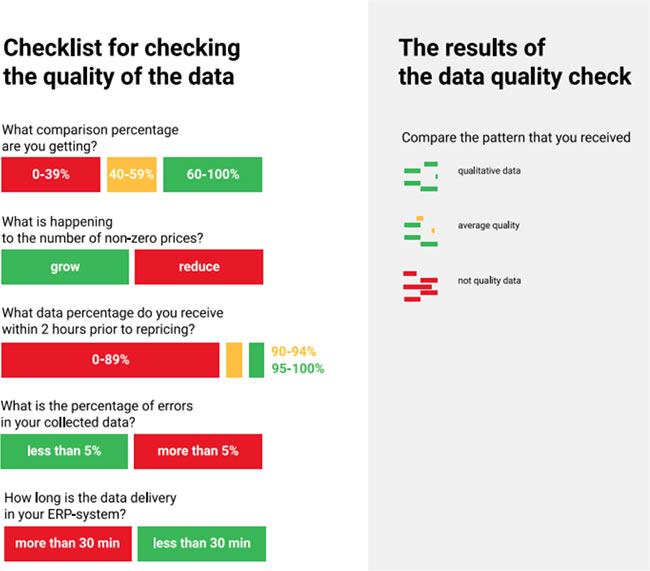 2. Determine the Type of Data
Before collecting data, retailers need to define their competitors and set the parameters of competitive data they need to analyze and base their pricing decisions on:
Price Index. It maps the retailer's position in the market, shows how the market dynamics affects sales and delivers data on competitive prices, promotions and stock availability.
Competitors' promo activity. In the same study, Forrester Consulting indicated that at least a third of customers are trying to find discounts before buying the goods. It is essential to continuously monitor what competitors' actions to optimize the retailer's promotional offers.
Products availability. By monitoring competitors' stock, retailers can make the right decisions about selling products based on whether the competitor offers them.
Many retailers consider competitive pricing exclusively as peer group analysis.
However, the definition of competitive price analysis stipulates a thorough study of internal company data (or historical data), as well as competitors' activities (such as pricing, stock, and promo, among others). It is impossible to set optimal prices without having the profound knowledge of the market and the retailer's position in it.
Outsell competitors and boost revenue with competitive pricing software
Get a Trial
Use competitive data to craft a winning pricing strategy:
automatic, manual or hybrid product matches
custom scanning schedule
dedicated scraping system
full transparency of the data quality
seamless integration with any IT infrastructure
Primary — includes direct competitors, who pursue the same buyer category.
Secondary — competitors who focus on upscale/downscale versions of the retailer's assortment. Analyzing secondary level competitors allows businesses to develop big-picture thinking and boost their strategic skills.
Tertiary — includes products which are indirectly relevant to those of the retailer. Analyzing this level of competition helps retailers willing to expand their assortment.
Categorizing competitors makes the market analysis less time-consuming and allows focusing on those businesses which require primary attention.
4. Use Machine-Based Pricing Comparison Tools
Today's retail is increasingly leaning towards algorithms to collect and analyze data. Machines have significant benefits over manual approach:
they make no mistakes;
process any amount of data by any parameter;
deliver it on a schedule;
provide pricing recommendations.
What is arguably the most important is that algorithms allow retail teams to switch from routine to strategic tasks such as building a winning pricing strategy.
5. Track Competitors' Online Activity
To have a better understanding of the market and competitors' positioning, retailers need to study their websites and social media accounts. There are several aspects businesses need to examine:
product descriptions;
visual presentation;
social media activity;
if the websites and social media accounts are mobile-friendly;
customer support and feedback options;
the response rate.
In addition, retailers can sign up for a newsletter and become a follower of their competitors on social media. Businesses need to understand what attracts clients to competitors' products.
These are several examples of how retailers can benefit from open source information. The more key points they identify and analyze, the faster they progress.
Conclusions
Retailers willing to attract and retain customers and, as a result, increase their revenue are poised to use a competitive pricing strategy. To craft such a strategy, they need to do the following:
Identify and categorize their competitors.
Set the parameters and type of competitive data they need to collect and analyze.
Use machine-based solutions which collect and analyze high-quality and timely competitive.
Track competitors' online activity (websites and social media accounts) to understand what makes customers choose them in addition to price.
Outperform Competitors with Competera Price Intelligence Platform
Try Competera