In the face of pandemic, retailers must protect employees and shoppers, diversify and secure distribution channels, allocate resources to sustain digital sales, and partner with delivery aggregators.

Alexandr Galkin, CEO at Competera
Consumer behaviour during COVID
The Covid-19 pandemic has changed shopping behavior patterns in two major ways. First, online sales have boosted since the virus started spreading extensively in mid-January. Chinese online retailer JD.com reported its online grocery sales grew 215% to 15,000 tons during a 10-day period between late January and early February. By mid-February, the trend of extensively growing online shopping became vivid in other world regions, including Europe and the US. The tendency continues to predominate across the markets.
The second trend stems from the way consumers perceive pandemic and what changes they expect. The recent survey by RetailX Tracker has found that almost 80% of UK shoppers expect coronavirus pandemic to last for between 1 and 12 months while almost half of respondents named the timeframe between 4 and 12 months. In the face of a lasting pandemic, customers tend to buy some products more while the sales of other groups drop. The change in demand dynamics across the industries is one of the most crucial consequences caused by changing consumer behavior.
Julia Beregovaya, Pricing Solution Architect at Competera, believes that the demand for life-supporting, health, and safety products will increase drastically while premium and niche segments will drop.
The demand for health-safety and pharma products keeps growing globally. The same trend is seen in grocery, especially, for shelf-stable products. As more and more shoppers restrict the time spent outdoors, home appliances and electronic devices needed for remote work also become demanded. Likely, when panic is over and people get adjusted to new realities, the demand for particular categories will drop.

Julia Beregovaya, Pricing Solution Architect at Competera
Satisfying consumer needs during the outbreak
Emerging consumer behavior patterns force retailers to change conventional approaches to business. The impact of Covid-19 outbreak is not the same across national markets. Based on consumer data collected in countries affected first, Nielsen analysts developed the matrix of Six Consumer Behavior Thresholds of Covid-19 Concern.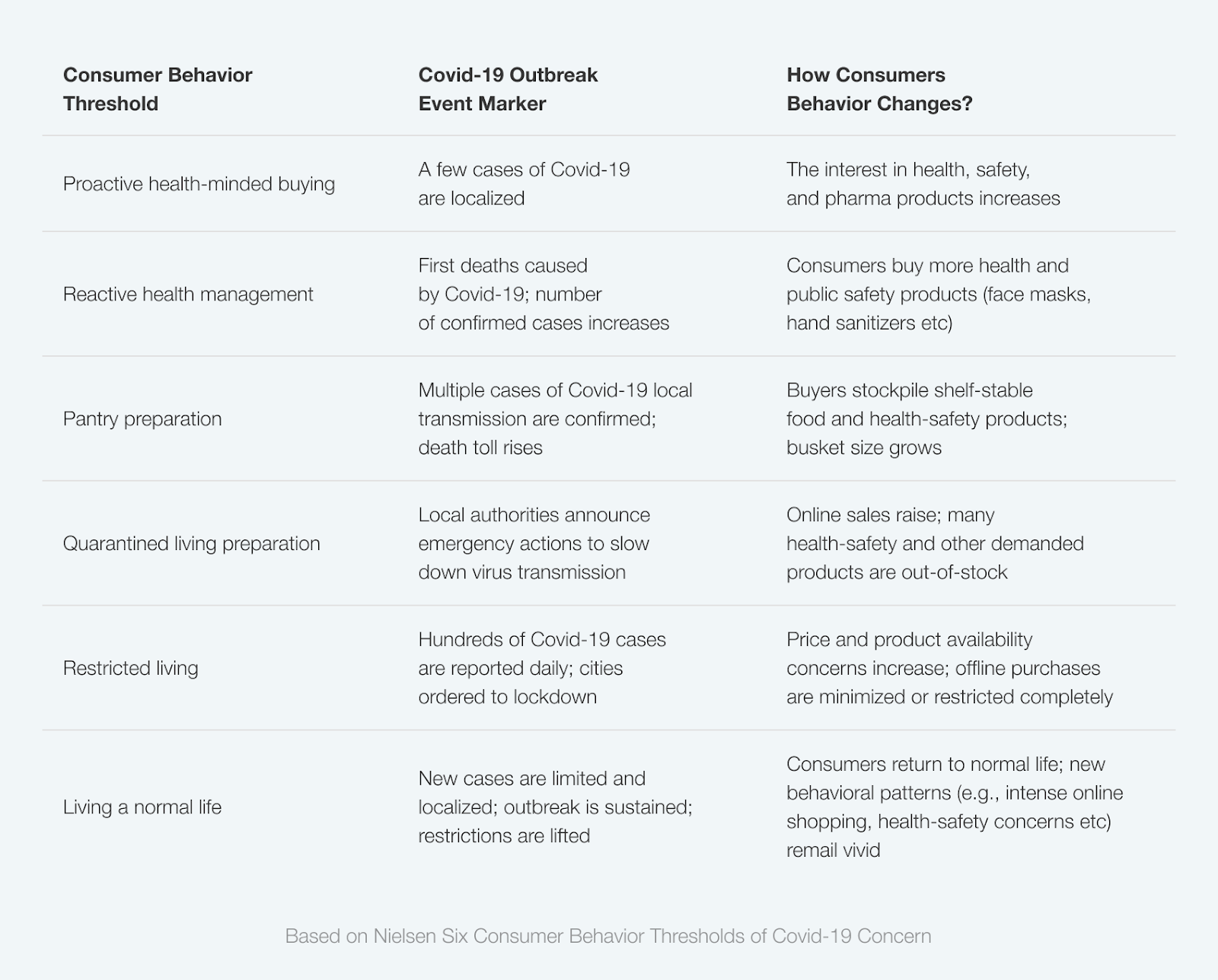 Understanding these thresholds helps retailers to identify and satisfy consumer requests at different outbreak stages. If 'Country A' is now at the stage of 'quarantined living preparation', retailers should focus on filling stocks with products highly demanded during the lockdown. Ensuring that supply channels are protected and diversified is another measure retailers should consider just like preparing to move their sales online. In the last part, we would outline recommendations more thoroughly, but before that let's see how Covid-19 reshapes the industries.
Coronavirus retail trends
While some companies, e.g., Apple and Microsoft, close their offline stores in the face of pandemic, the discounters and grocers like Walmart and Costco come up with long lines of customers stockpiling groceries and health-related products. The outcomes of Covid-19 are radically different across the industries. Scenarios that retailers are now going through could be classified into three major groups.
The first group covers industries facing a drastic uplift of demand and sales. Retailers selling groceries, pharma, safety, and other essential life-supporting products belong to this group. Offline sales in this segment are still relatively stable compared to the other groups, yet the trend of shifting to online is also vivid here. As the outbreak will be sustained and customers will return to normal life, the demand for health-safety products would likely still remain relatively high.
The second scenario implies a significant drop in sales. Apparel, footwear, beauty are among industries facing the biggest challenges. The statement is especially relevant when it comes to offline sales. Adjusting business model along with an ability to retarget online sales will play a crucial role for the retailers dependent on brick-and-mortar stores.
The third group covers industries where a temporary uplift in sales will likely be followed by a drop. Consumer electronics and home appliances are good examples. Either voluntarily or forcibly, more and more shoppers get self-isolated to prevent the coronavirus spread. That's why electronic devices needed to work remotely have become more demanded. Similarly, the sales of bikes increased in the cities where the use of public transport has been restricted. However, after communities will start living a normal life, this kind of products will become less demanded compared to the pre-outbreak period.
Survive the pandemic: recommendations
We asked retail experts to specify a few practical steps and measures that retailers around the globe can take now to manage the risks and deliver the best customer experience during and after the Covid-19 pandemic.
Alexandr Galkin
CEO at Competera
"Covid-19 created an absolutely novel context for retailers in every part of the world. Transformations are inevitable and the sooner retailers will adjust to the new realities, the better for them. The pandemic reveals how the business true values cohere with the declarations. Protecting employees by providing safe working conditions should be the number-one priority as human contacts cannot be fully restricted in retail. Secondly, ensure your distribution channels are diversified and secured. Third, revise budgeting policy to make sure digital channels are prioritized. Online sales continue to grow across the industries and it is likely that this pattern will not change even after the pandemic is over. And finally, don't forget to partner with delivery aggregators or find any other means to make sure your products could be smoothly delivered to customers."
Toopan Bagchi
Senior adviser at The Navio Group, ex-VP of Enterprise Strategy at Target, ex-PepsiCo & Walmart
"Coronavirus will impact in-store and online customer behavior differently. Clearly, many shoppers will be hesitant to go to stores and interact with employees and other customers and risk the chance of becoming infected. Online should benefit since it removes that human interaction factor.
Times of crisis are a great reminder that physical retail plays a vital, potentially lifesaving role in communities. However, the spike in demand can lead to shortages and price gouging by opportunistic players. Brands and retailers that seek to deepen trust and loyalty are wise to avoid that and take the long view instead.
There are three ways retailers can serve their shoppers instead. First, establishing limits on essential items, as Target has done, ensures more customers have access to needed goods. Second, tapping into the full power of supply chain and operations moves product to where it's needed most. Walmart has beaten the National Guard to disaster areas with supplies. Third, novel partnerships with military, government, non-profits, and medical partners could help get critical items where they are needed most."
Kat Kalmykov
Customer service expert at Thankful.ai, ex-Oracle, GroupOn and Farfetch
"Retailers have a lot on their plate right now between supply chain issues and staffing difficulties, but customers are still expecting immediate and incredible service. If anything, customer demands are even higher given the anxiety-inducing circumstances. It is important that retailers are empathetic to customers during this time of uncertainty, while providing the right level of transparency into measures taken to ensure great service and safety. It will be helpful on both ends for customer support teams to keep communication lines open and leverage customer service tools."