The pandemic has changed consumer behavior forever:
In the US, as many as 29% of surveyed consumers state that they will never go back to shopping in person again;
In the UK, 89% of buyers say they have reduced or stopped their visits to shops due to COVID-19;
43% of UK respondents state that they expect to keep on shopping the same way even after everything comes back to the 'new normal.'
Although unable to fully compensate for the lost offline sales, e-commerce has embedded itself in the everyday lives of people of different ages across the world. Here are some examples:
During the lockdown, British pensioners (aged over 65) spent 94% more on online grocery deliveries than they did this time last year;
To meet the growing demand, UK supermarkets have announced the expansion of the number of delivery slots to nearly 3 million, as compared to 2.1 million before the pandemic;
In the US, the unprecedented surge in online demand has forced Walmart, Amazon, Dollar Tree, and 7-Eleven to hire 300,000 workers.
Furthermore, in March only, global traffic to retail websites reached 14.3 billion visits — almost twice the Earth population. Unsurprisingly, with over 4 billion visits, Amazon has been ranked the most visited e-commerce website in the world.
But has COVID-19 changed the buying preferences of shoppers? What products would customers rather purchase online than offline? What categories are the most popular? To answer these questions, we have analyzed the results of the surveys of US and UK shoppers who were asked if they had deliberately purchased any of the suggested items online instead of in a physical store due to COVID-19. As a result, we have compiled a list of the online-favorite categories in these countries (April-May 2020).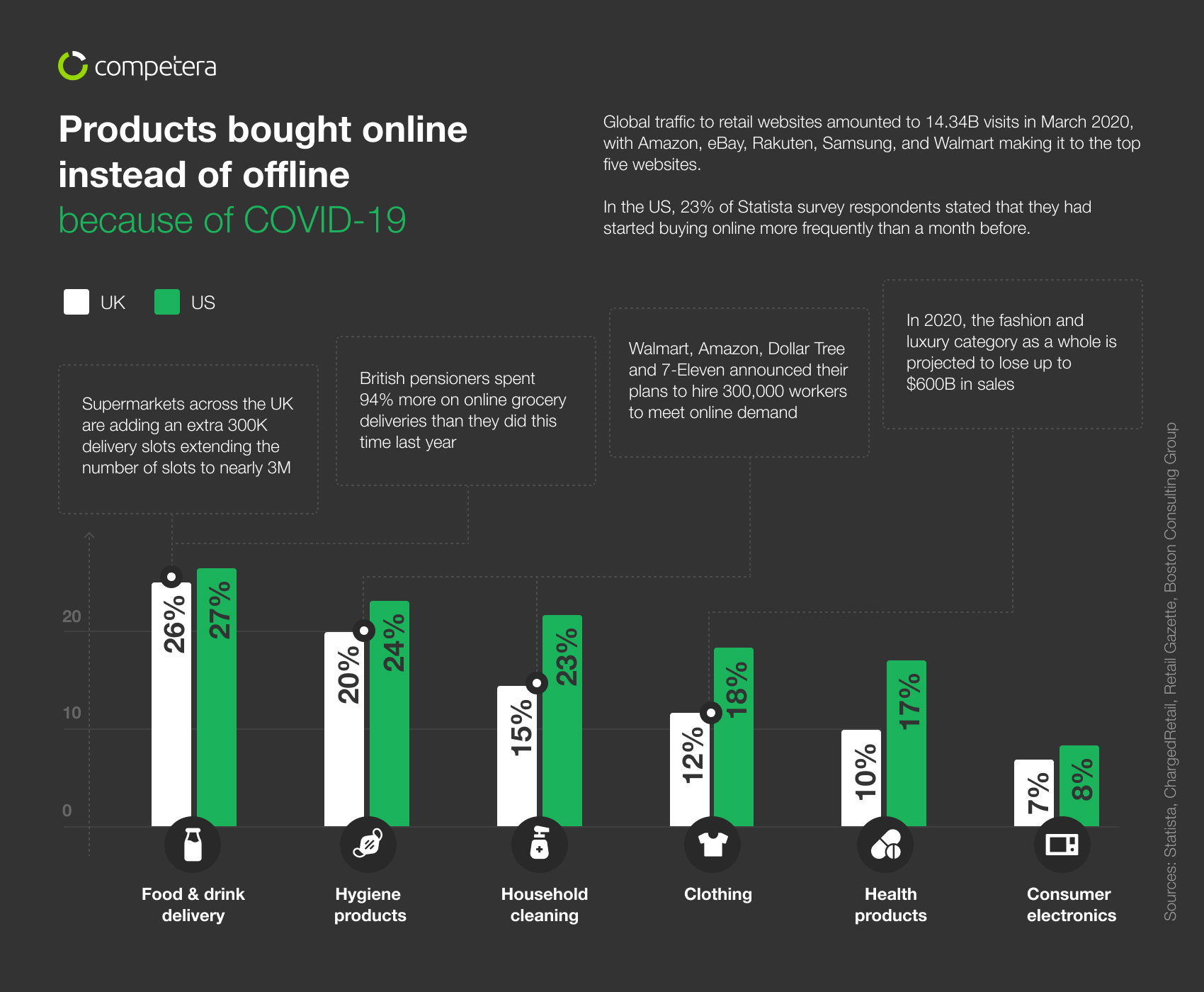 Sources: Fast, Statista, InternetRetailing, RetailGazette, CNN