Price Management
Software for Retail
Get the best prices with automated pricing decision trees. Use either common pricing rules from the platform's library or individual ones adjusting controllable constraints and variables.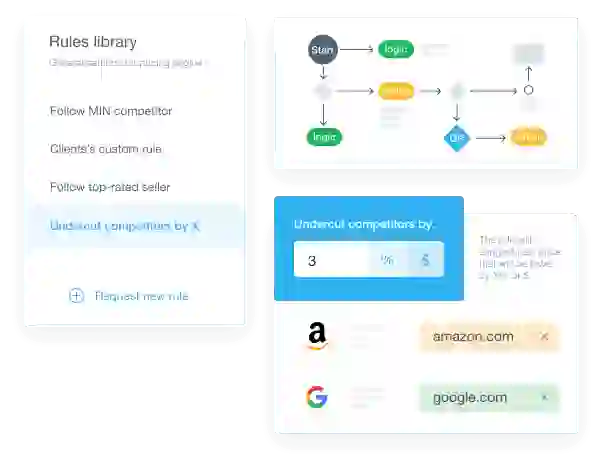 Retail Fit
Competera is an industry-agnostic solution suitable for omnichannel, mono- or multi brand retailers with a certain business maturity.
Cost-plus
Margin-centric
Ad hoc repricing
Human-driven decision
Market-driven
Competitor-centric pricing triggered by market changes
Regular repricing
Constant manual check
Data dependence
Rule-based
Based on rules and business constraints
Automated real-time repricing
Human-supervised
Market-share focused
Elasticity-based
Mix of rules & demand-based pricing
Goal-oriented repricing
Manager as a strategist
Portfolio coverage
Personalized
Shopper-centric pricing
Individual offers based on LTV
Balance between customer demand and business goal
Competera Pricing Platform
A unified workplace with an easy-to-use interface
Competitive Data
High-quality, timely product matches and data scraping covering any region, currency, or language in a single dashboard – designed for retailers with tens of thousands of products. Details
Pricing automation
Coherent, fast and flexible pricing with defined workflows and a transparent cause & effect analysis of every price change. Details
Price optimization
Elasticity-based price setting driven by demand patterns, products cross-impact and more than 20 pricing and non-pricing factors. Details
Get full control with Competera's pricing platform
Take off the burden of manual repricing from your Category Managers with:
Our library of common pricing rules and constraints
Custom pricing scenarios based on client's or competitors' data mix
Pricing constraints under control
How automated rule-based pricing works
Get up to five times faster repricing in three steps
Choose the right strategy and pricing rules in a few clicks

The platform consumes and processes competitive and client's data

Competera generates and delivers prices based on set rules and data mix
Why choose Competera?
Competera is an all-in-one pricing platform with a disruptive pricing approach leading to touchable results for omnichannel retailers.
Let us show you
Turnkey solution Reprice thousands of SKUs from Day 1
Suits any portfolio Manage any number of categories
Technological transparency Feed in dozens of constraints
Let us guide you
Individual pricing design 4⁴ pricing solution combinations
Short-term forecast Assumption accuracy 90%+
Well-balanced pricing Consider dozens of factors and manage 2 KPIs at once for optimal prices
Let us impress you
Subscription-based mode Minimal subscription - 1 year
Fast integration Integration & first profit - in 60 days
PoC-proven results Duration up to 90 days
Guaranteed projected profit ROI 600%-800%
Price Management Platform trusted by market leaders worldwide
Test and manage various scenarios to reach your targets
Your commercial team is equipped with all tools needed to craft the best strategies to increase revenue and profit margin.
Sandbox feature predicting outcomes of predefined or custom strategies
Ability to set specific constraints and targets for each scenario
Stop-lists excluding particular SKUs, brands or categories for repricing
Use pricing insights to control the whole picture
Managers will find new opportunities and identify issues before they become problems using insights on:
Own and competitors' stock execution
Unique products in your portfolio and across the market
Execution of MAP guidelines by other market players
Try Competera's Pricing Management Software right now
Leave contacts and we'll show more opportunities for your business