Dynamic Pricing Engine
The Ultimate Tool for Retailers
Retailers, be they online or brick-and-mortar, tend to lose potential profits by failing to sell products at an optimal price at the right time. They often lack quality competitive and consumer data or are unable to use it efficiently. A dynamic pricing engine eliminates the problem.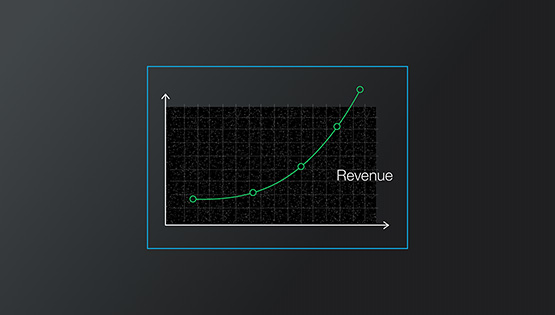 What is a dynamic pricing engine? It is a type of software which aggregates real-time market data and helps retailers immediately set competitive prices for each shopper by constantly offering an optimal price based on a competitor's actions, customer behavior, and purchasing power.
As an online retailer, you know that your main focus is on offering the right item at the best time and for the perfect price. However, those who shop at your store have many choices surrounding them as well. The decision that they make depends on factors such as how fast they can get a product or service, the return policy, whether there are other models, what other people think, as well as the price.
In this article, we'll focus on price intelligence implementation. Pricing is incredibly complex, but it really doesn't have to be.
How do you make it easier?
You can do so with the power of a dynamic pricing engine.
This engine is similar to that of an automatic vehicle because they change depending on a specific factor. However, automatic automobile engines change depending on what's going on with the road while dynamic pricing engines change depending on what's going on in the market.
But what exactly is dynamic pricing?
Let's start with what it's not, which is static pricing. On the contrary, dynamic pricing changes with the conditions that are thrown at it. In other words, it makes pricing flexible. You initially set a base price, but that price has the freedom to change depending on the circumstances. This allows you to have more opportunities to take advantage of in the long run. For example, its flexibility and power could potentially make your customers happier and they'll be more interested in sticking around longer too.
Implement dynamic pricing, increase sales and margin with Competera Pricing Platform
Get a Demo
Let's dive deeper with an example.
Suppose you have a competitor who copies your every move. When you get a new item, they get the same one and match your price. Dynamic pricing comes in handy when you're trying to make your offering more competitive. For instance, you could offer discounts for buying in bulk or offer your loyal customer base savings off of their purchase.
Although dynamic pricing has a huge role in increasing the consumer's image of price and the profitability of the retailer, a lot of them sell approximately a fifth of their inventory at a low cost to improve their image and stay in the competition. Then there are the KVI's that are typically your best sellers. Although they may make up most of your revenue, they only comprise of half of your profit. This is where dynamic pricing solutions come in handy. Typically, the solution has five modules that work side by side to create price options for every SKU in your collection.
Long-tail module helps retailers set the optimal initial price based on the results of smart product matching
Elasticity module calculates how the price influences the demand
KVI module shows how every product contributes to the consumer price perception
Competitive-response module suggests price changes based on up-to-the-minute data about competitive prices
Omnichannel module allows managing both online and offline channels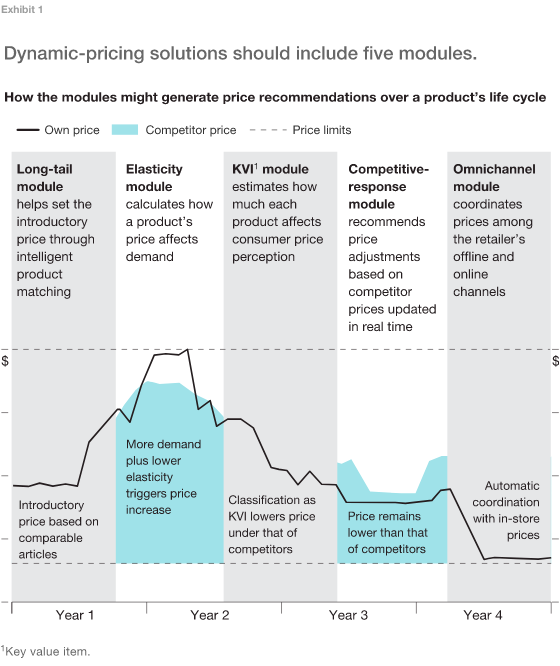 What are the advantages and disadvantages of the dynamic pricing engine? How can one maximize the benefits? What are the ways to handle the drawbacks?
How Businesses Benefit from Dynamic Pricing
According to McKinsey, retailers tend to reprice top-selling products three-four times per day, sometimes up to 12 times daily.
To make profitable pricing decisions, retailers require high-quality, accurate and timely delivered data about the market, including competitors' stock, prices, promotional activities, and customer data from a variety of channels, as well as the means to analyze it and transform into a winning pricing strategy. If the data is outdated, incomplete or inaccurate, pricing decisions will be detrimental to businesses. Thus, before switching to Competera, one of the company's current clients sold as many as 1,170 out of 13,000 SKU products at the wrong price due to 9% of data errors.
The dynamic pricing engine constantly provides the necessary data on a schedule, and thus helps businesses set competitive prices. Besides, the program outputs real-time revenue stats enabling retailers to fine-tune their selling decisions on the go. Armed with the optimized pricing strategy, competitive and customer data, retailers see their ROI surge and competition lag behind. When it comes to customers, the dynamic pricing engine helps retailers to provide the most price-sensitive buyers with personalized offers.
Also, the dynamic pricing engine practically eliminates manual labor, bringing the risk of a human error to zero. On the other end, freed from mundane tasks of data collecting, Pricing and Category Managers focus on strategic goals.
Today dynamic pricing is among the top five investment areas for both large and mid-size retailers. With an effective solution, businesses claim to experience a 2%-5% sales growth and a 5%-10% margin increase.
How to Handle the Drawbacks of Dynamic Pricing Engine
Making the first steps in using the software, retailers may face strong customer dissatisfaction with the two side effects of dynamic pricing: price discrimination, as well as constant and irritating price changes.
In addition, there is a risk of customers switching to competitors in the search of a better offer, since it is easy to compare the prices of a specific product or service online.
Retailers can easily tackle all these issues by revamping their approaches: by using price personalization instead of discrimination, retargeting lost customers and fully integrating the dynamic pricing engine into their daily operations, making it part of the system.
Conclusions
The dynamic pricing engine is essential for retailers to compete in today's market. It delivers accurate competitive and customer data on schedule allowing retailers to optimize prices, fuel sales and thus significantly increase revenues. Although there is the risk of the software decreasing customer loyalty, there are several ways (price personalization, retargeting and the full integration of the engine into the retailer's operations) to ensure it does not happen.
However, evaluating integration capabilities of a selected software and understanding the optimal price based on past sales is only the first step.
Those who are interested in a long term solution need to integrate price optimization systems with an ERP system, a supply-chain and promotional systems. There you'll work on segmentation strategies.
You'll also build the revenue-boost forecast.
However, this wouldn't be possible without real-time gathering (Big Data) since it aids in the dynamic price comparison as well as anticipates the market demand.
With the right and most powerful dynamic pricing solution, you'll see a 2%-5% sales growth with a 5%-10% margin increase.
Become an effective manager today and maximize your profits with the dynamic pricing software, Competera.