Dynamic Pricing Engine
How to use it and why
There was a time when shoppers would visit a brick-and-mortar store to get a feel for an item, but then make the actual purchase online. Many people began "showrooming" when Amazon had started giving out discounts to those who checked the price of an item in store, but then actually bought it on Amazon.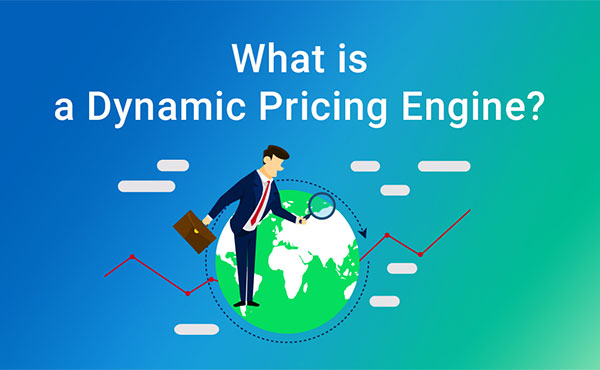 Today, retailers are trying to recreate this phenomenon by changing the prices within their own physical stores, so that they match the deals online. They are trying to take advantage of all of the information that they can now garner so that they can match both the supply and demand better, thus making time-sensitive flash sales.
As an online retailer, you know that your main focus is on offering the right item at the best time and for the perfect price. However, those who shop at your store have many choices surrounding them as well. The decision that they make depends on factors such as how fast they can get a product or service, the return policy, whether there are other models, what other people think, as well as the price.
In this article, we'll focus on price intelligence implementation. Pricing is incredibly complex, but it really doesn't have to be.
How do you make it easier?
You can do so with the power of a dynamic pricing engine.
This engine is similar to that of an automatic vehicle because they change depending on a specific factor. However, automatic automobile engines change depending on what's going on with the road while dynamic pricing engines change depending on what's going on in the market.
But what exactly is dynamic pricing?
Let's start with what it's not, which is static pricing. On the contrary, dynamic pricing changes with the conditions that are thrown at it. In other words, it makes pricing flexible. You initially set a base price, but that price has the freedom to change depending on the circumstances. This allows you to have more opportunities to take advantage of in the long run. For example, its flexibility and power could potentially make your customers happier and they'll be more interested in sticking around longer too.
Implement dynamic pricing, increase sales and margin with Competera Pricing Platform
Get Demo
Let's dive deeper with an example.
Suppose you have a competitor who copies your every move. When you get a new item, they get the same one and match your price. Dynamic pricing comes in handy when you're trying to make your offering more competitive. For instance, you could offer discounts for buying in bulk or offer your loyal customer base savings off of their purchase.
Although dynamic pricing has a huge role in increasing the consumer's image of price and the profitability of the retailer, a lot of them sell approximately a fifth of their inventory at a low cost to improve their image and stay in the competition. Then there are the KVI's that are typically your best sellers. Although they may make up most of your revenue, they only comprise of half of your profit. This is where dynamic pricing solutions come in handy. Typically, the solution has five modules that work side by side to create price options for every SKU in your collection.
Long-tail module assists with deciding the initial price with the help of intelligent product matching
Elasticity module computes the effect that the item's price has on the demand
KVI module makes an estimation of how big the impact of each item is on the consumer price perception
Competitive-response module suggests price alterations established from the rivalling prices that are continuously being updated
Omnichannel module matches both the retailer's online and offline channels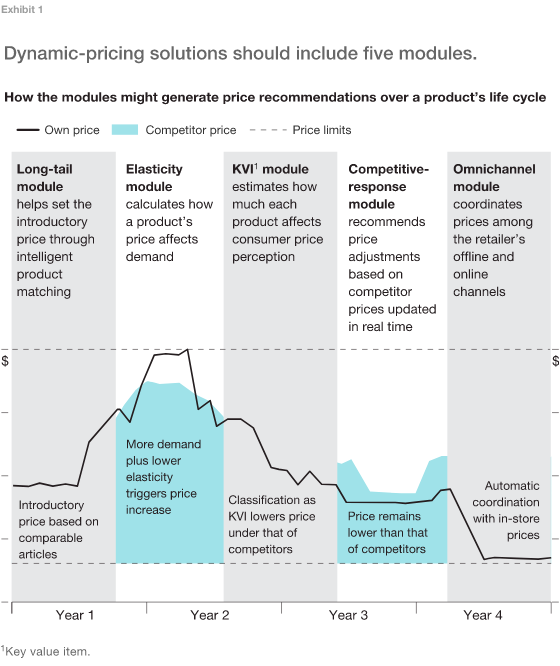 What are the advantages and disadvantages of a dynamic pricing engine?
Advantages
Online retailers can use a dynamic pricing engine to reprice based on the prices of their rivals or based on the demand. The prices are dropped when the demand is low and raised when the demand is high. In other words, dynamic pricing stimulates demand and it's very profitable. It's also easy to put into action with the help of a dynamic pricing engine.
Dynamic pricing manages both the targeted and the smart shoppers' experience. A heavy focus is placed on those who are the most sensitive to prices and who are always looking for the best deals. Additionally, you get the most sustainable, consistent, and ongoing pricing enhancements on the contrary to one-time price alterations. Since you'll be pricing items in correlation to the market demand, you'll make more profits from each product. However, even though your prices decrease, with the help of dynamic pricing, you're profits won't fall with them. In fact, dynamic pricing engines positively impact ROI.
However, that's not this engine's only use. In fact, it provides lots of important, real-time information about market forces. For instance, you can see revenue results in real time, so that you can identify the sweet spots and improve your internal strategy. Another benefit of using a dynamic pricing engine is being able to see what your rivals are selling and for how much. With all of this information, you can see the effect of sales, marketing activities, as well as fine-tune production right away.
Additionally, with price automation, you don't need to do anything manually, thus eliminating human error and giving you more time to spend on other important tasks.
In conclusion, stay ahead of the competition with all of the information and insights provided to you from a dynamic pricing engine.
Disadvantages
If you ultimately decide to use dynamic pricing, you may irritate some customers, suffer a decrease in customer loyalty, and your number of competitors is likely to increase.
First of all, your customers may become angry with you, should they find out that they've been subjected to price discrimination. You could also potentially push them away with your constant price alterations. In return, this would impact your customer loyalty, which could negatively impact the image of your brand as well (get to know more about brand positioning and MAP).
On top of that, because your customers have come to realize that you're engaged in dynamic pricing, they'll most likely look into the pricing of your competition to figure out where they would get the best bang for their buck. This is especially easy to do online since within minutes, they can compare the prices of a specific product or service across a large number of companies.
Choosing a Dynamic Pricing Engine
The motivation behind purchases made online isn't always the price. In fact, according to the report "New Retail Ecosystem: from disrupted to disruptor" conducted by PwC, 32% selected convenience as their main reason for buying online. As a result, although this article is about the price, don't neglect other factors such as a convenient shopping experience. However, if you want to stay ahead of your competition, using a dynamic pricing engine may be exactly what your company needs. In fact, dynamic pricing is one of the top 5 investment areas for both large and mid-market size retailers because of their increase in spending on pricing and promotions.
However, evaluating integration capabilities of a selected software and understanding the optimal price based on past sales is only the first step.
Those who are interested in a long term solution need to integrate price optimization systems with an ERP system, a supply-chain and promotional systems. There you'll work on segmentation strategies.
You'll also build the revenue-boost forecast.
However, this wouldn't be possible without real-time gathering (Big Data) since it aids in the dynamic price comparison as well as anticipates the market demand.
With the right and most powerful dynamic pricing solution, you'll see a 2%-5% sales growth with a 5%-10% margin increase.
Become an effective manager today and maximize your profits with the dynamic pricing software, Competera.