The Key to Giving Your Customers the Best Shopping Experience Online and In-Store
2017-08-17
How do you give your customer a good shopping experience both online and in-store?
Kill two birds with one stone, by making both of them convenient to the consumer.
Today, we live in the digital age, so customer convenience is a crucial aspect across the board, but even more so for retailers. When people shop in-store, they like to take their time and browse around, but when it comes to online shopping, they want their experience to be quick and easy. As a result, when it comes to in-store shopping, you need to focus on making the experience as less stressful as possible. With that said online, you need to take advantage of the luxuries that come from modern day technology such as automation, so that users can shop more efficiently.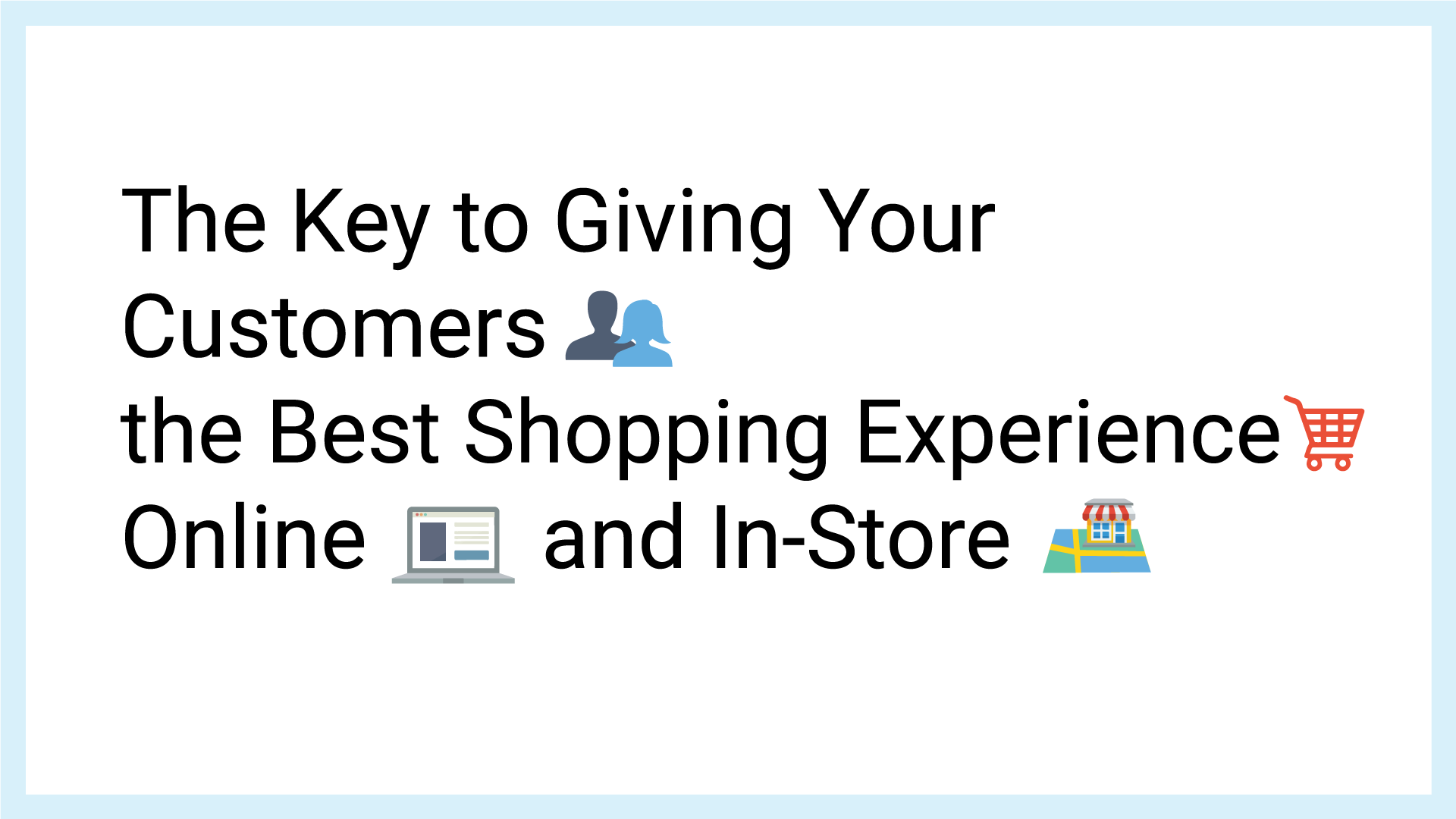 In the report titled "Shopper-First Retailing: What Consumers Are Telling us About the Future of Shopping", we've learned that physical stores are not dying. There is evidence that states that 58% of Generation Z shoppers would rather shop in physical stores rather than online. As a result, those with online stores should extend their buy online, pickup in store (BOPIS) programs. 54% of 18-24 year olds are either very or somewhat interested in the idea and there is an even higher interest amongst 25-34 and 35-44 year olds with a whooping 60%.
This is a good segway into the first place to incorporate convenient customer experience.
In-store
As mentioned earlier, when it comes to shopping in physical stores, consumers really enjoy taking their time and getting the most out of their experience. When it comes to customer experience, a number of things are taken into consideration. For example, is this store known for its cheap prices or on the other hand, is it known for being luxurious? If it's a cheap one, you know you won't leave the store with an empty wallet, but you may not receive the best customer service. If you walk into a high end store, though you know that you'll be getting the most out of your money with great service from the employees. They will make it their top priority to really get to know you and keep good eye contact with you when holding a conversation. Either way, customers will be satisfied because they go into the store expecting a certain outcome.
However, regardless of the type of store, you still need to focus on making the process as convenient as possible for shop-goers. There are a number of ways that you can do so. Here, we'll introduce three.
One-click Checkout
One way you can do that is by making waiting lines less stressful. Do that by incorporating, for example, Barclaycard's Grab+Go application into your checkout experience. This enables customers to just scan their items as they shop, and then checkout with just the click of a button!
Retail Credit Card
A way that you could really boost sales and help out customers is by introducing a retail credit card at your store. One of the top cloud-based fintech for retailers, Vyze's newest Retail Credit Survey shows that people are aware of the retail credit card solution, with 8 out of 10 people in-the-know and interested in the solution. So why aren't more companies offering this alternative to traditional credit cards? It's certainly a good way to increase your loyal customer base.
Mobile Shop
If you want to go above and beyond with providing an exciting and new approach at giving customers a convenient shopping experience, you can look into options such as Wheelys. This Swedish startup company is currently working on the creation of a mobile store on wheels with basic necessities. Consumers would just scan the item off of the cart with their smartphone, and the Moby Mart application would handle the rest of the transaction. The vehicle isn't fully developed yet since it's still only controlled by people instead of with the use of AI and computer vision, but it's definitely something you could look into in the future.
These are all great ways to amp up your in-store experience, but that's only useful if stores truly aren't on the verge of dying. A report from Credit Suisse predicts that about 20% to 25% of America's malls will end up shutting down sometime in the upcoming five years with the push of e-commerce. As a result, looking into bettering the online shopping experience for users is also just as important.
Online
Dr. Nicola Millard, head of customer insight and futures at BT, conducted a research called the "Omni-channel Swap Shop", which shows how the way that we shop in the retail space is changing. An interesting trend for it reveals that people want their experience to be quick and easy.
So, how do we make things easier for customers online?
Since everyone lives very busy lives, efficiency has become a big priority for them. They want convenient pricing, alternative purchasing methods and good customer support at all times. Let's look at each factor in more detail.
Competitive Prices
Through surveys, Dr. Nicola Millard has discovered that things like loyalty are going down because consumers no longer need to be loyal with the amount of choices that they can now select from. They want to make sure that they get the best bang from the buck. Thus, you need to track your competitors and make your prices even better, but without violating MAP agreements. There's no telling how large of a loyal consumer base you could amass with good priced and quality products.
However, on top of that, you need to create the easiest customer journeys possible.
Retail Credit Cards
One way you can do that is by, once again, incorporating a retail credit card. Not only is that great for sales in store, but it also helps boost online sales. It's also a great way to increase your chances at growing your company's loyal customer base.
Do Your Research
She also states that we need to eliminate package paranoia. If customers buy online, they want to be able to expect to get the package. However, that's only one of many things that companies should address. Therefore, you need to start asking your customers questions such as how easy they're finding it to do business with them. Utilize Google Forms, SurveyMonkey, or TypeForm to make polls and then once you get the results, look into designing things differently so that your stores fit their needs and have processes that are easier for them. In fact, although satisfaction and the wow factors help on occasion, based on some of Millard's global research, called the "Autonomous Customer", 88% of the customers from that research stated that if companies made it easier to do business with them, then they would come to those companies. That's yet another way that you can gain back a loyal customer base. Additionally, by monitoring competitive prices and analyzing data from users, you'll have a much better conversion rate. Now that's how you kill two birds with one stone.
Customer Service
We can conclude that when it comes to online customer experience, speed is the biggest factor. If a customer doesn't go shopping in-store, they'll most likely just want to make a quick purchase. Regardless, you still need to keep up with your appearance, whether it be in the pricing or in the quality of your service. When it comes to online shopping, you need to have good customer support available at any moment. That's where you really need to go the extra mile.
There is a saying that goes, "There are no traffic jams along the extra mile". However, although there may not be any traffic, you won't be driving alone because you'll be driving with your customer instead, which is exactly what they want, an effortless and efficient ride.
User Interface
You need to impose the old world to the new world with toll free numbers, videos or with a virtual person because even though the internet is supposed to make things easier, issues still arise that never do when it comes to shopping in a store. Make sure that your products are displayed nicely, include all of the information necessary, have a secure website, don't confuse users, have a good mobile interface, etc. Those are just a few ways that you can increase your online shop's conversion rate.
Combine the Two
You can combine the two experiences, in-store and online, by showing customers at the store what they had in their online shopping cart. In fact, 70% of people who start shopping online hope to go in the store to find what had been in their online shopping cart.
Therefore, retailers need to prioritize omnichannel strategizing. Regardless of whether your customer is shopping online or in a physical store, keep in mind that they tend to judge you based on their last experience with you so make sure that it's a good one. Really interact with them both online and off and tend to their needs in regards to the speediness of the shopping experience.
If you want to be at the top of the game, build your pricing power with the help of consistency and tailoring. With a consistent brand message and tailored prices, you'll make it very easy for customers to continue being loyal to you.
Don't forget that convenience is key.