At the beginning of the year, the industry stakeholders got together at one of the most prominent annual events in Retail - NRF Big Show 2022. Despite the growing concerns over another Coronavirus variant, the scenes, halls, and lobbies of Javits Convention Center were vibrant with attendees from every retail domain. Here and there, the discussion pivoted to the technologies and innovations meant to become essential for businesses of all sizes in the post-pandemic era.
So what were the hottest topics and most discussed trends? What is their actual significance for the future of retail and sustainable business growth? The following are the top trends mentioned during Big Show 2022, seasoned with my personal view on their potential to disrupt Retail in the long run. Let's start!
Major Change In Consumer Paradigm
In 2020 and 2021, much of the world was forced into lockdown and didn't have much choice as to where to spend their money. So while traveling and services remained a distant reality, buyers raised their spending on other products. Home appliances, consumer electronics, home apparel, groceries, and decor became some of the most popular categories met in consumer baskets.
Over those two years, retailers have seen an unprecedented surge in digital commerce for products. And suddenly, in 2022, when people return to traveling and enjoy public services and dining out, retail teams are seeing sales plummet. Such a turn of the tables puts a lot of pressure on the teams who had a chance to set the bar extremely high in 2020-2021 and are now pressured to match last years' growth and bring even higher results.
The solution comes in the disguise of increased pricing. According to McKinsey, it takes a 1% price increase to grow margin by 6%.
The one company that has been performing excellence in pricing for more than a decade is Amazon. Dynamic pricing has instilled its strong dominance in the global market and thus separated it from the rest of the world.
So it comes naturally that pricing should be a paramount topic at the retailers' organization that plans to sustain dynamic business growth and keep a solid competitive edge in the years ahead.
Tech Innovations Take Off
The past couple of years have spawned a lot of new consumer trends and revealed even more about the people behind online purchases. One of the most exciting revelations is that consumers are extremely quick to adopt the technology that makes their life easier. So, driven by the convenience-first mission, the U.S retailers are hoping for the autonomous delivery trend by partnering with tech startups that help unleash the full potential of autonomous deliveries. For example, Walmart has started testing the waters by launching drone deliveries through a drone delivery hub in Arkansas. With such an introduction, shoppers who live within a 50-mile radius of Walmart's headquarters in Arkansas can get their purchases dropped off by drones. While some conquer the sky, others invest in automating the on-ground delivery. And, here, unlike warehouse robotics which became commonplace, autonomous delivery trucks are getting more steam among retailers. The trend's rise stems from a significant surge of fulfillment centers for online orders that retailers turned their local stores into during the pandemic.
Nowadays, autonomous vans come to the rescue to deliver goods from warehouses to stores.
The new roles of technology in consumers' lives and their convenience prioritization have started a new competition among retailers. And the business with the best convenience-driven tech will win.
New Ways to Drive Sales
About 86% of people use social media at least once per day. About 30% of the audience uses it to research products to buy and make purchases. According to Statista, approximately 55% of online shoppers aged 25 to 34 made purchases through social media platforms. The group is followed by shoppers between the ages of 35-44 (50%) and a particularly young group of 16-24-year-old social buyers. So it came as no surprise that the NRFspeakers emphasized the steadily growing role of social commerce and live streaming as one of the powerful ways to engage with potential buyers.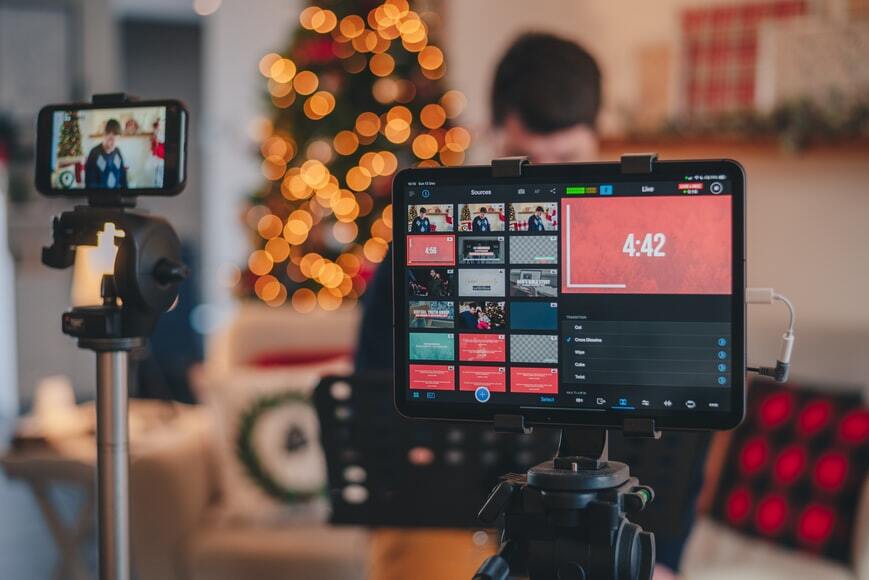 Live streaming has been around for a good while, and finally, its missing link has come to the spotlight - the ability for consumers to buy products/services from video. For retailers, such an innocent from the first view option brings huge advantages as reduced purchase consideration time and thus, increased customer engagement and sales. Since the U.S. livestream market is estimated to reach $25 billion by 2023, businesses should consider live streaming as a growth tool for their online dimension.
New Ways to Engage
Retailers are increasingly reapproaching the concepts of their e-commerce stores driven by the idea of creating a place for consumers to shop, hang out and interact with. Some of the most enterprising and nimble players have already breathed life into the idea by recreating their stores and even merchandise in Metaverse. This trend gained the most attention at this year's NRF Show.
"We are not in the fashion business anymore. We are in the innovation and entertainment business. If Metaverse is the place where all exciting things happen, then we should be there," - commented Patrice Louvet, CEO of Ralph Lauren.
Today, Metaverse may evoke vivid flashbacks among the retailers who witnessed the eCommerce kick off twenty years ago. Some may be caught between two fires: not to be the ones launching their first metamall while competition is jumping on the bandwagon. Yet, despite Metaverse being the land of the unknown for retailers, it introduces many opportunities to build unique bonds with buyers, and this chance may cost too much for a business to ignore.
What Is the Impact?
Despite a lot of discussion around the following significant trends in Retail and technology initiatives, retailers remain somewhat skeptical about their true potential to significantly impact their bottom-line metrics in the next 12 to 18 months. So you may wonder: why then was there so much attention around the topics? The overall interest has a solid background. According to expert predictions, in 5 years, Gen Zs and Alpha's will be over 50% of the total shopping population. But one should remember that these groups are not very loyal as consumers. They're loyal not to a brand or channel but to a purpose and ethos, whether it may be sustainability or any other concept that resonates with them. So retailers think ahead and elaborate on how to attract this audience and stick with them before it matures enough to drive their business results.
But how can retailers ensure that their business will still be around in those five years? The key lies in a slight movement in pricing, i.e., a 1% increase that can drive dramatic, immediate growth in gross margin.