Price Tracking Software
Get full 360* market view with best-in-class price monitoring and enhance your competitive strategy. Competera platform helps to stay competitive with:
smart scrapping based on real competitors and true KVIs' identification
up to three times faster price monitoring
automated pricing rules fueled with high-quality data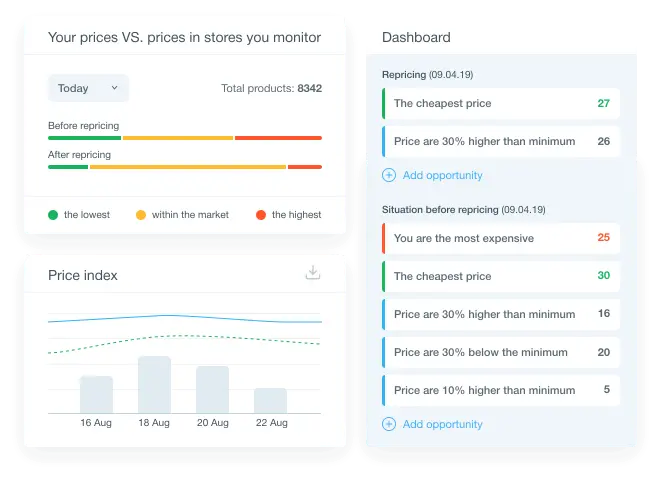 What is competitor price monitoring software?
Price monitoring software is used to get fresh and correct information about prices, promos, availability, product visual representation, customer reviews, and other data from competitors' websites.
Comprehensive price monitoring enables retailers to grow by further implementation of automated pricing rules and price optimization.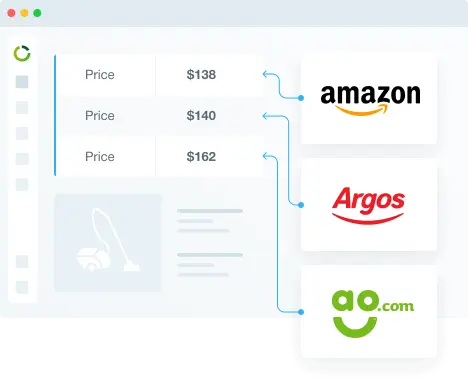 Price tracking for better decisions
Competera provides category managers with market insights and custom analytics on MAP policy execution, stock availability, promo, credits, and other crucial variables helping to outperform competitors and enhance market position.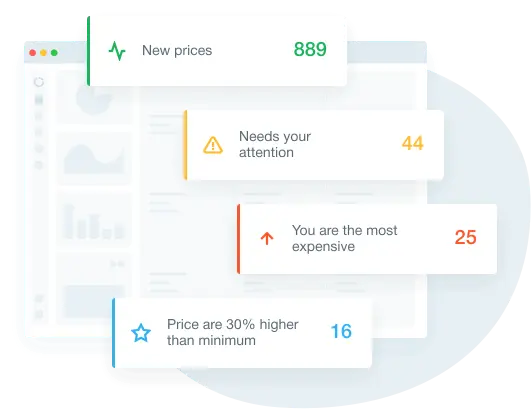 Competera's platform is a great tool for price optimization and price management. As a user, I really appreciate the Competera dashboard which gives me the opportunity to work on any level — from the portfolio level to going as deep as the SKU level. With Competera, we know which strategy is gonna benefit us the most and go from there.
As the business was scaling, it was important for us to base our pricing decisions on market trends, website analytics, and other crucial data points that a pricing manager can hardly embrace all at once. Competera's smart algorithms made our price management data-powered and proactive and saved the team 50% time from routine tasks. Competera has shown how AI is revolutionizing the traditional pricing processes and strategies, so we look forward to adopting the technology for other regions.
We believe Competera is the best in the industry. Their platform provides a set of tools, including market-based pricing and AI-driven demand-based pricing, that offers solutions to an immediate need, as well as our long-term plans. They have quickly become a strategically important player that we entrust with enabling a core element of our business.
Time was an issue for us, as we didn't know when exactly Amazon was about to launch in Sweden. Nonetheless, our key requirement from a data provider was to receive Amazon Sweden and its sellers' prices within 24 hours after the marketplace launch. Competera did the job within 8 hours, and that was a great success.
Know your true competitors and track prices smartly
Each competitor impacts your sales in a different way. An average assortment intersection with other retailers is 35%.
Competera helps to identify your real competitors with no risk of being misled by irrelevant data.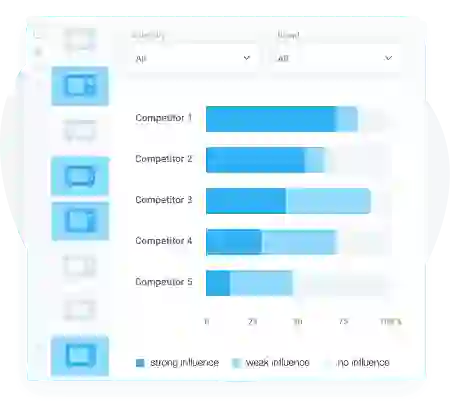 Why choose Competera?
Competera is an all-in-one pricing platform with a disruptive pricing approach leading to touchable results for online and omnichannel retailers.
Let us show you
Turnkey solution Reprice thousands of SKUs from
Day 1
Suits any portfolio Manage any number of categories
Pricing process transparency SKU-level price interpretation
Let us guide you
Individual pricing design Cover all types of pricing use cases
Assortment segmentation Explore the role of each product
in your portfolio
Full control over pricing decisions Set up sophisticated cascade of conditions to implement your own pricing strategy
Let us impress you
Faster repricing Repricing time reduced at 50%
Fast integration Integration & first profit in less
than 60 days
Top-quality data Pricing data at quality rate of 99%
No black box in price-setting process Cause & effect analysis of every
price change
The proof is in the numbers
Each of Competera's clients receives 8% average uplift in revenue and 6% average uplift in margin.
>90%
accuracy of short-term forecast
+98%
product matchings quality
$60B+
of revenue under management
162M
annual optimal price recommendations
Get consultation from Competera's pricing experts
Outperform your rivals with Competera Pricing Platform.