What Happens After
You Hire Pricing Software
So you've chosen your perfect competitor price monitoring software (if not yet, read this article), which will give you fresh and detailed market data. In addition, it provides clear and nicely visualized reports and is super easy to integrate.
Get to know the next steps of your competitive pricing journey and enjoy the ride!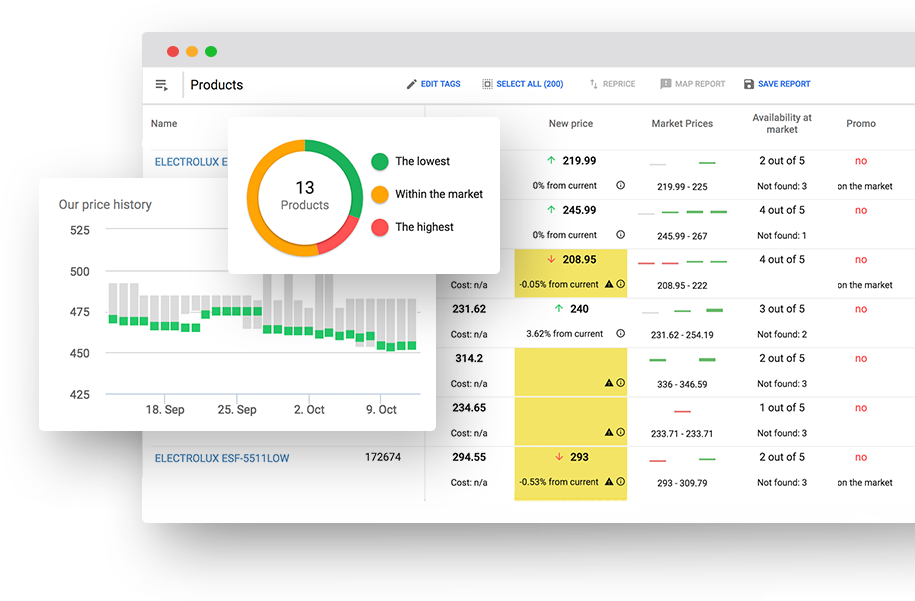 Preliminary
preparation
Step 1
Define your goals (e.g. to increase turnover and margins, to increase share, to adjust prices, to fight against dumping, to launch promo).
Step 2
Study your existing inventory to determine which products bring the greatest profit, define your top sellers, KVI-positions to use this knowledge with competitive pricing software.
Step 3
Define your key competitors, determine the monitoring frequency.
Step 4
Teach your pricing and category managers to use the new price tracking tool, organise a training and estimate the newly acquired knowledge.
Step 5
Choose the add-on's for your price tracker solution to improve its performance taking into account your commercial indicators and requirements.
Step 6
Make a ROI forecasting: estimate when the software you hired will be paid off.
Integration
Step 7
Import data from the previous solution you were using to the new one.
Step 8
Fine-tune your price comparison software by choosing the best pricing rules and scenarios.
Step 9
Decide in what way you will download the data to your ERP (there are several options: manual download, integration through API, direct import of new prices from the price optimization software to your online shop).
Onboarding
Step 10
Define the technical difficulties you've met while working with the software to reach your business goals and communicate them to you pricing software provider.
Step 11
Make sure your category and pricing managers are using the pricing software regularly and for at least a few hours a day.
Step 12
Analyze in which way the software helps you to gain more money. Make the best out of it!
Step 13
Change repricing tactics and add new competitors to improve your competitor pricing (if needed).
Steady
Workflow
Step 14
Adjust repricing according to new aims (e.g. if company started working in a new region, a new shop opened, a new competitor occured, the inventory expended or narrowed down).
Step 15
Choose a larger price optimization plan if needed (track more competitors to get detailed information about the market).
You're confidently on your way to perfect competitive pricing!
Price Optimization
Competera is an essential competitive pricing software which provides retailers of all sizes with accurate, quick and clear data.
Get demo
Request 14-day trial