Price Intelligence Integration for Magento
Integrating Magento and Competera boosts online sales through smart pricing and efficient inventory management
Competera is the family of products for retailers to supercharge price setting with quality guaranteed data extraction and AI-driven price recommendations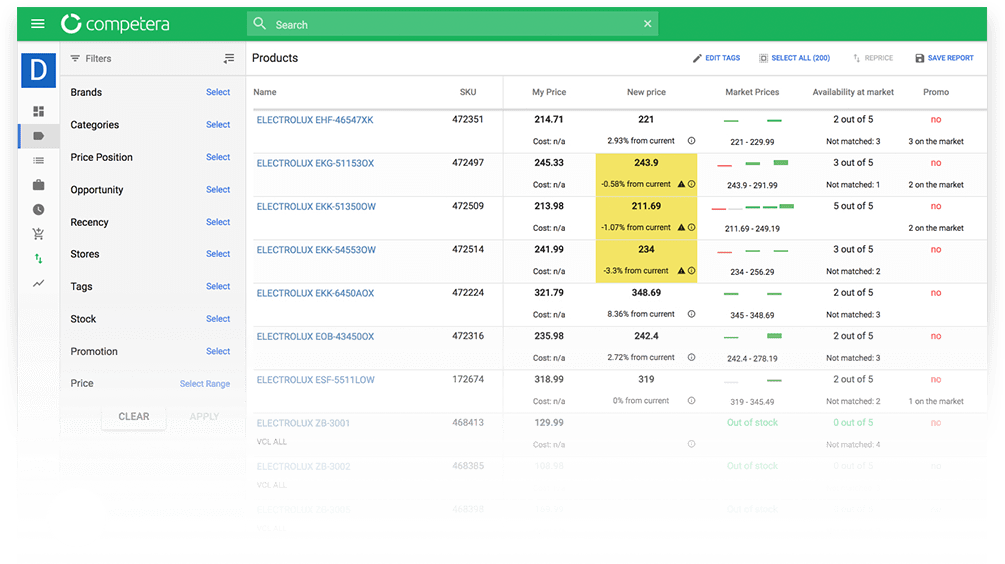 How It Works?
Competera
Magento
Storefront
Product List
Processed Data
Right prices on the Right Products
Get Pilot
Full-Stack Coverage
Price monitoring for any brand and major international market
Historic and current pricing, promotion, and stock data tracked weekly, daily, and hourly
Currency adjustments to USD or local currency
Seamless matches between brands, countries, categories, or individual products
Errorless
A 360° view of crawl errors (SLA — 95%)
Powered by analytics and Big Data
Smart competitive data collection algorithms
Flexible
API
Compatible with any data regardless of its format or source
Shopping carts integration
Seamless integration with the retailer's storefront
Intuitive visual dashboard
Transparent and frequent custom reports
Custom data collection schedule
Our Partners
Straightforward integration and timely deliverables
Atwix
Atwix, we specialize in eCommerce and open source software.
We take quality of our solutions very seriously and strive to provide exceptional customer service to our clients on every level of the project lifecycle.
Atwix is proud to be Magento and OroCRM Solution partner.
OpsWay
OpsWay is 24x7 software factory with a wide range of IT services for e-commerce, software companies and startups.
Our 24/7 Magento 2 Support service means that we never sleep. Seriously.
Technical issues may strike at any time, and we're prepared to fix any problem around the clock.
OpsWay goal is convenience and peace of mind for our customers.
Request Demo