Market monitoring
Here they are: we've gathered all of the data on your competitor's price changes, product availability and promotions in one place.
Dashboard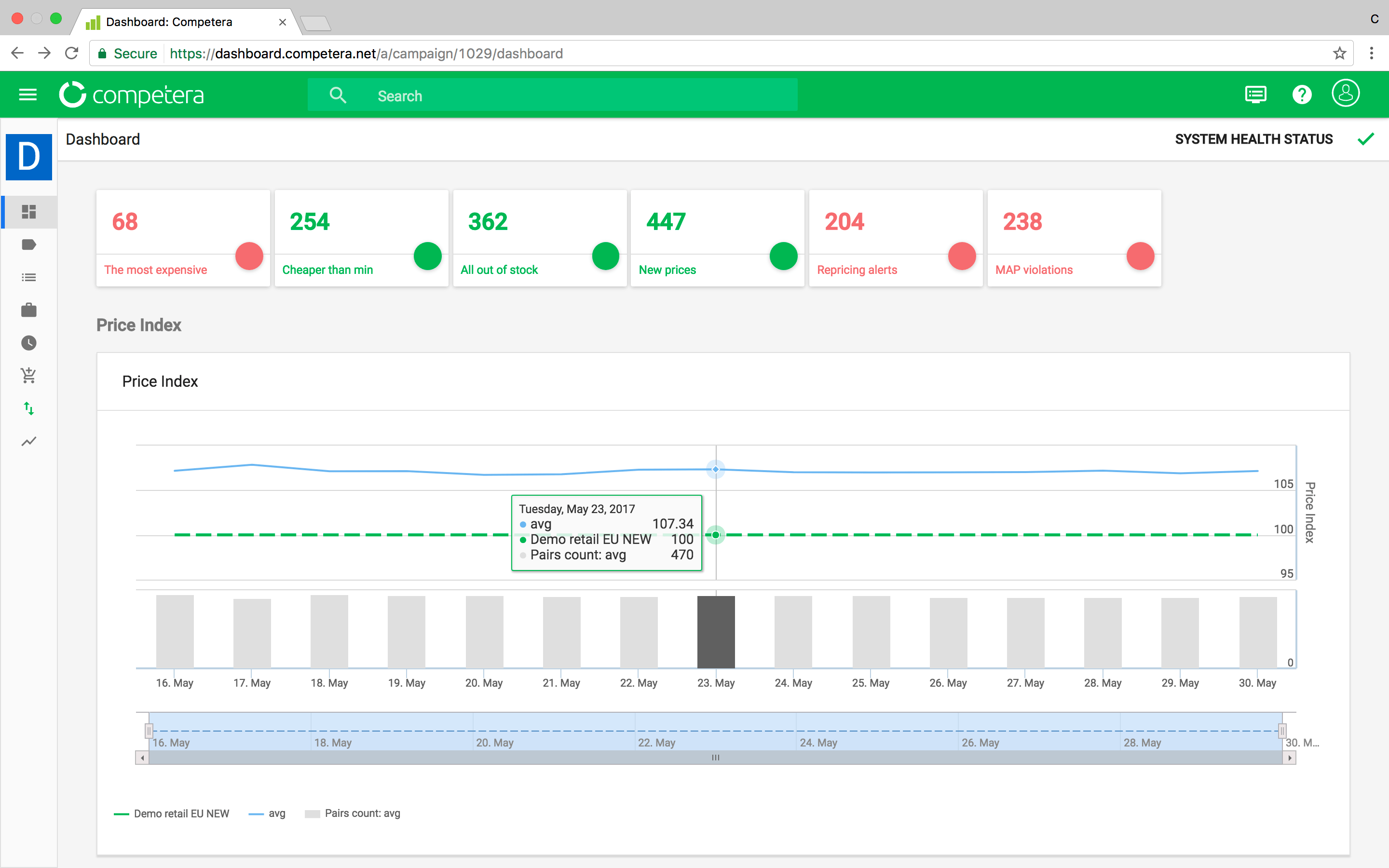 Quick access to a user's key information, reports and a clear visualization of a store's market position.
Instantaneous notifications

Automatic email notifications will let you always be on top of all important changes.
Price distribution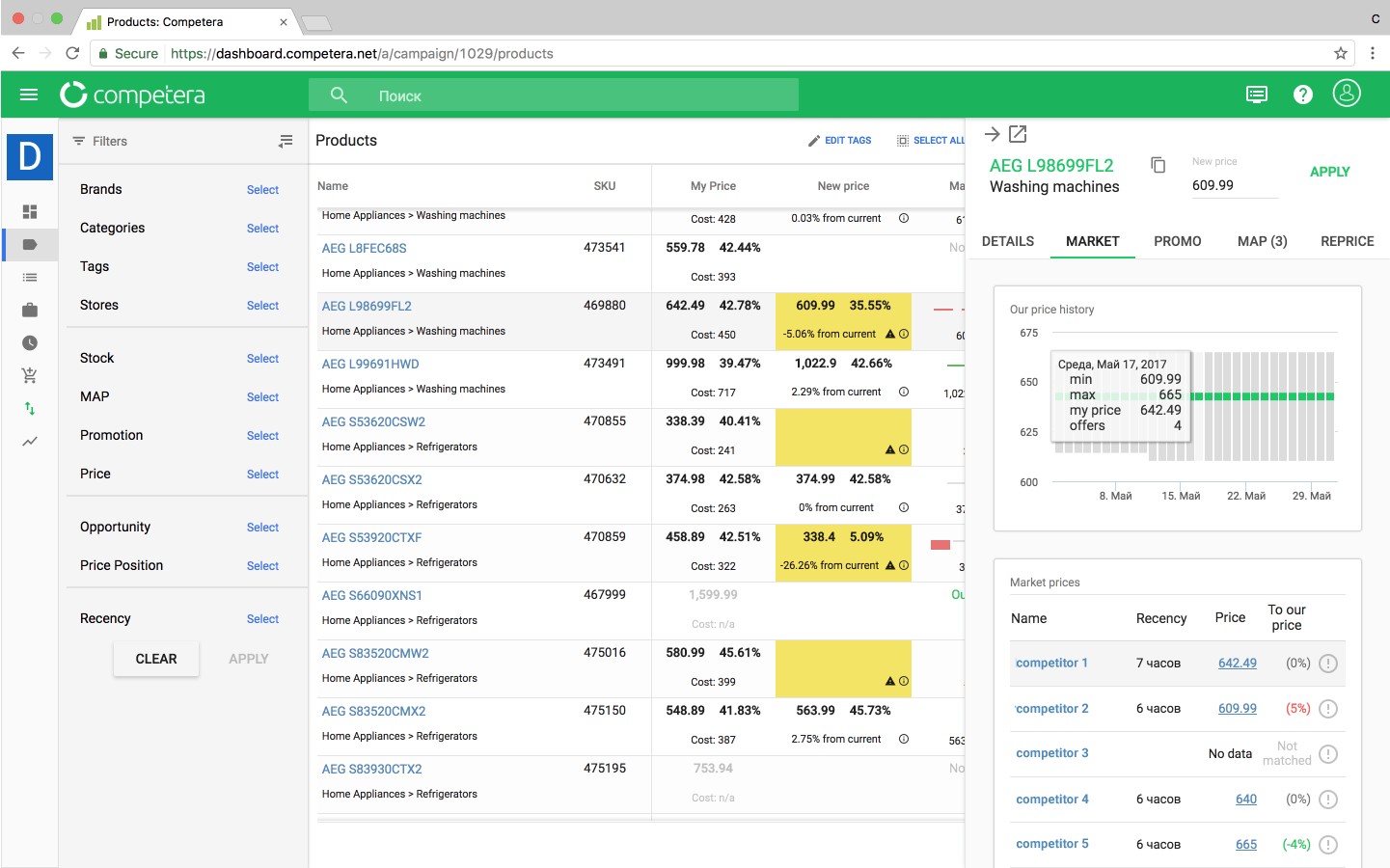 The price distribution graph helps control a store's market position in the context of category, competitor or brand.
Service Reports
Analytical reports enable you to deal with a wide range of assortments and receive information on SKU levels in different contexts.
Product categories deviation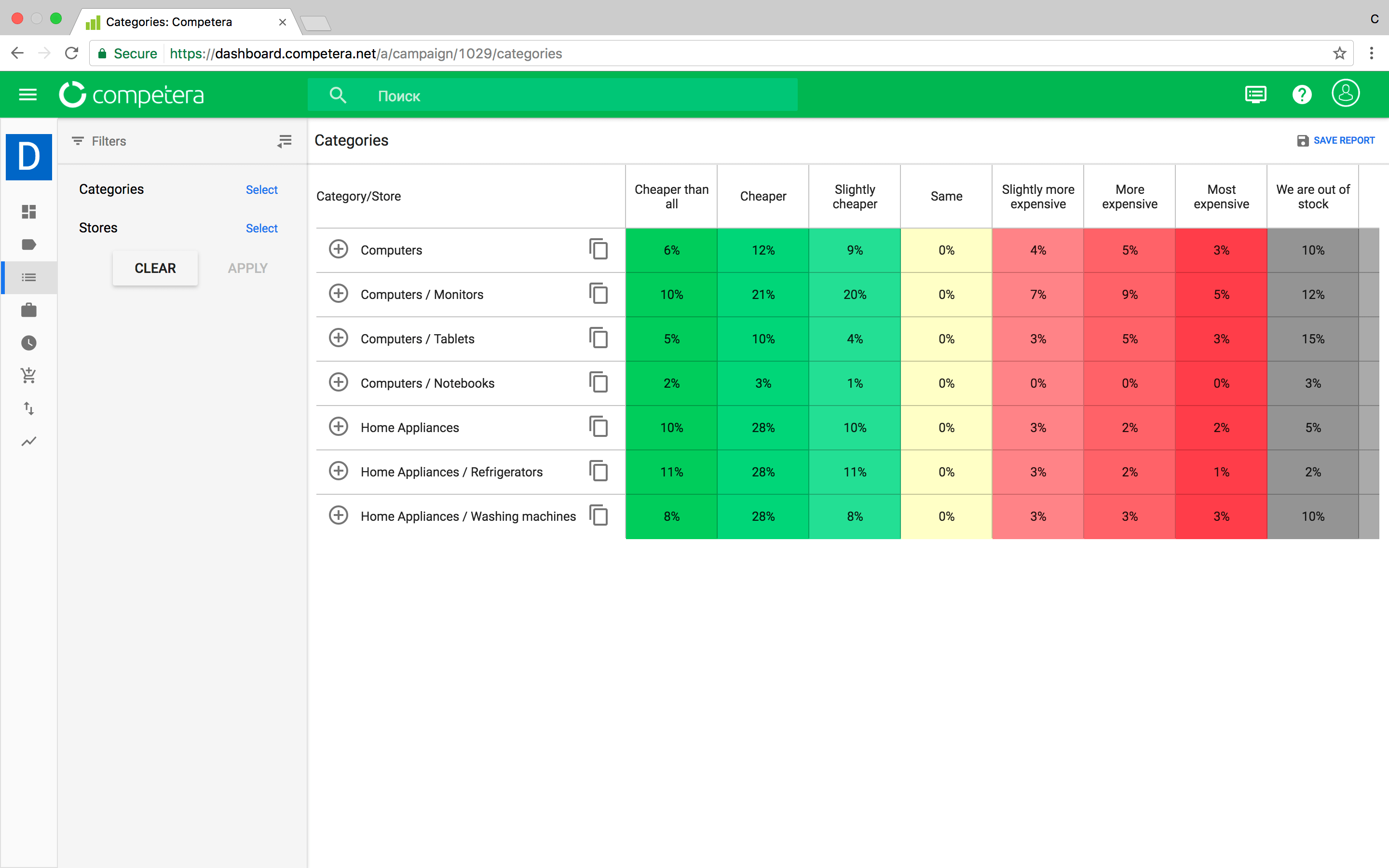 Tracking trends within each product category helps quickly reveal the categories that are not following predetermined pricing strategies.
Reports customization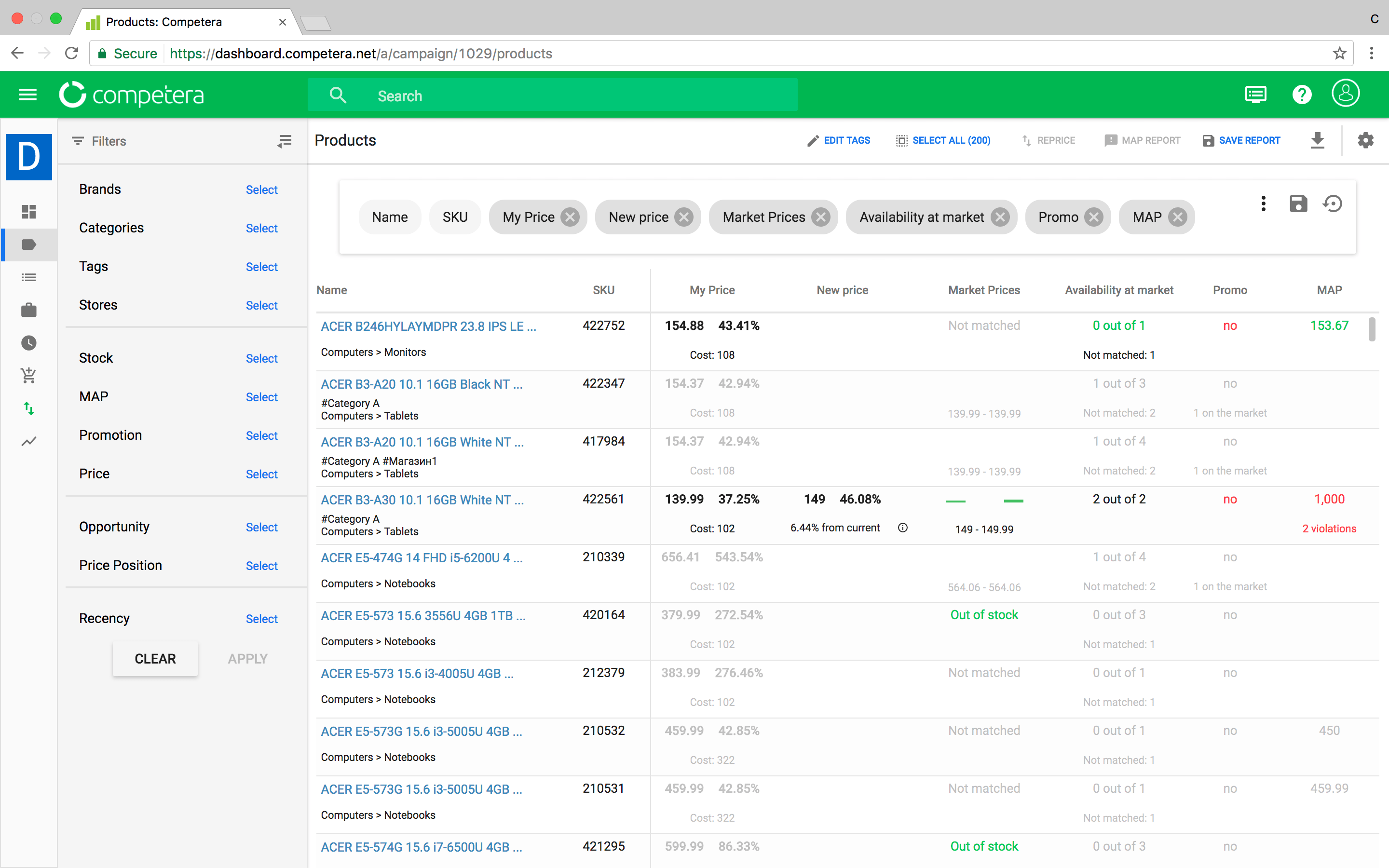 All reports can be easily customized with the help of filters, which can be saved for quick access later. You can choose from3 available data display scales.
Products deviation
Fast access to critical deviations on SKU levels; with the most abnormal activities highlighted.
Reports export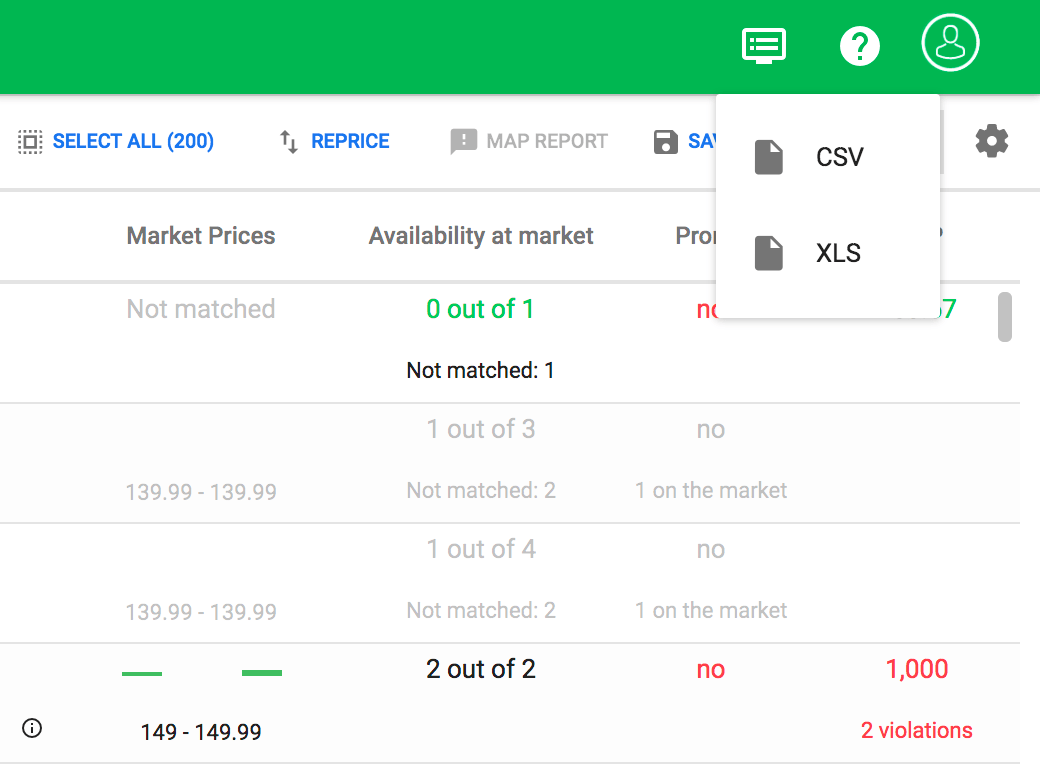 All selected data can be easily exported in any convenient format, or just sent as a link to your colleague.
Data acquisition and delivery
We consider the quality of the data we deliver to be of the utmost importance, so we collect it directly from the target websites.
Scanning process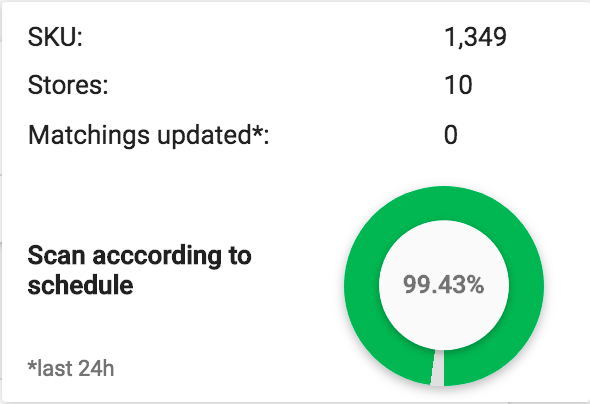 We deliver data from the targeted websites according to a custom schedule. The scanning and errors control process is completely transparent and are displayed on the acquisition graph.
Monitoring intensity

The maximum data collection speed available for users is every 2 hours, except when the website is limited by bandwidth.
Monitoring schedule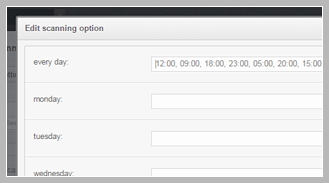 The data acquisition schedule can be set on product category, competitor and geographic zone, that ensures maximum up-to-date information when you need it.
Quality control

In the case of an error occuring or data delivery is delayed, the service generates a notification and as soon as the tech support team resolves an issue, the data will be collected again, regardless of the scanning configurations. We retain permanent control over acquisition algorithms to prevent undesirable changes.
Product matchings
We reach 99% of product quality matches in every category, from electronics to building materials.
Matching process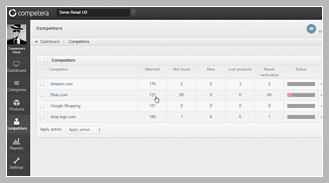 In the first 24 hours after the assortment update, product matching information is available in the user's dashboard. The products that weren't found during the initial search are automatically sent back to be rechecked.
Matching process speed and quality

Our unique product match search algorithm, and large crowdsourcing team is dedicated to double checking match quality and ensures fast and accurate product matching for any assortment size.
Matching interface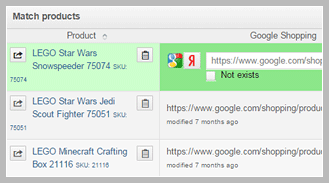 We also offer self support service, in the case of unique or specific assortments.
Support
The two-level support team and dedicated account manager guarantee the immediate resolution of any issue.
Data support

Our tech support team permanently monitors data currentness and product matching algorithm performance, reacting and solving all issues before the data is delivered to the customer.
Service Level Agreement (SLA)

In the event that the service quality rules and regulations, determined by the standard contract, do not make our customer feel confident, we can provide an additional SLA.
Control on customer's goals achievement

The Dedicated Customer Success manager is there to make sure the customer receives the best value for his business.
Ticketing system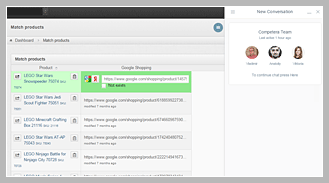 The ticketing system makes it impossible for us to miss a single message from our clients. The convenient interface messenger allows us to be contacted immediately, with no need to write an email to the support service.
Data exchange
Efficient data exchange processes are an integral part of good service. We put additional effort in making our data applicable for any kind of analytical task.
Assortment synchronization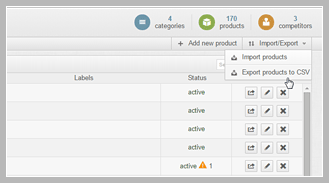 In the case the assortment of your web-store was updated, you can manually or automatically implement an edit by synchronizing it using XML, YML or CSV import files.
REST API access

Easy access to all your data in json, csv or tsv formats.
Data streaming

We support data streaming, for working the fastest with the data and advanced analytical operations. Data can be streamed in all of the most popular formats: Google BigQuery spreadsheets, Webhook(HTTP), Amazon SQS, Apache Kafka.
Multiuser access
The service supports multiuser access, with different level access configurations. Each company department or category manager works only with its own data set.
User rights management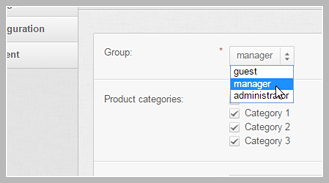 The campaign administrator can manage the service access of his team, inviting new members into the system. He has access to all of the data and all group configurations.
Personalization

Every manager can configure his own report content, notification schedule and other settings. Everyone receives service notifications in a convenient time and works only with his product groups.
Confidentiality
All data is collected for our customers' use only. We don't sell the information and we crawl data individually for each customer. SSL certificates and personnel access keys are used for storing and transferring your data. #For more on service terms of use read here…