Brand Intelligence is an analytical solution, which allows you always to be informed about your brand positioning in the current market situation in order to drive the best decisions for the building of a leading brand.
The ever-growing competition challenges the brand involvement, but conversely, it may be used as a good opportunity for your business.
Providing the online brand monitoring based on your competitor's marketing activities, you may look at opportunities for brand growth and increase the investments in brand building for maximal returns in a timely manner.
Competitive brand intelligence enables you to know all the insights of your own brand and your market sector's reputation, as well as your competitor's positioning and their actual branding strategies.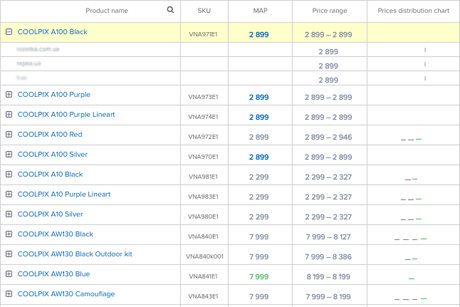 Brand management strategies
The most successful strategic brands implement online brand tracking to optimize brand management strategies.
Online brand management has hard-driving business consequences which influence the success or failure of your business and essentially affect customer preferences.

Efficient brand tracking
What is online brand management exactly?
The process includes brand research and brand monitoring, in other words, it represents the brand value, your customers' loyalty, and in general, the way your brand is viewed online.
The main reason brand perception changes is the retail policy regarding minimum advertised price and suggested retail price.
The main object of online brand intelligence is your brand protection.