Analytical Dashboard
Actual information about violations of the retail recommended price and your brand's products market position.
Allocation of Violations

Everyday access to the main information about the price policy of online stores, reports of MAP monitoring, and a demonstration of the brand's market position.
User Reports
The customizable user report form ensures instant access to all key information for MAP price monitoring.
Teamwork
The MAP monitoring service supports multi-user access with different competencies: every department and product manager operate their own data block.

User rights management: the service administrator can easily control access, invitations to new employees to work with the service, and also has access to all data of MAP policy monitoring including the group of fine configurations.

Personalization: Every user configures their own reports display option, the schedule of notifications and other settings; receives the notifications at any convenient time, and operates their own groups of products.
Data Acquisition and Delivery
We think that the quality of the data we deliver is the most important, so we collect it directly from the target websites.
Product matchings
We have achieved 99% quality in product matchings in every category: from electronics to building materials.
Matching Process Speed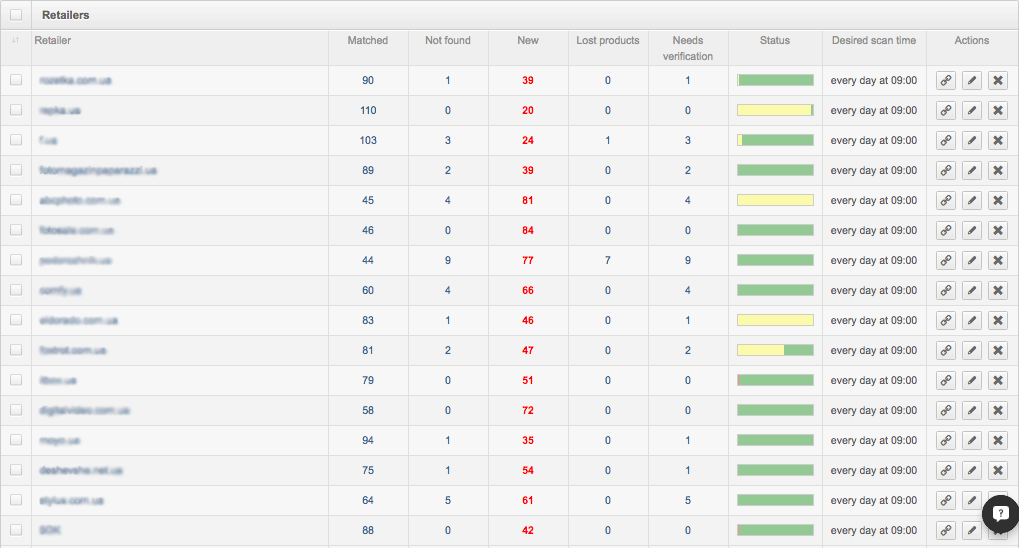 From 2 to 24 hours after assortment has been updated the information about product matchings is available in the interface. At the same time, the network software runs minimum advertised price monitoring and automatically identifies every MAP violation. The process is absolutely transparent for the user and it is displayed in the interface.
Matching Quality

Verification of complex product matchings and MAP monitoring is always made by our employee, not by a machine. We use an inside service for task distribution between hundreds of employees. The quality of information is controlled meticulously. In the combination of intellectual work and automatic algorithms for matching searches, we achieve the quick and qualitative process of product matching.
Customer Support
Customer support and special managers allow us to be sure that any problem will be solved and your employees get the required support.
Quality Grade Agreement (SLA)

In cases where the service quality rules and regulations, determined by the standard contract, do not make our customer feel confident, we can provide an additional SLA.
Achieving Goals Control

The Manager of Customer Success service keeps track of all account activities. The main goal of the manager is to ensure absolute satisfaction and maximum use of all capacities of the system in order to achieve business goals.
Technological Data Streaming
Effective data streaming is an inherent part of good service. That is exactly why we made using our data as easy as possible for any technical and analytical specification. You will gain access to API documentation after logging into the service.
---
All the data is gathered exclusively to benefit our clients
We do not resell gathered information and do not incorporate client data, do not use data for our own PR ambitions and do not collaborate with marketing research agencies. Data storage and data reporting use the certificates of safety and personalized pass keys. Click here for more information.