Anti-Crisis Pricing or How To Survive In The Post-COVID World
Retailers can no longer make business based on pre-crisis rules and approaches. Learn how consumer behavior changed, what it means for retailers, and how to win in the post-pandemic world.
Retail vs COVID: Old Trends Accelerate, New Ones Appear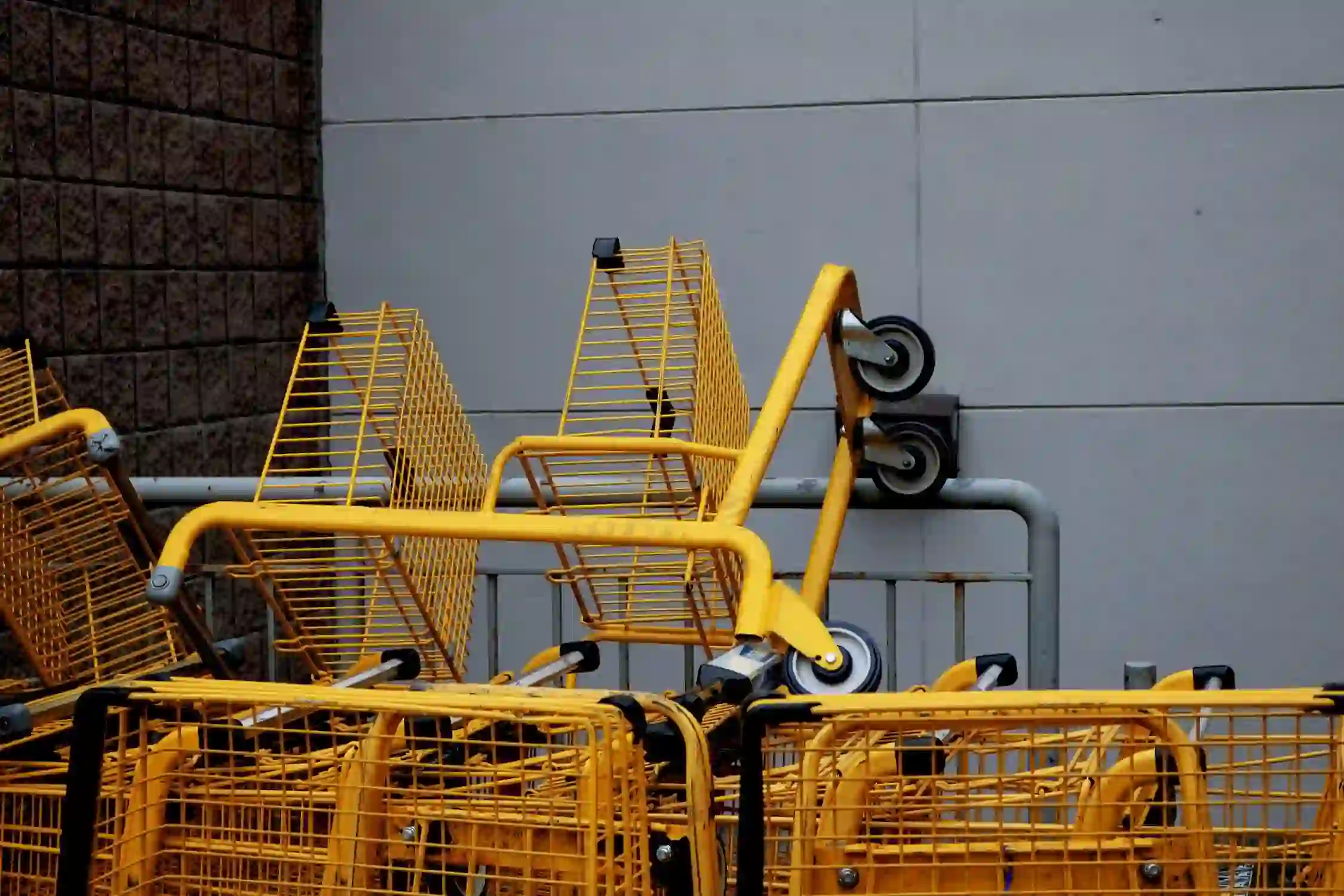 The latest radical transformation of the retail landscape before COVID-19 was marked by the global economic recession in 2009. At that time, particular retail trends became dominating.
The recent crisis provoked by the COVID-19 pandemic has accelerated most of the trends observed in the past years. These include:
Digitalization of retail and the boom of e-commerce
Personalization of consumer shopping experience
Growing demand for value-based offerings
Implementation of advanced retail technology and software solutions
In addition, the recent crisis also revealed a couple of new trends:
Changing demand for particular categories or groups of products
Growing role of social responsibility in retail due to increasing health and safety concerns
How Coronavirus Affected Retail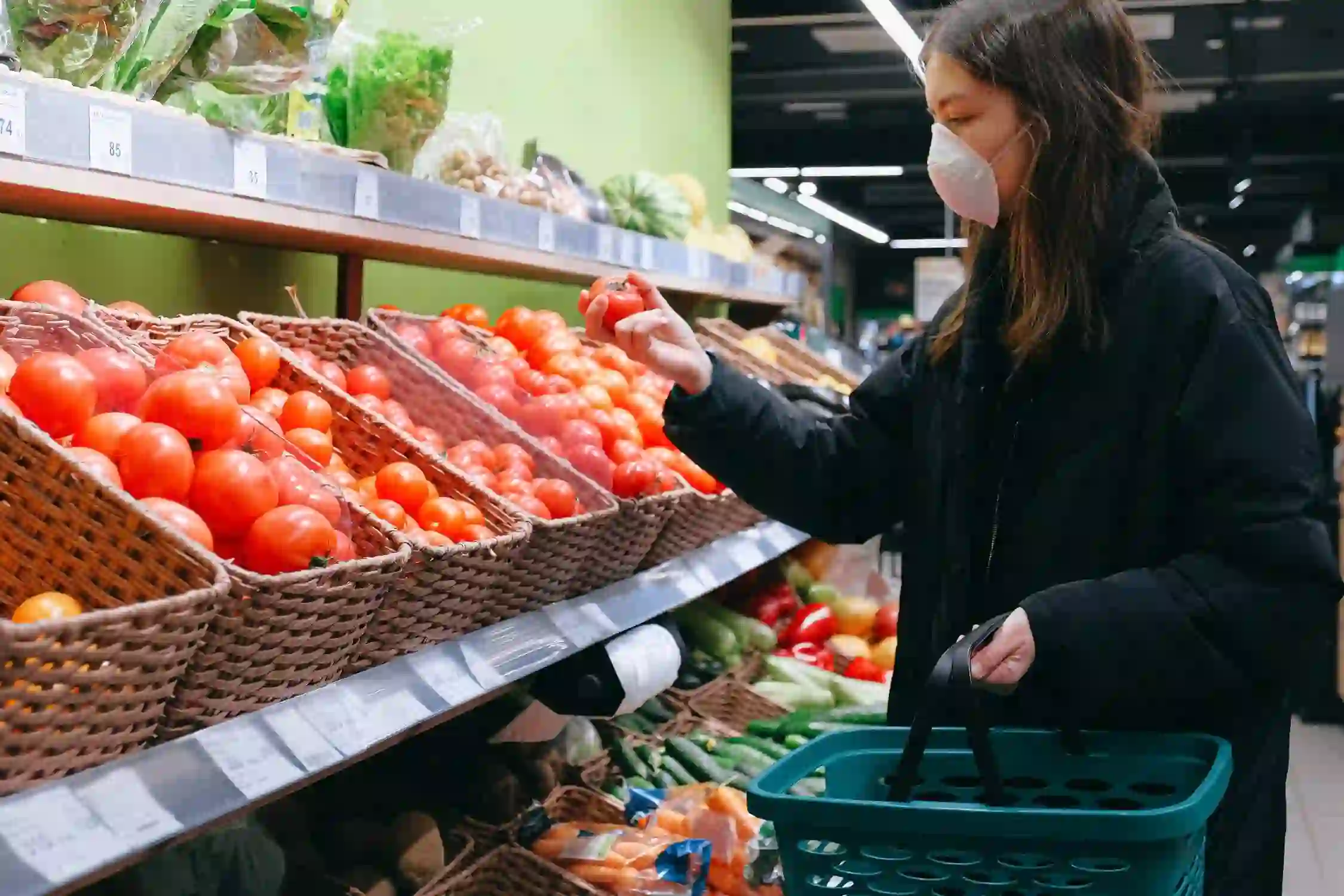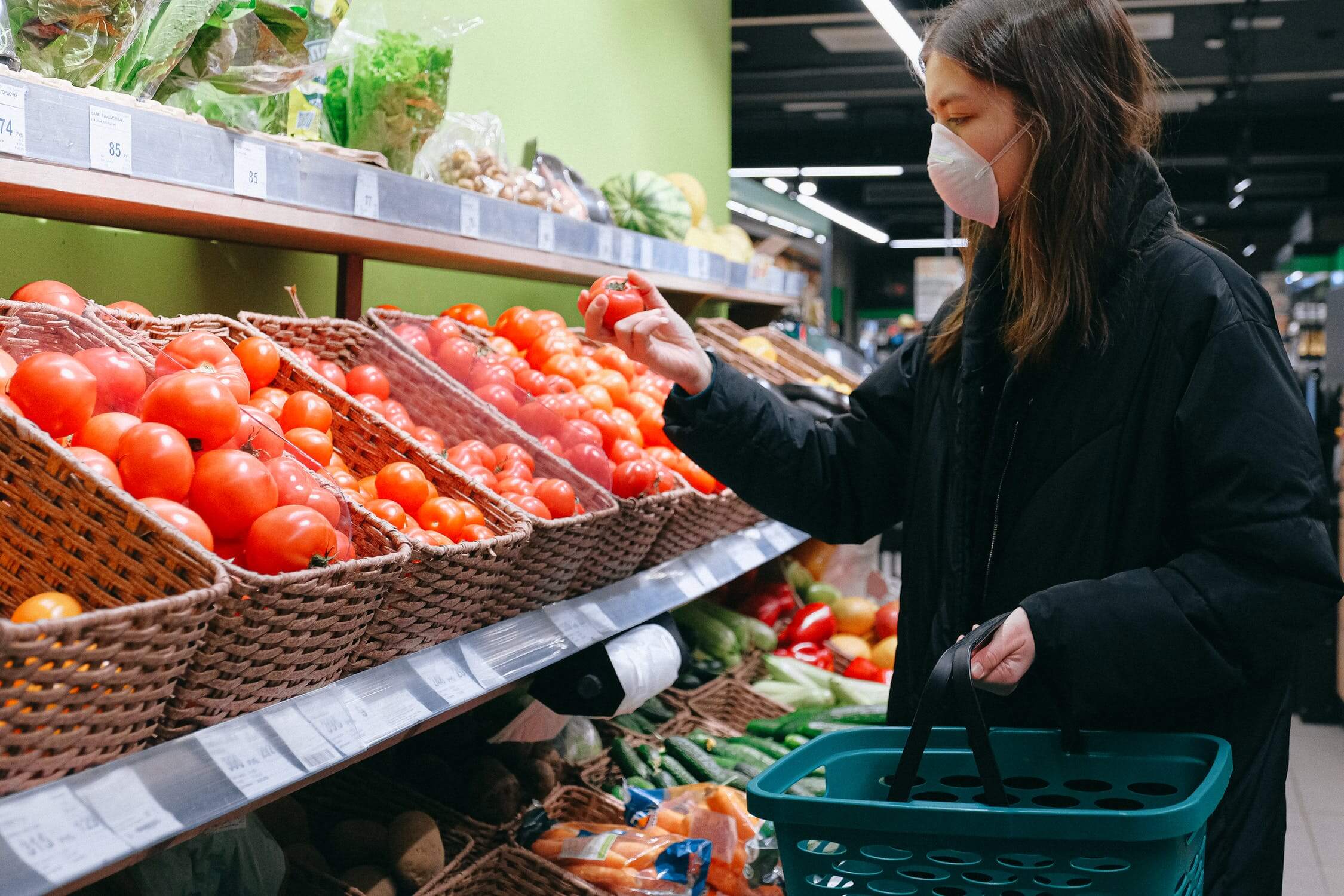 Retailers that have disregarded the trends dominating during the last decade are now dealing with significant challenges. For example, pure brick-and-mortar retailers are now forced to start selling online as promptly as possible.
However, the extent to which retail is impacted by the crisis is different across the industries.
Some companies, including Apple or Microsoft, stopped operating offline stores in the face of pandemic. In contrast, the discounters and grocery retailers, like Walmart and Costco, had to face long lines of customers eager to stockpile groceries, pharma, and health-safety products.
Scenarios that retailers across the industries had to go through as a result of crisis could be divided into three major groups:
Industries facing a drastic uplift of demand and sales (e.g. grocery, pharma, health, and other life-supporting products retailers).
Industries dealing with a significant drop in sales (e.g. beauty, apparel, or footwear retailers).
Industries facing a temporary uplift in particular product categories' sales (e.g. consumer electronics and home appliances).
COVID-19 Changes Consumer Behavior
The crisis changed consumer buying behavior mainly in two ways.
Customers tend to buy some products more while the sales of other groups drop. The change in demand dynamics across the industries and product categories is one of the most crucial consequences caused by the crisis.
Consumer Behavior Thresholds During Pandemic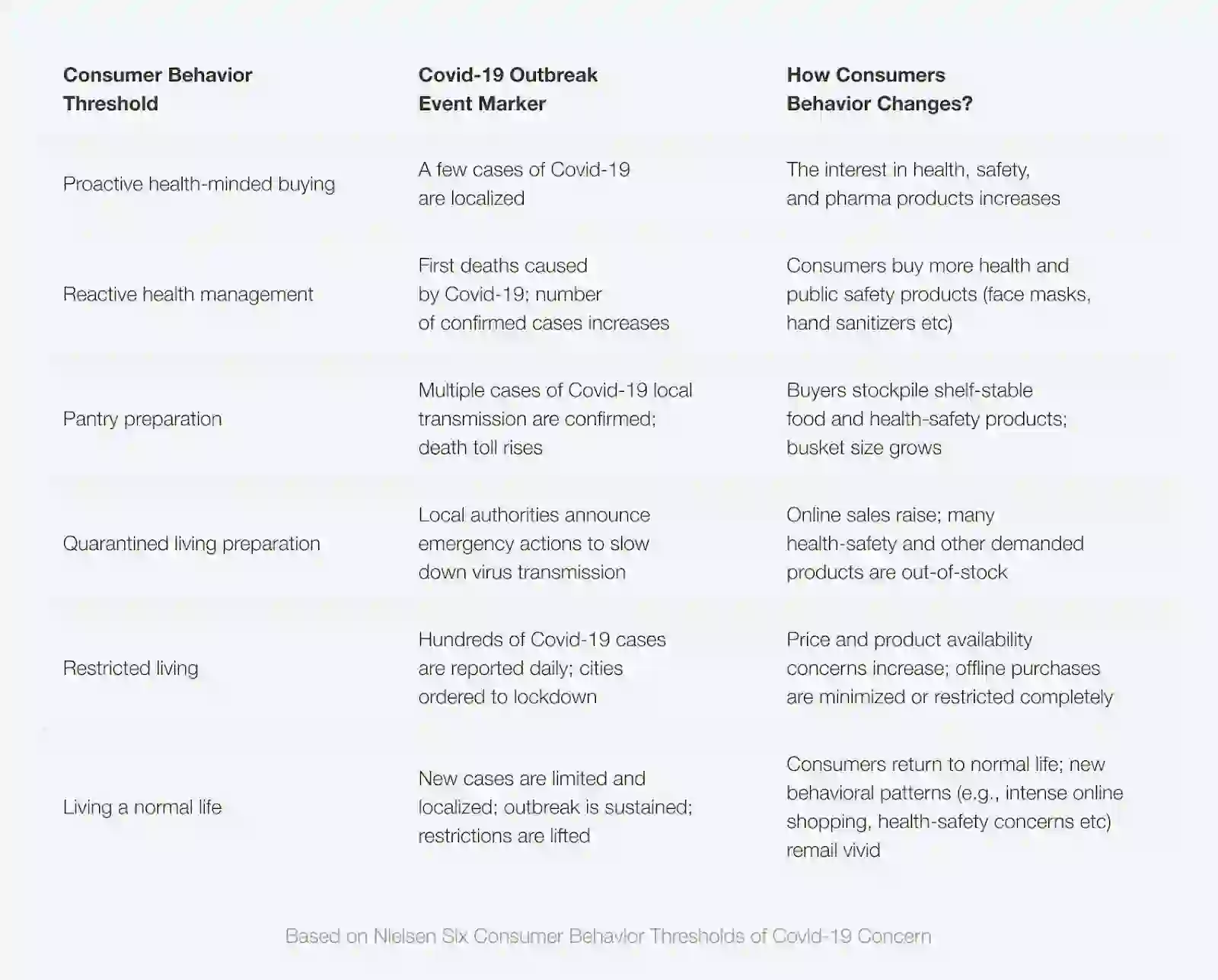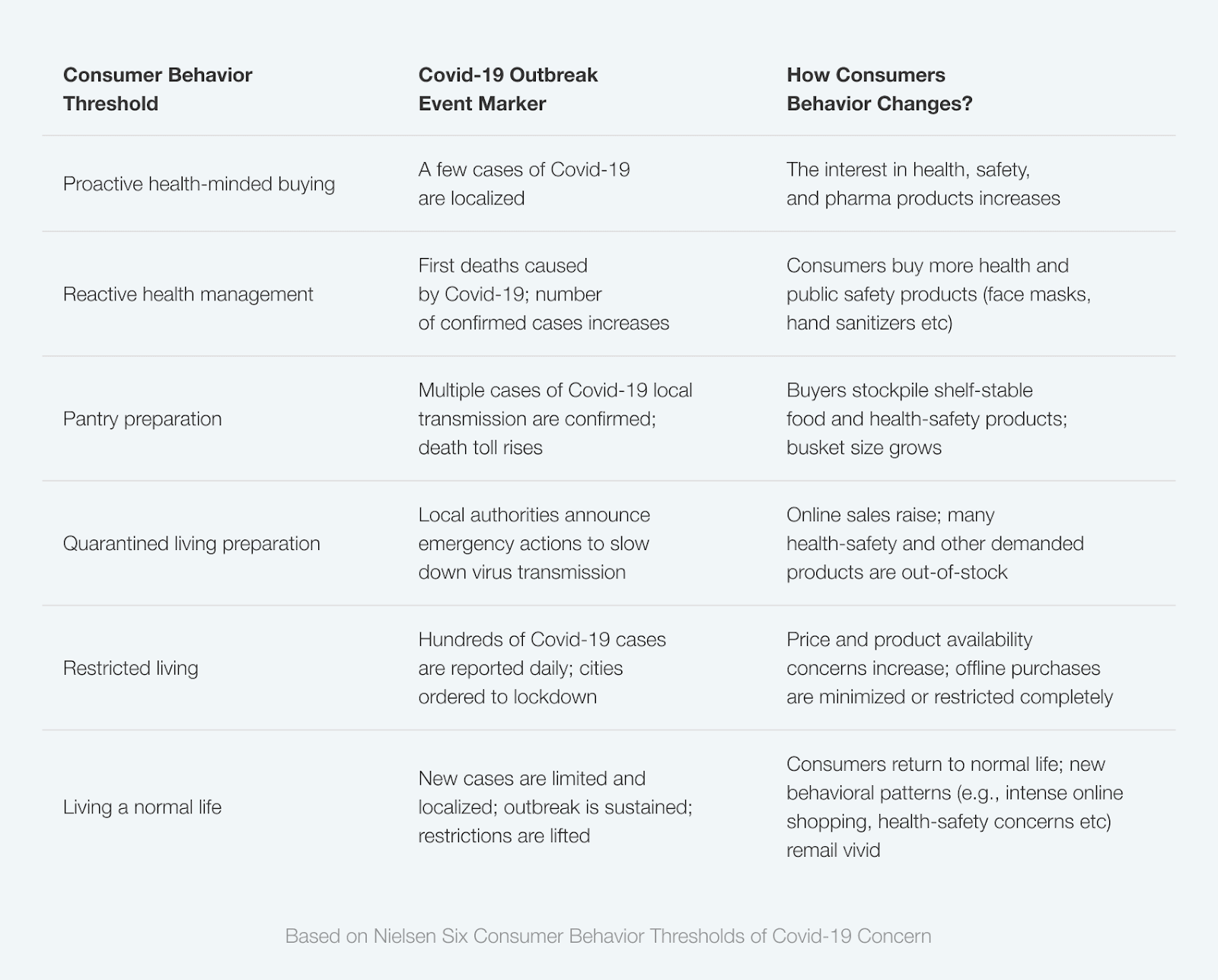 What Products are Highly-Demanded During COVID-19?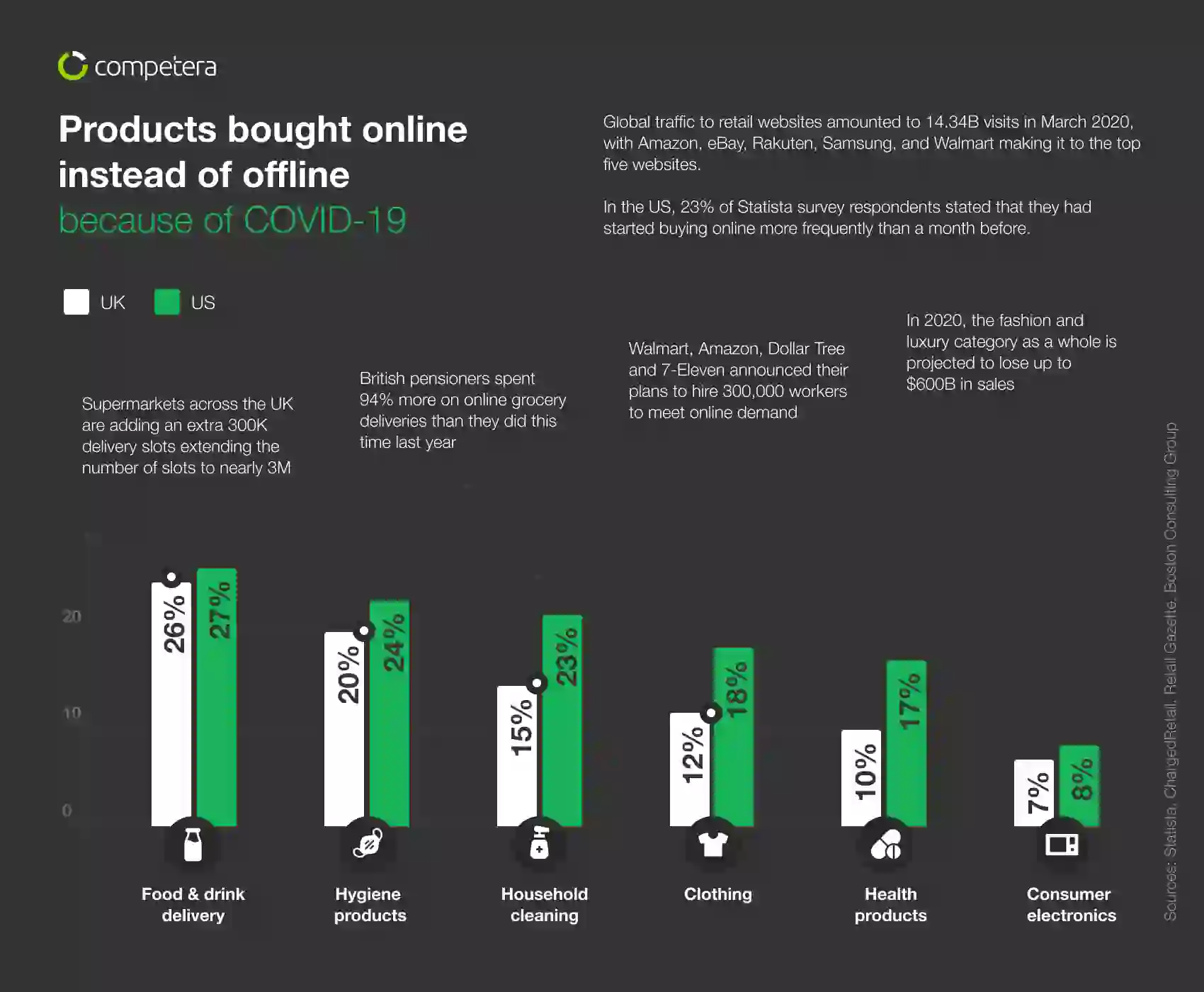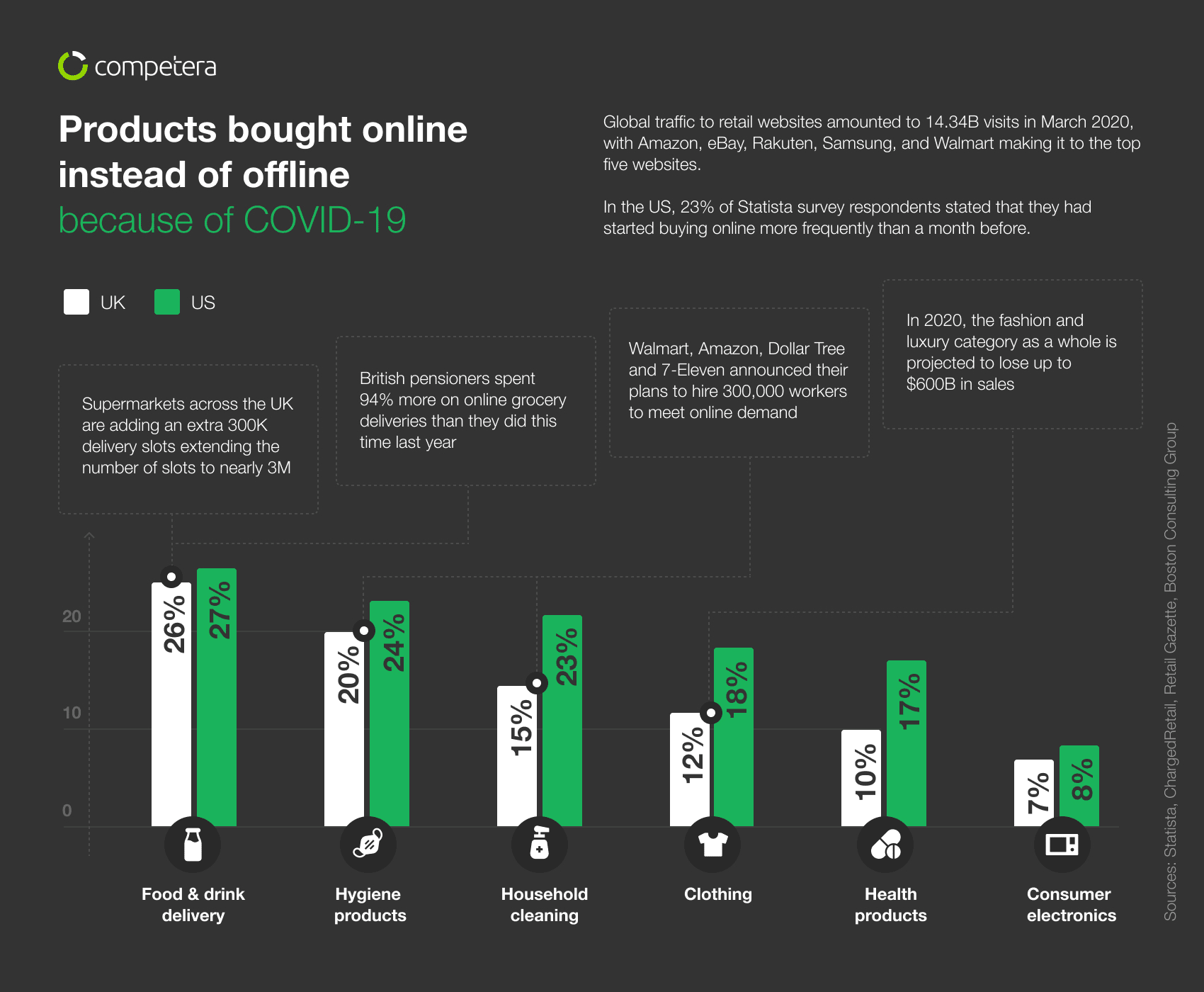 Because of COVID-19, customers around the globe started to make more deliberate online purchases. The crisis was also marked by the growth of demand for particular products and categories.
For example, in the US and UK, online demand increased primarily for grocery, hygiene products, household cleaning goods, clothing, health products, and consumer electronics. The infographic below shows the online-favorite categories in these countries in April and May 2020.
Retailers Social Responsibility During COVID-19
Regardless of industry, the recent crisis has brought every retailer's social responsibility to the new level. High standards of people's health and safety has no alternative in the post-crisis world.
In this regard, retail expert Paco Underhill gives essential recommendations for retailers:
"The first and foremost thing is to look after your employees...It isn't just how much you pay people, it's how much you actually take care of them. It's pretty simple: if you look after your employees, they will look after your customers".
The expert also emphasizes the importance of hygiene:
"The issue of hygiene is crucial. In today's reality, it's also about a way to facilitate some social distancing and simply making people more comfortable".
Post-COVID-19 Highlights
Nielsen consumer behavior thresholds give a good understanding of how shoppers react to the pandemic. Moreover, it can shed light on the post-COVID consumer behavior trends as many patterns will remain relevant even after the crisis is over.
The trend of making purchases online will continue to dominate the markets. In contrast, the offline shop visits will still be reduced, except for a very limited number of industries. What it means for retailers is that pricing policy will become even more transparent as it was before the crisis.
Health and safety concerns will become one of the most important factors considered by customers before making a purchase. In offline stores, providing high safety standards for both shoppers and employees will have no alternative.
Changes in demand for particular categories will continue to persist even after the crisis. For example, pharma and safety products will remain more demanded after the crisis than it was before the outbreak.
Emerging post-crisis living patterns will contribute to further demand structure changes. For example, the number of people working at home will increase. What it means is that household keeping devices and electronic devices needed for remote work will be highly demanded.
How Can Retail Go Digital and Stay Effective?
To sell or not to sell online is no longer a question.
In this regard, our pricing architects made a shortlist of recommendations suitable for all types of retailers:
Start selling online
Narrow the focus and define your competitive advantages
Use strengths to reinforce market position
Scale-up the success
Invest in the digital channel
To get the full-length guidelines, watch the video below.
What Is Anti-Crisis Pricing?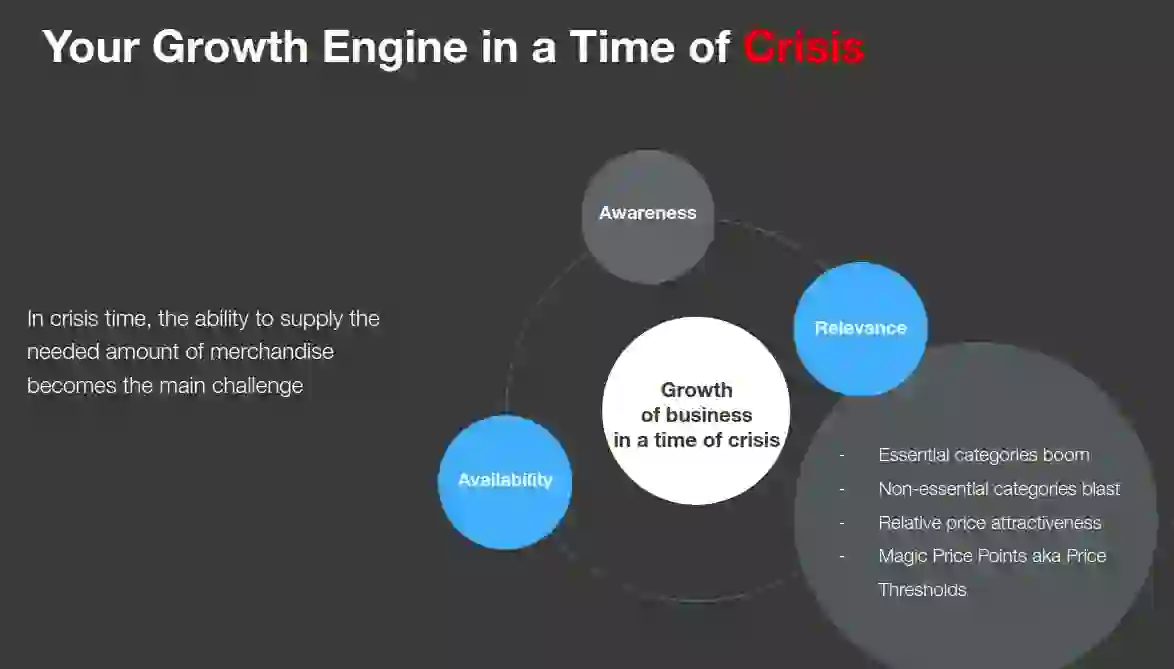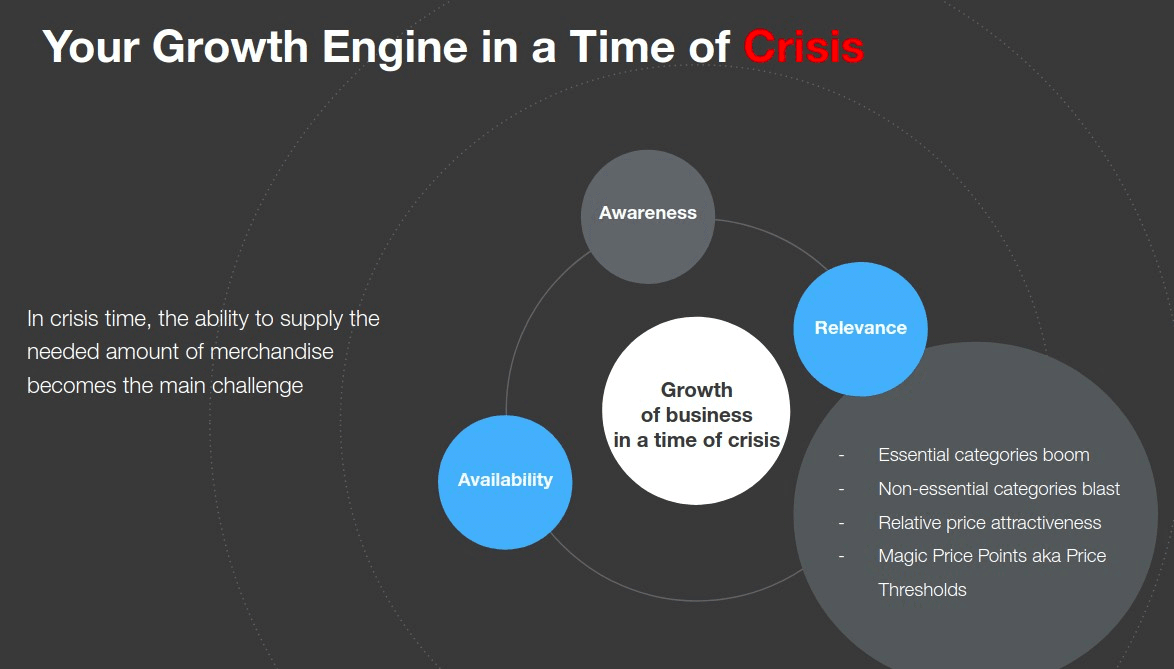 The usual way retailers manage pricing changes completely during the crises.
Economic turbulence brings a boom in the essential categories, a blast in non-essential categories, and the growing importance of maintaining relative price attractiveness.
So what is a recipe for effective anti-crisis pricing? The short answer is:
Sustain relative price attractiveness. Be the last one to raise prices among competitors.
Identify and follow only true competitors. You don't have to look after every competitor, there are only 3-5 other players that are really worth following.
Beware of price thresholds. Price increases are often inevitable, yet the price increase steps should always be coherent with the customers' expectations.
For more details and insightful tips watch the video below
How Technology Helps to Go Through the Crisis
Innovations and technology are the secret weapon that retailers can use to deal with the challenges brought by the crisis. Using pricing software, the business can restore market positions and satisfy customer requests. For example, Competera's market-driven engine can help to identify the real competitors as well as segment products in the right buckets to make sure the right pricing strategy is applied towards each group.
At Competera, we consider every project as a retailer's journey to optimal pricing. No matter what solution lies at your first step, you get dedicated solution and pricing architects, Competera platform with the right tools to address your current issues. Moreover, our proof of concept model allows you to measure if Competera's pricing technology is right for you before full deployment of the system.
Want to win over the crisis? We know how to help you
Get your personal business offer