[Case study] Ulmart improved return on customer acquisition cost and increased margins for certain product groups without losing conversions due to Competera Price Intelligence
2015-12-24

Objective
Having spent considerable resources on online advertising, Ulmart set to improve their return on customer acquisition cost. A fully-fledged online merchandising system had to be developed, one that would take into account competitors' prices and their effect on Ulmart's conversion rates.
To build their in-house merchandising platform, Ulmart started with basics such as identifying which product should be displayed first to increase the probability of conversions. These statistics were collected and analyzed for every product category, vendor, location etc. Then the optimal "shelf-space" allocation was examined for home and product pages, as well as where conversions came from – homepage, search, product category, alternative or related products. After all the basics were covered, Ulmart took on a more complicated problem: analyzing how their conversion rates were affected by competing offers on the market. This is where Enhanced E-commerce and Price Intelligence solutions came into play.
Results
Improved return on customer acquisition cost
Increased margins for certain product groups without losing conversions
Quantitative view of the impact of competitors' prices on Ulmart's conversion rates for all the regions, product categories, vendors and customer acquisition channels
An established framework for the development of automated campaign optimization solutions, driven by real-time data on conversion rates and market prices
Tools

Google Analytics Enhanced Ecommerce + OWOX BI Streaming
Google BigQuery
Competera Price Intelligence
Google Sheets
Solution
In order to analyze the impact of competitors' prices on conversion rates, Competera Price Intelligence and OWOX BI were used for data collection and analysis. Real-time market data was converted to Google Analytics Enhanced E-commerce format and then sent to Google BigQuery along with the details on 90+ million page views on Ulmart's website.
This allowed for an in-depth analysis of the price elasticity of demand for every customer acquisition channel, product category, and product brand. Information about competitors' prices at the time of purchase provided a greater insight into customer behaviour, adding a new dimension to basic information about traffic source, customer location and their interaction with the website.
Basic example of BigQuery report:
Competera Price Intelligence service provided fast and reliable price and product matching with competing online stores and marketplaces. These pricing data were sliced by the region and product category and included additional information about product inventory, promotions and price adjustments. As a result, Ulmart acquired a quantitative understanding of how competitors' actions affect their conversion rates.
For instance, computer products showed a strong dependence the competitors' prices and promotions, whereas small appliance shoppers were less sensitive to a slight price difference. Price elasticity of demand was quite noticeable for tablets and even more so for smartphones and TV sets, reaching optimal conversion rate at 7-10% discount in relation to the market average.
Deviation of price from the market average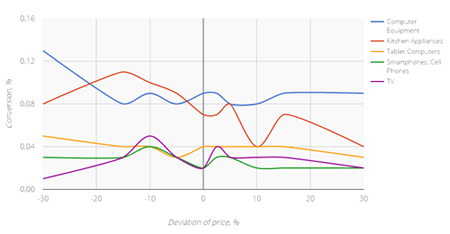 Customer acquisition channel performance was measured to optimize marketing budget and discover new opportunities to increase margins. Such was the case with Yandex.Market, where Ulmart's conversion rates were optimal at higher than average prices. On the opposite end of the spectrum, torg.mail.ru visitors proved to be extremely price sensitive.
Influence of prices from competition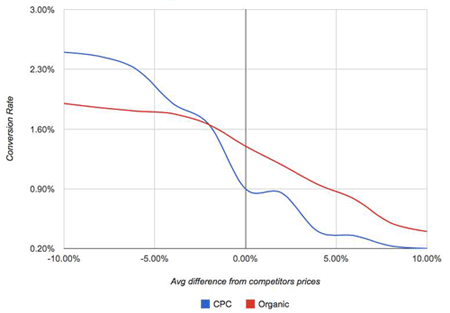 Pricing data and conversion analysis allowed Ulmart to significantly improve their business performance. With a clear view on the market, Ulmart is now able to make calculated price moves and manage acquisition channels with maximum efficiency. Competera provided key technology to develop Ulmart's online merchandising system and their E-commerce platform as a whole into market-aware price-intelligent solution.
Download pdf with the content above to send it to colleague or friend