More optimal discounts lead to gross margin gains and well-handled sellout
Competera's predictive models helped Balsam Brands to generate a 3.4% gross margin uptick and manage inventory sellout during the holiday season 2020 more effectively.
Balsam Brands is a US-based online retailer of luxury artificial Christmas trees and seasonal decorations with more than $200M of annual revenue. The company helps to create a festive atmosphere in millions of homes around the globe by operating across 4 geographical regions.
Story Digest
The holiday décor retailer Balsam Brands used Competera to optimize price reductions for the assortment.
Being a leading producer of artificial Christmas evergreens and home decorations, Balsam Brands' business is defined with extreme
seasonality.
To smoothly manage sell-through rate plans and to prevent unnecessary margin cuts via excessive price reductions during the high season, the company was looking for an automated, intelligent solution that would enable the team to build a data-powered pricing strategy.
During the solution implementation, Competera reimagined the approach to its traditional market testing and found a cost-effective and time-sensitive way to prove the solution's feasibility for a highly seasonal business.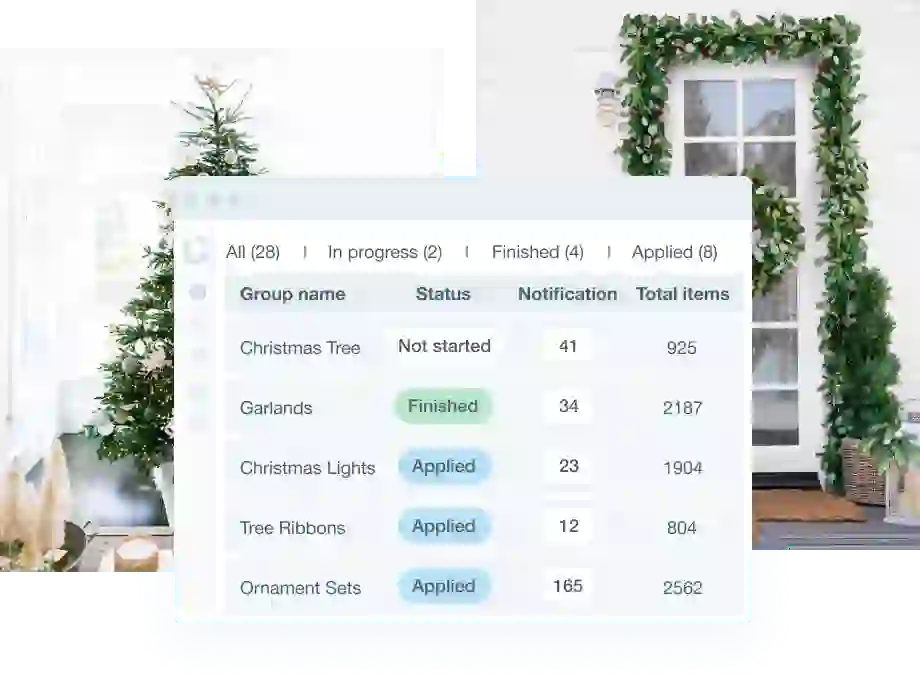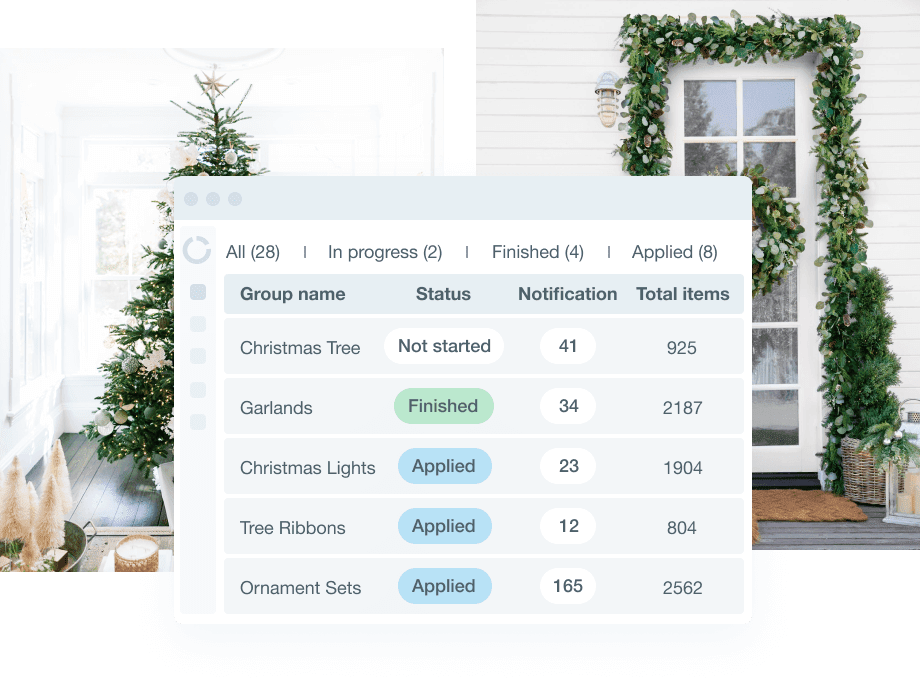 Pursuing the delivery of a stellar customer experience, the Competera team tailored the platform functionality and enhanced it with custom features to comply with the client's use cases and needs.
During the holiday season 2020, Balsam Brands received 24,000 price reduction recommendations, that were based on its historical transactional data, smart business constraints, pricing architecture, inventory availability, and other important data points.
Such an approach to generating discount prices enabled Balsam Brands to optimize its pricing process and hit seasonal sales goals.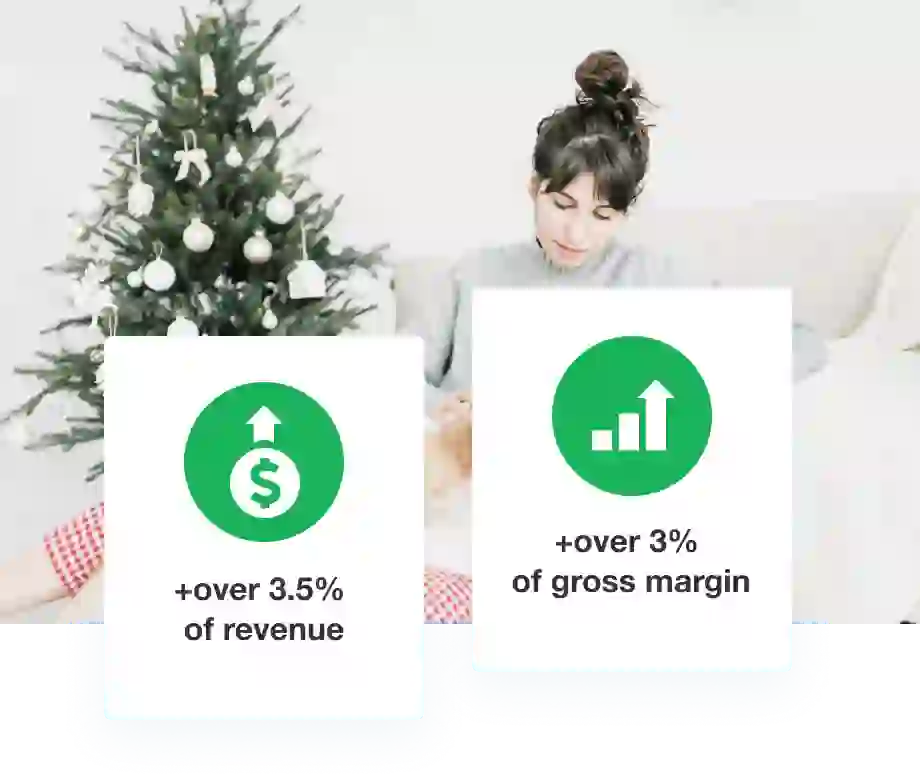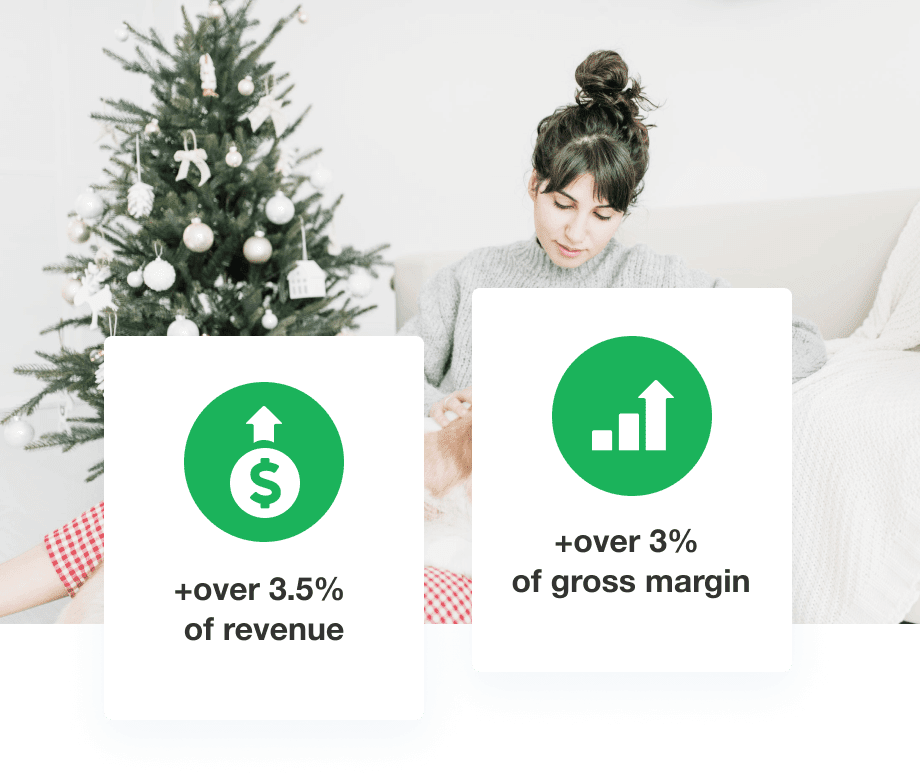 As the business was scaling, it was important for us to base our pricing decisions on market trends, website analytics, and other crucial data points that a pricing manager can hardly embrace all at once. Competera's smart algorithms made our price management data-powered and proactive and saved the team 50% time from routine tasks. Competera has shown how AI is revolutionizing the traditional pricing processes and strategies, so we look forward
to adopting the technology for other regions.
Сhallenges
Balsam Brands addressed Competera with the 3 key challenges:
Labor intensive repricing process:
The team of 2 pricing managers would spend 12.5 hours for a repricing process weekly.
Lack of intelligent solution:
Excel spreadsheets, formerly used by the team for price management, could not satisfy the team's request for a unified tool to manage prices based on market trends.
High business seasonality:
80% of annual sales happen during the last 3 months of the year thus requiring the team to both hit the sellout goals while protecting gross margin and revenue.
Business goals
Automate weekly repricing process to save time and human resources.

Make data-driven pricing decisions.

Carry out price adjustments aligned with the sales plan while growing key business metrics.
Solution
Regular demand-driven price reduction recommendations for gross margin protection and more predictable sellout.
Proof of Concept
For Balsam Brands, conducting a traditional A/B test would not work because it would require one season only to test the solution and then waiting the next year to roll it out. The team reconsidered the traditional approach to testing the solution and came up with an innovative approach that allowed leveraging the client's historical data for accurate sales and revenue predictions. Structurally the PoC stage can be divided into 2 phases:
Sales prediction
Competera's data science team used backcasting (or "a planning method that involves the prediction of the unknown values of the independent variables that might have existed, in order to explain the known values of the dependent variable") to make accurate sales and revenue predictions as if the project was launched not in 2020, but in early 2019. Revenue was determined as a key metric to check the algorithms' accuracy on.
Results: Competera's predictive models hit 96% forecast accuracy on total revenue predictions and 99.6% on trees category revenue prediction during the solution test.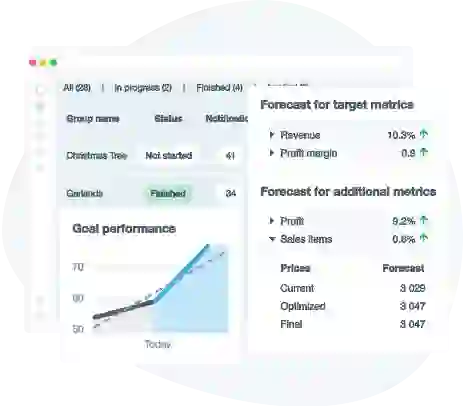 Lost profit estimation
Leveraging the data received in Phase 1, the team estimated the extra profit that could have been generated during the 2019 holiday period with the use of Competera's AI algorithms.
Result: the team forecasted 3.7% of the lost profit that eventually was confirmed by the results received in 2020.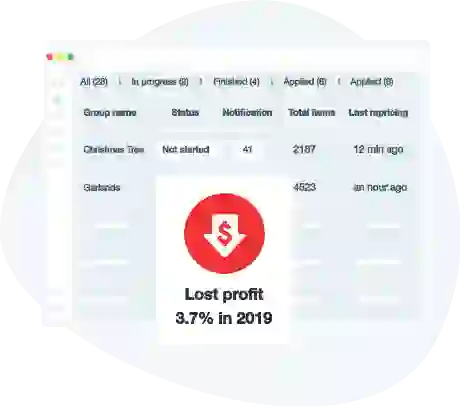 Forecast accuracy by metric
Not only Competera's neural networks provided top-quality retrospective predictions for the 2019 festive season, but also the forecast accuracy results achieved by Competera during the pre-holiday and holiday season 2020 remained impressively high.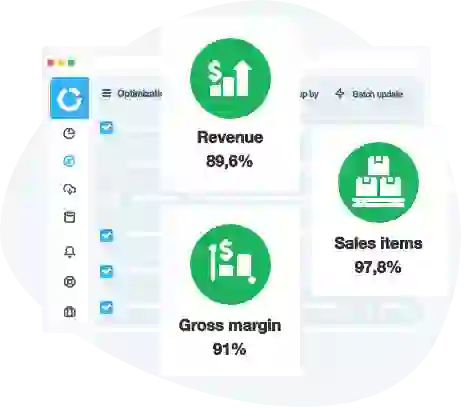 Inventory management and revenue amplification under extreme seasonality was the missing puzzle to complete Competera's use case portfolio. Thanks to the client's distinguishing characteristic and request, we rediscovered the immense power of neural networks that enabled performing PoC without actually doing so on a real assortment. This came out as a valid way for a cost-effective yet high-quality demonstration of the solution's feasibility.
Implementation
Competera conducted markdown repricing campaigns on a weekly basis, each time coming up with an updated AI model. The latter was processing the latest sales data, items availability in stock, and smart business constraints in order to deliver optimal discount recommendations and help the retailer hit its sales and sellout targets as well as increase gross margin. What is more, Competera's algorithms have an unmatched capability of optimizing so-called 'price ladders' based on demand of each member of the 'family' and their cross-impacts.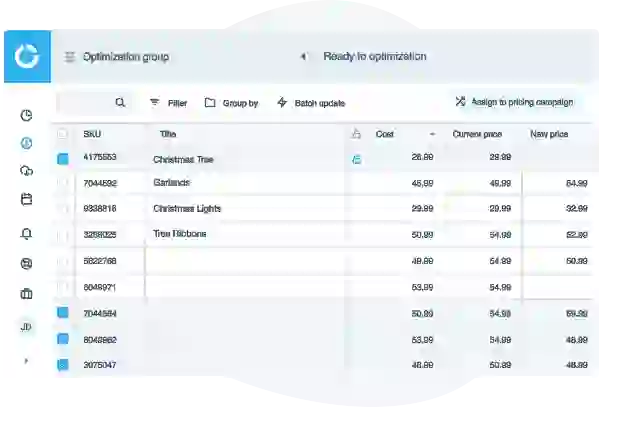 Solution Crafting
To facilitate seamless implementation of the solution by Balsam Brands's pricing managers, the Competera platform was completed with a number of tailor-made features:
Special optimizer to thoroughly track the stock and sell-through rate in order to optimize price reductions in accordance with the sales plan.
Custom business constraints to consider the share of assortment on promotion, internal pricing structure and formations, i.e.price ladders.
Smart business constraints for
elasticity-based pricing to consider discounts in print catalogs and, with the help of smart algorithms, suggest a deeper discount for the online assortment.
Sell-through rate goals to set the weekly targets and track their achievement.
Smart price rounding rules to automatically round off the recommended prices depending on the item's category.
Inventory availability to reflect the percentage of available trees and decor items in stock.
Results
Balsam Brands used Competera Price Optimization to conduct regular price reviews and manage inventory sellout during the business season 2020. The project is marked with the following business increments:
6 work hours
saved weekly
24,000 discount
recommendations
Thanks to Competera's unique Sellout Manager, the accuracy of sell-through rate forecasts has improved by 16.2% on the flagship 'Trees' category and showed an average 7.6% improvement on other categories.
Competera's profound industry expertise and unique Machine Learning algorithms under the hood made us choose it as a technology vendor. Its usability is the stand-out point to highlight: Competera would let you embrace all the key SKU groups at first glance, track inner pricing architecture and business constraints, enjoy automation and best econometric practices — all this while redirecting work resources to strategic planning and long-term business growth.
Balsam Brands' Pricing Journey with Competera
After achieving all the set project goals, the retailer is planning to implement Competera's solution in other regions.
PoC: Balsam Brands US sales and revenue prediction based on backcasting
Roll-out of
demand-based price reduction recommendations on all assortment (USA)
Roll-out of
demand-based pricing in other countries
PoC for markdown optimization
Roll-out
of markdown optimization
Competera Pricing Platform helps retailers to craft optimal offers
Get to know how apparel, electronic and sporting goods use Competera to earn more
Want to give feedback or ask a question? Email us at [email protected]