Pricing Tips from 5 eCommerce Owners
Pricing is crucial for eCommerce business management in many ways. The challenge is to create the most balanced offer which brings profit and attracts traffic and customers.
Elaborate pricing strategy is the answer. It requires creativity and the knowledge of the market. Luckily, there already exist the following approaches tested by established businesses.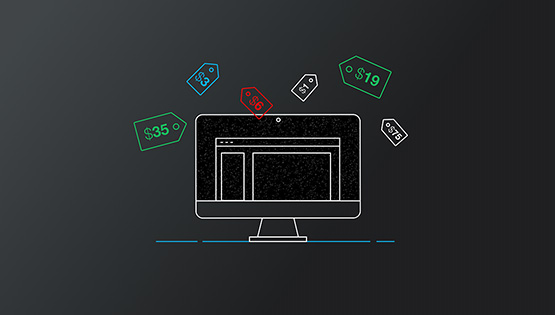 Bundling the goods
Bundles help to sell more products through appealing to customers needs at a particular season. The wholesale selling brings significant profit and boosts distribution of the goods at the same time.
We sell products individually and as bundles in project kits. This provides our customers with more options and the chance to save money by buying in bulk. When they purchase one of our project kits, they get a better deal by reducing the cost per unit they pay, comments Earl Choate, the owner of Concrete Camouflage, an eCommerce store that sells concrete stains and waxes for floor renovations, who uses the strategy.
Below are the examples of Concrete Camouflage production options: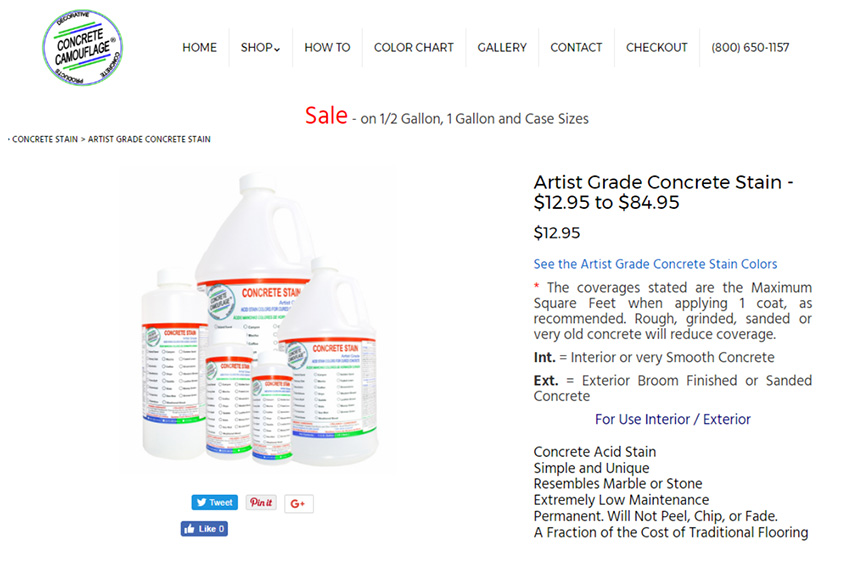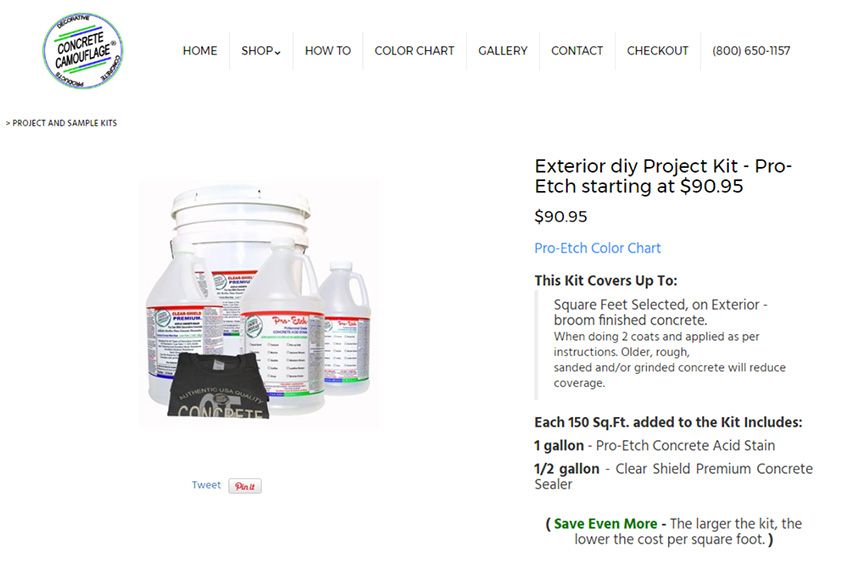 Pros:
Increases sales
Lowers bundle costs
Reduces promotional effort
Helps to sell less desirable products
Cons:
Bundle pricing usually confuses users
If an eCommerce business sells individual products, the bundling of goods helps to multiply the number of products sold to one customer. In turn for a reasonable offer, consumers stay loyal to the store.
Sampling the goods
Another useful strategy is to offer the website's visitors free product samples to test the quality.
"Offering the customers free samples doesn't mean that you need to give them an entirely free product," comments Saloni Doshi, a co-owner of EcoEnclose, an eCommerce company that sells eco-friendly packaging options.
"Instead, you can provide them with a mini-sample that allows them to test your products," he adds.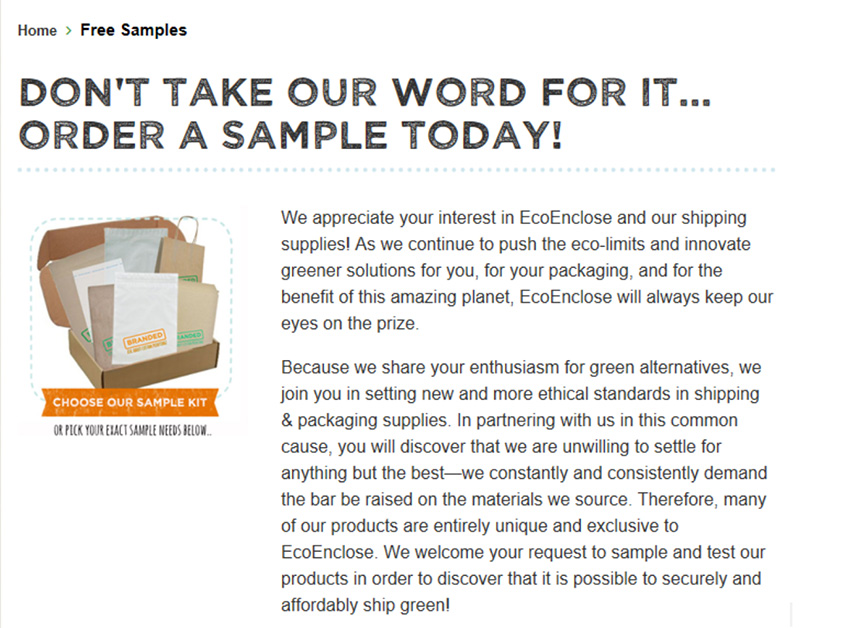 Pros:
Ideal for testing new products
Helpful for eCommerce newbies
Provides quick customer feedback
Helps to avoid money losses
Cons:
Free sampling makes the brand devalued
Oversampling bankrupts the business
The strategy is not relevant for every eCommerce company. However, if customers are interested in buying products in bulk, the approach will help to introduce the brand and establish a long-term relationship with customers. Such a strategy can be especially beneficial for newcomers who are trying to promote their product and attract initial customer traffic.
Low price guarantee
A low price guarantee means that customers will not find a better offer on other websites. Bob Ellis, the owner of Bavarian Clockworks, an eCommerce store that sells authentic German cuckoo clocks, claims that a low price guarantee has helped significantly to increase his sales.
"This strategy is beneficial for earning the trust of prospective customers and removing hesitation at the point of sale," says Ellis.
"Even if your price is not the lowest on the market, customers will be less likely to look elsewhere," he adds.
This type of pricing strategy brings a competitive advantage to businesses. However, retailers cannot merely claim their products the cheapest and expect people to believe. Such a plan requires continuous market research and constant competitor pricing monitoring. Here is how Bavarian Clockworks uses the low price guarantee strategy.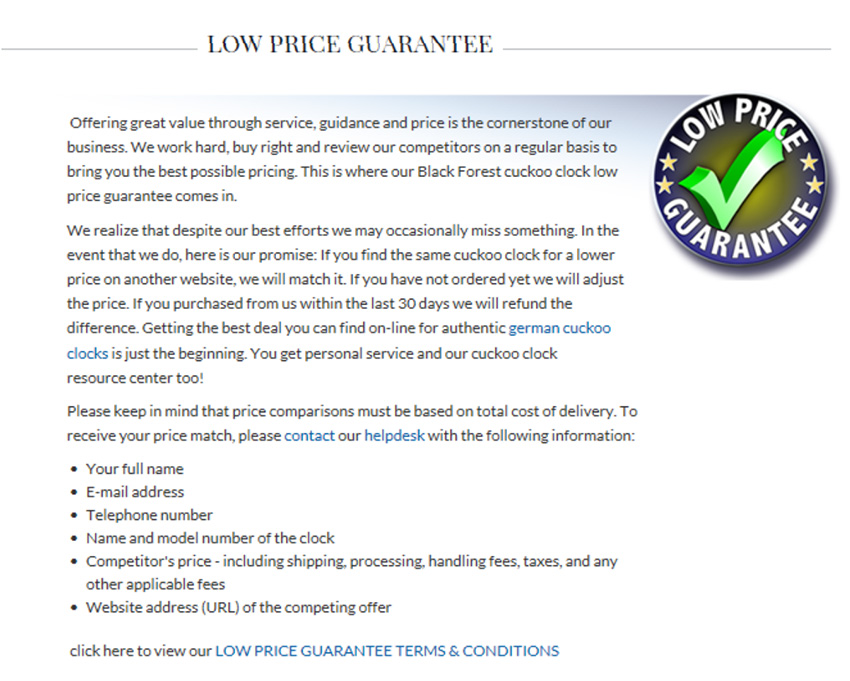 Pros:
Develops trust and customer loyalty
Removes customer hesitation
Cons:
Requires sustainable market research
Empty promises can scare buyers away
Price markdown
Marking down a product means that its price decreases by the end of a season or a particular sales period. Such a strategy is a useful psychological approach as it helps customers visualize how much money they will be saving. Massage Tables Now, an eCommerce store that sells massage equipment and supplies, offers price markdown on many products.
"Be prepared to dedicate a significant amount of time to elaborate your pricing solutions," comments the owner of Massage Tables Now.
"All of our products that are on sale have the regular price and sale price listed on the site. In psychology, the strategy is called 'anchoring.' It works because people are influenced greatly by the first piece of information they receive," he adds.
Such an approach to pricing makes customers appreciate the offer which seems more reasonable compared to an old higher price.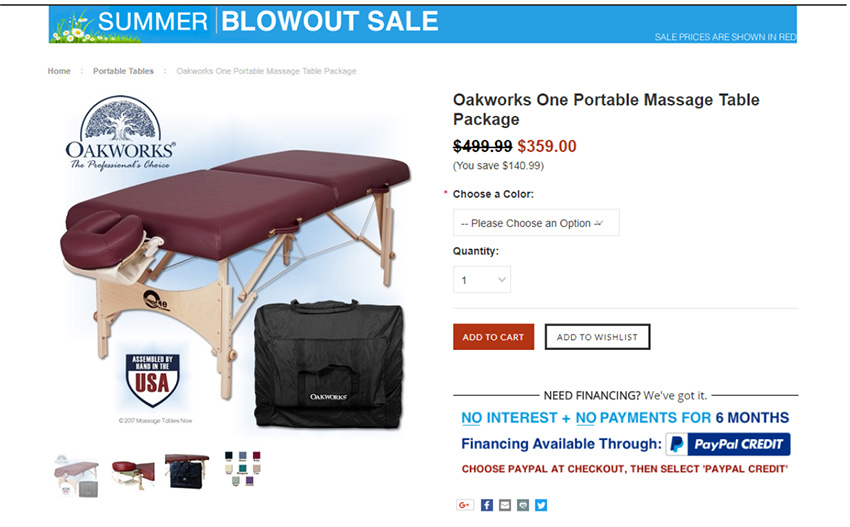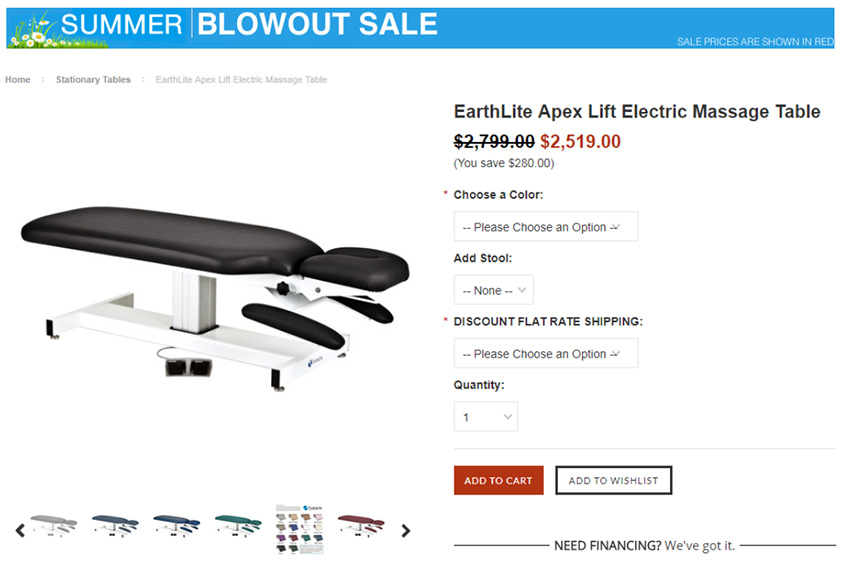 Pros:
Very efficient for sales of products to remove
Encourages sales
Removes insufficient hesitation
Cons:
Stores get less profit on selling the same products
Needs considerable pricing research before applied
The "right" price
Joe Brown, an eCommerce manager of Custom Curtains, an online store that distributes custom curtains of high quality, advises not to be afraid to be a luxury brand. Many businesses believe that consumers see the price as the main reason to make a purchase and therefore lean towards the lowest one. Brown states that there is no point in competing with such giants as Amazon in the most reasonable pricing.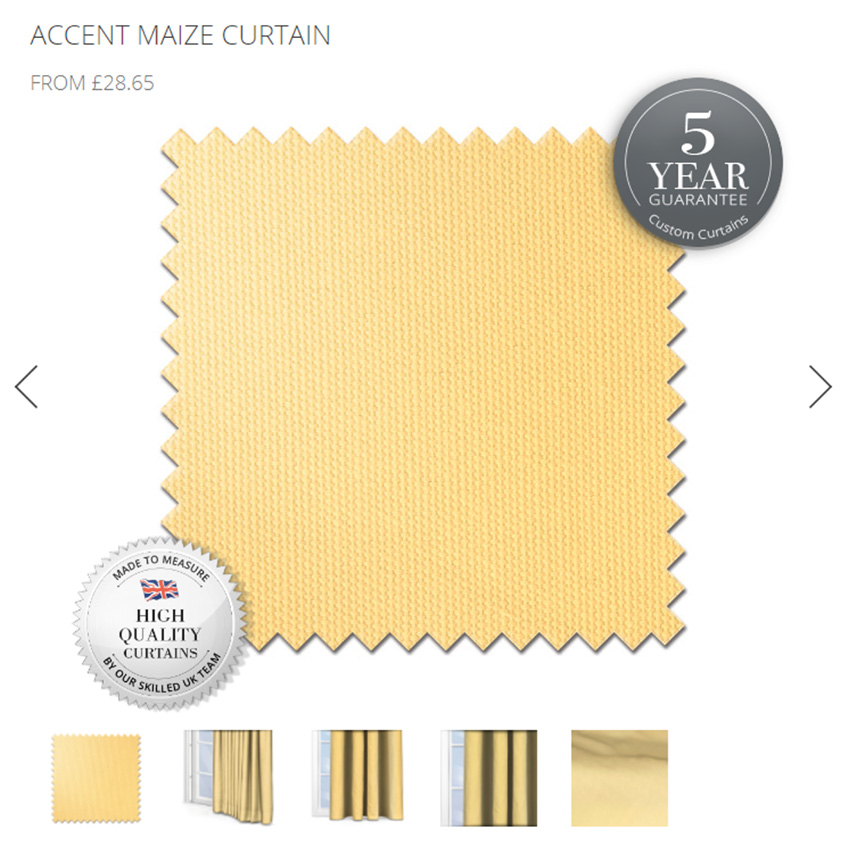 "Be confident in your products — in your quality — and set the price you believe that your products are worth," says Brown.
"Use sales sparingly and make them worth attention. If your products live up to the standards that you set for them, you will see sales without having to resort to giving them away for pennies," he adds.
Pros:
Encourages customer loyalty
Adds value to the product
Enlarges profits
Cons:
Requires preliminary brand building
Acceptable only for a well-fixed audience (luxury products)
Retailers always need to consider the amount of effort put into the manufacturing of a particular product. Therefore it is natural to sell expensive products given that their quality matches the price.
Conclusion
Pricing is a foundational element to eCommerce business management. Pricing strategies dramatically increase or decrease organic traffic and demand on products.
The preparation of an efficient pricing strategy requires a long time.
Retailers need to monitor competitors activities and successful projects closely.
A thorough approach to price setting can pave the way to success, whereas disregard for it can lead to ultimate failure.