Content navigation:
Price remains the major factor considered by customers while making purchases. That's why every retailer is eager to improve pricing policy so it can either satisfy the consumer requests and help to gain financial goals. When a particular level of business maturity is reached, retailers start considering the implementation of a pricing system as a means of strategic growth.
At Competera, we've been talking with retailers of all kinds and it's clear that a large number of market players are struggling to find what kind of pricing system they need, which business needs they must cover first, and how can they prepare to implement a system. Especially now, when it is clear that tech-driven transformations have no alternative if you want to survive in the post-CV19 world.
To help you gain the best possible results by using a pricing system, we've asked Wojciech Gorzen, a renowned pricing expert with 20+ years of experience in profit and performance improvement to make up this ultimate guide on pricing system implementation. Let's get down to the business!
What is a pricing system?
Pricing systems are used by businesses for setting prices on goods or services. The system can also be considered as a practical tool for implementing a pricing strategy.
Pricing system enables the business to integrate and manage the entire pricing process more effectively. Basically, efficiency and effectiveness potential are the two aspects that make the system implementation especially relevant.
Efficiency aspect refers to the way pricing is executed (i.e. doing pricing in an efficient way) while effectiveness is more about what can the business achieve by using a pricing system (i.e. gaining particular business results).
For example, improving pricing efficiency may imply the automation of pricing or workflows' customization. In terms of effectiveness, the system may help to differentiate pricing, gain more profit with demand-based recommendations, make more margin etc.
Advanced pricing systems can be used to cover a wide range of business needs and requirements. But not every business needs to implement such a system. Let's see in which cases a pricing system can make a real difference.
When does a business need to implement a pricing system?
Most businesses come to realize that they might need a pricing system when particular challenges emerge and it is not possible to deal with them using the old pricing approaches. As a retailer faces profit leaking, failure to gain financial goals, and tensions between the stakeholders, considering a pricing system becomes inevitable.
By analyzing the most common challenges forcing businesses to implement a pricing system, the following list of issues can be outlined:
Lack of clear structure and coherency of pricing

Haphazard knowledge on price changes and pricing decision-making

Focus on sales volume on revenue rather than on profit

Poor understanding of customers' willingness to pay and real price elasticity

Short-term finance-driven arbitrary price setting

Reactive decision-making instead of a proactive one

A large number of pricing exceptions and discretionary discounts

Scattered and not actionable pricing analytics

Weak pricing process manageability

Pricing process is disintegrated

Intransparent decision-making, i.e. it is not possible to find how every price was crafted
If at least 2-3 points from the list resonate with what you're currently dealing with, it means that a pricing system implementation is worth your consideration.


To start with, you must have a clear understanding of the point where you are now on the pricing journey and the one you would like to reach by implementing a system. This vision is essential while making up a list of criteria to choose the best provider. What is also crucial in terms of revealing the full potential of a pricing system is communication between all the stakeholders.
What to consider while choosing a system?
So, a clear and consentient vision of what the business would like to improve with a pricing system is the first step to know which aspects are worth considering while making a choice.
The list of the main values and benefits that retailers seek to gain by implementing a pricing system includes:
Visibility and transparency, i.e. margin leakages and growth opportunities are identified while every pricing decision's effect can be evaluated and challenged

Control and manageability, i.e. the pricing decision-making logic is clear and customizable based on particular needs and workflows of a retailer

Capabilities, e.g. prices generated by a system can be easily integrated into the other systems used by a business

Clear ownership, i.e. the pricing system can be accessed by users with different roles and diversified admission privileges
These are only a few examples of what a pricing system can help to improve. The point is that you should outline a comprehensive list of benefits and improvements that a pricing system is expected to bring.
You must have clarity of what you want to get by using a pricing system. Do you want to improve visibility of pricing? Gain new capabilities? Or reinforce ownership and gain control over pricing? Answering these questions is crucial to make the right choice.
For example, you might need to set up a pricing logic using competitive data from direct sellers and marketplaces, sales and cost data, sell-through rate, and stock levels. So, the provider's ability to satisfy this request should be used as one of the points to consider while making a choice.
The more detailed these requests are, the better it is. Such specifications could become a part of an RFP form which can, eventually, help to find the best suiting provider.
To make an explicit list of requirements to be then included in RFP, it is good to answer the three basic questions:
How do we define pricing strategy?

How do we deliver pricing strategy?

How do we analyze results and redefine actions?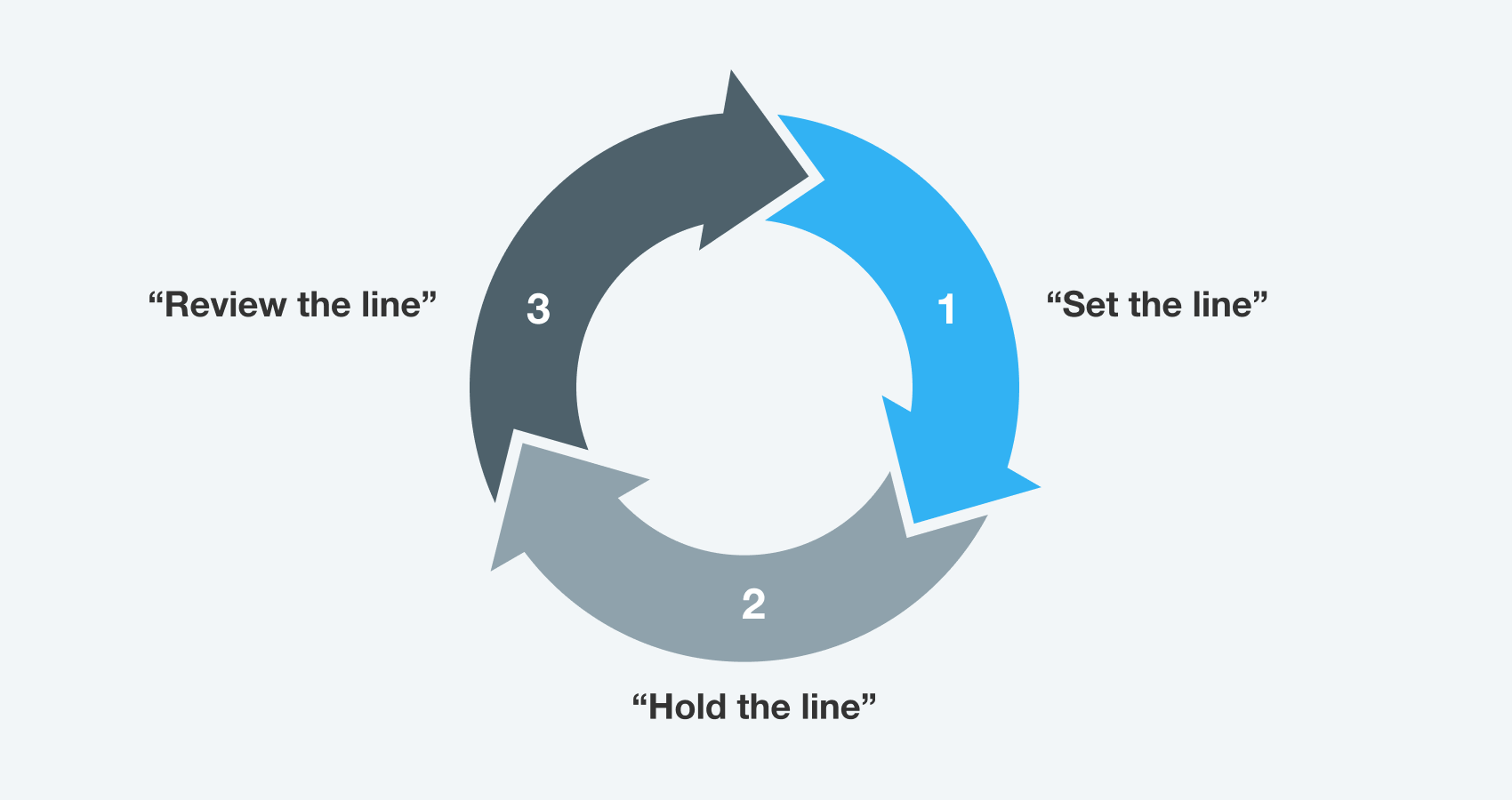 Answering these questions would help to understand your pricing needs and properly communicate them while negotiating with potential providers and partners.
Implementing a pricing system: ins and outs
We've talked a lot about the challenges a pricing system helps to resolve, as well as the benefits and values it can bring to the business. However, it is also important to state that a pricing system is not a magic pill and a desire alone is not enough to reveal its full potential.
The truth is that pricing system implementation requires substantial efforts and a particular level of organizational maturity. For example, to automate the repricing process with a pricing system, the comprehensive logic with rules and decision-making patterns should be built first. The repricing configuration process, in turn, requires the business to prepare and arrange all the data they would like to use while crafting prices.
So, you must be ready to provide a particular scope of input data as well as efforts to set up the pricing logic. In most cases, a specially dedicated team with various roles is set up to launch and implement the project. No need to say that stakeholders should also be capable of using the pricing system after it is integrated. What it means is that organizational resources are also required to educate and train the users.
Outlining efforts needed to implement a pricing system along with benefits it will bring to the business is a good practice that will help you to make the right decision.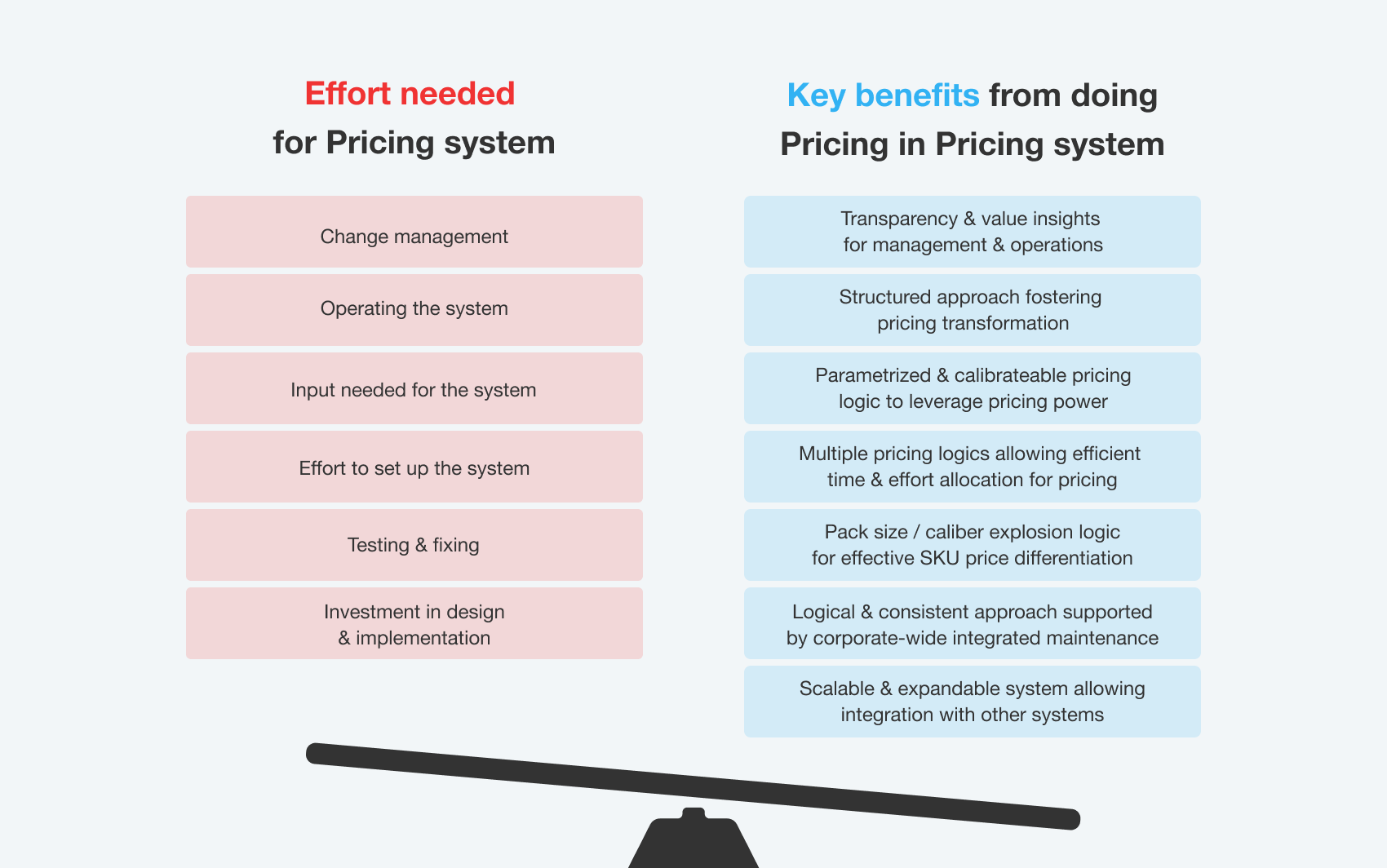 There is no doubt that the scope of resources required to implement a pricing system depends on the complexity of the chosen solution. The more sophisticated configuration you would like to set up, the more efforts it takes.
There is no silver bullet when it comes to choosing a pricing solution provider. But the more specific and detailed your expectations are, the easier you can find the best fit.
The ins and outs of a pricing system implementation might appear to be complicated in theory. To make it more clear, let's outline some real-life examples of pricing system configurations that retailers might need to implement at a certain stage of their pricing journey.
The first case is an example of a retailer using a cost-based pricing approach with all the pricing decisions manually approved by managers. As the business grows, new SKUs are added to a portfolio and the number of prices under management raises. At this point, it would be reasonable to implement a pricing system configuration that would automate the repricing process and allow using simple pricing rules so there will be no risk of manual mistakes while managers will have more time to focus on strategic tasks.
Let's look at another case. A retailer relies mainly on the competition-based pricing approach and has partially automated the repricing process. As the business grows internationally, however, it becomes more challenging to reprice coherently across various pricing zones. Also, advanced competitor price monitoring is required since competitors are different per every product group in every zone. In this case, smart or advanced pricing automation is required so a retailer can set up pricing logic on any variables and shift to coherent event-driven repricing in real-time.
And one more case. A large retailer with a diverse portfolio uses a combination of pricing strategies per various product segments, e.g. new entries, traffic and revenue generators, long-tail products, exclusive range items, etc. To maximize the profit and margin per every product group, automated rule-based pricing becomes not enough. At this point, a pricing system enabling a demand-based price optimization is needed. This is the highest point of a pricing journey as it embodies all the best practices a retailer implemented on previous stages and ensures sustainable growth on the long run.
Which businesses does Competera fit best?
Choosing which particular system to implement is not that easy. Every business has specific requirements and it might be quite challenging to find a vendor able to cover all of them. There are four essential domains we recommend to consider while choosing a partner:
Functional fit

Strategic fit

Technical fit

Economic fit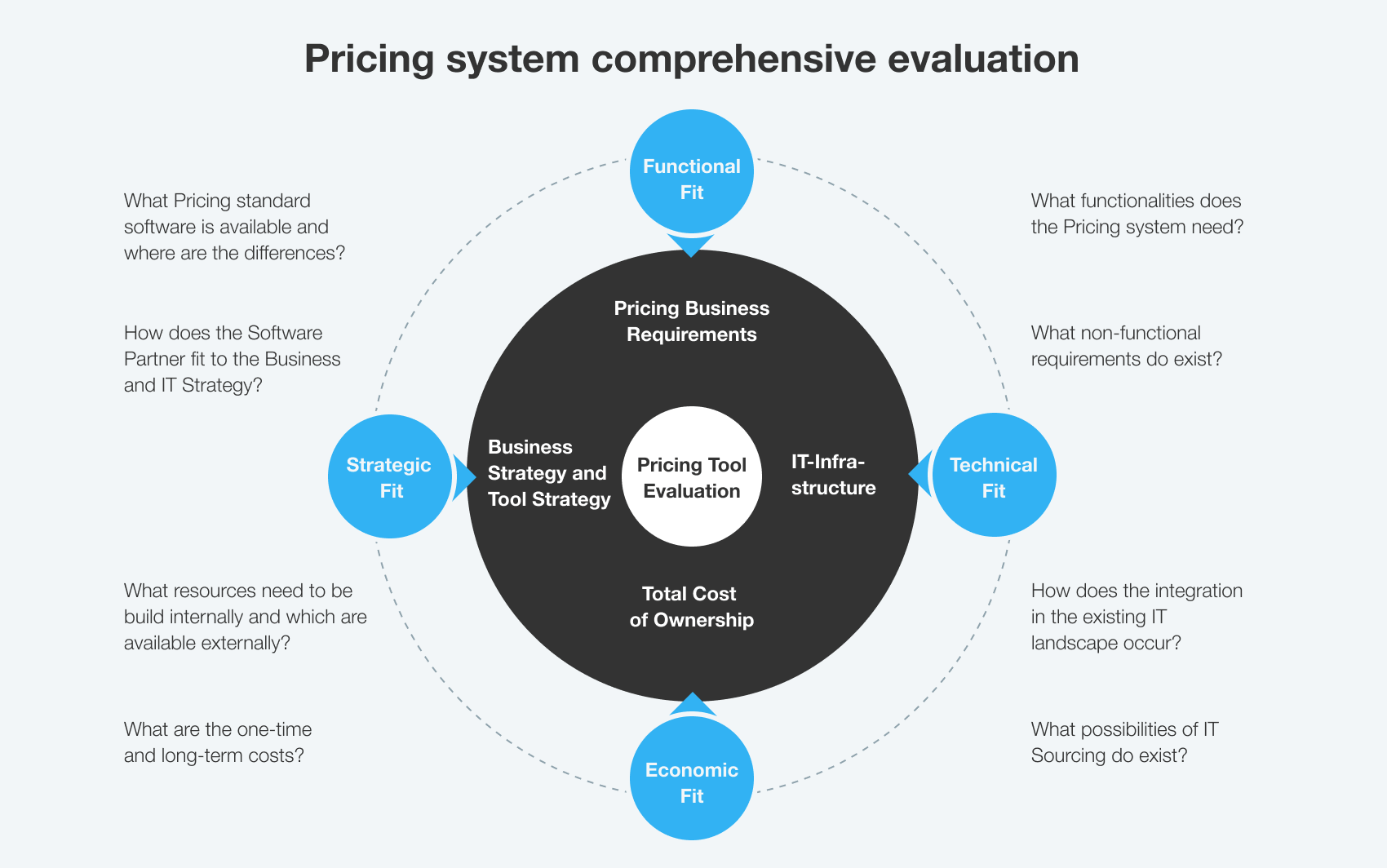 It would be relevant now to outline some features of Competera that distinguish the platform from other pricing system providers. If you find that our services are coherent with what you're looking for, don't hesitate to contact us and get answers to all of your questions.
So, in terms of functionality, Competera offers three products: Competitive Data, Pricing Automation, and Price Optimization. Each of these products is aimed to cover specific needs that retailers face at a particular point in their pricing journey.
For example, Competitive Data suits best those players that would like to always have fresh, comprehensive, and high-quality data to be used for repricing. Pricing Automation is about reducing the repricing time and human efforts, becoming more flexible and proactive towards market changes, understanding and controlling every pricing decision, etc. Price Optimization, in turn, suits best those players that would like to switch to demand-based pricing on the portfolio level which remains the best way to make business grow sustainably.
As a pricing platform, Competera fits best large retailers with hundreds of thousands of prices under management. In most cases, Competera's products bring a real strategic advantage for online and omnichannel retailers. However, if you are a purely brick-and-mortar retailer with no online sales, Price Optimization might still work for you as it suits perfectly well both online and offline sellers.
The fast integration process is one of the major advantages of the platform. It takes only 8 weeks to integrate the system and start getting the first recommendations. Importantly, the prices can be imported in any format digestible by other systems you use. Besides, a dedicated team on the Competera side will help to set up all the processes and workflows so you can gain the maximum possible results without putting extra effort into the project.
We know how challenging it might be to specify the requirements for a pricing system. That's why Competera offers a free consultancy service to help find the optimal configuration of a system that will cover your needs in the best way possible.