How to choose a Price Tracker: Pricing Software for a Price Manager
2017-11-27
Any category manager needs a good price tracking software to follow the business strategies, save resources and increase profits.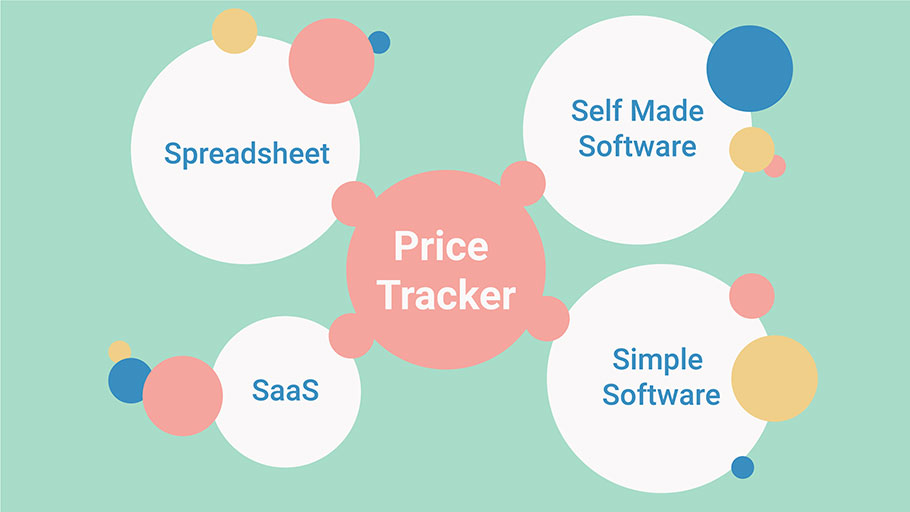 Why you shouldn't choose a simple solution
Despite the development of machine learning and artificial intelligence, many retailers still use manual methods of data analysis because of their relative cheapness. So they create data scrapers to monitor competitors. The data collected by this kind of software is often unreliable and disorderly, as the websites of competitors block its work. Processing this kind of data leads to many errors that affect pricing. Get to know more about it in our article "Price Monitoring System: Stop Reinventing the Wheel!".
In addition to the difficulties described in this article, competitor monitoring requires significant financial and time resources: you need to hire additional staff, invest in the development and support of this system…
Sometimes retailers work with readymade highly specialized solutions, but they choose them separately for each task. It's not difficult to find software to automate such processes as the collection and cleaning of data, its analysis, decision making and decision implementation, and error control. At the same time, the integration of such a large number of tools in the retailer's working processes takes much resources and makes this decision non-systemic.
The price tracker software is a necessary and useful tool for a price manager. But simply aggregating data will not help your online business to get ahead.
With online retail growing, the competition is also growing, which means that online stores need not only price tracking, but also the price optimization and dynamic pricing. According to a study by US economists Marshall Fisher and Santiago Gallino, dynamic pricing increases profit by 11%.
For the cost and time costs for price optimization, it is best to rent a full-fledged SaaS-solution, which will allow implementing the most effective pricing methods.
Choosing the right price tracking software
What do we do when we choose everyday goods, for example, a vacuum cleaner or sneakers? We look for information on the Internet! We read through articles and recommandations, watch video reviews. The same approach should be used when choosing a price optimisation tool.
Good price tracking software should deliver relevant data and conveniently visualize it so that pricing manager can quickly make the right pricing decisions.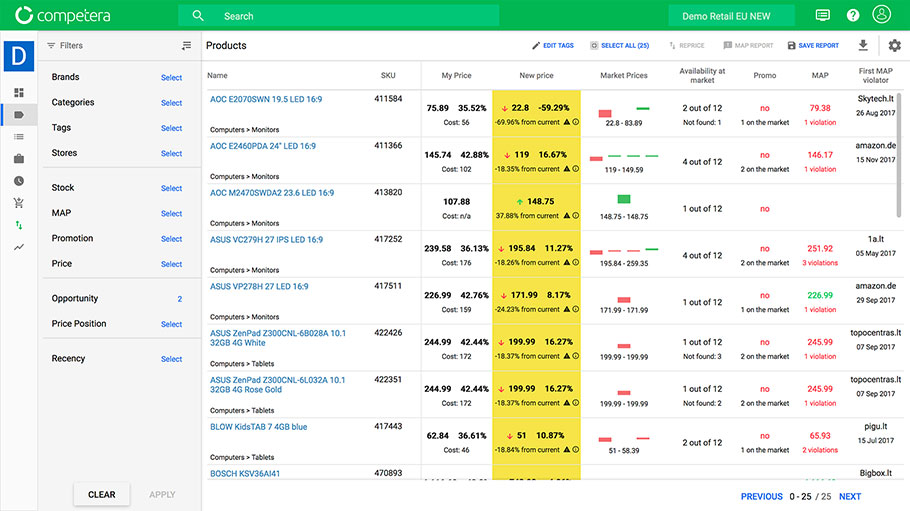 Additional selection criteria:
sufficient data refresh rate;
work with any site in any country;
reports with solutions for price optimization;
Integration with an ERP-system through API.
Integration of the pricing solutions in the processes of retailer
Integration of price tracking software usually takes up to 14 days. Before you begin to integrate the inventory you need to analyze and determine the segment of products that brings the greatest profit; select competitors for monitoring; and set up internal processes in your company taking into account the new tools.
Remember, it's not enough to buy software and integrate your data into it. The main part of the work begins when it is necessary to constantly analyze the performance of competitors and the results of their own repricing. Your category and price managers, marketers, analysts should be fully involved: price optimisation will be effective only if it becomes a part of all the processes of the retailer.