How to Leverage Competitive Pricing for Retailers of Different Sizes
2017-09-29
26/9/2017 Webinar Notes: Why it's important, how to invest in competitive pricing wisely if you're the small or mid-size online retailer, and how to identify products and competitors to use for competitive pricing.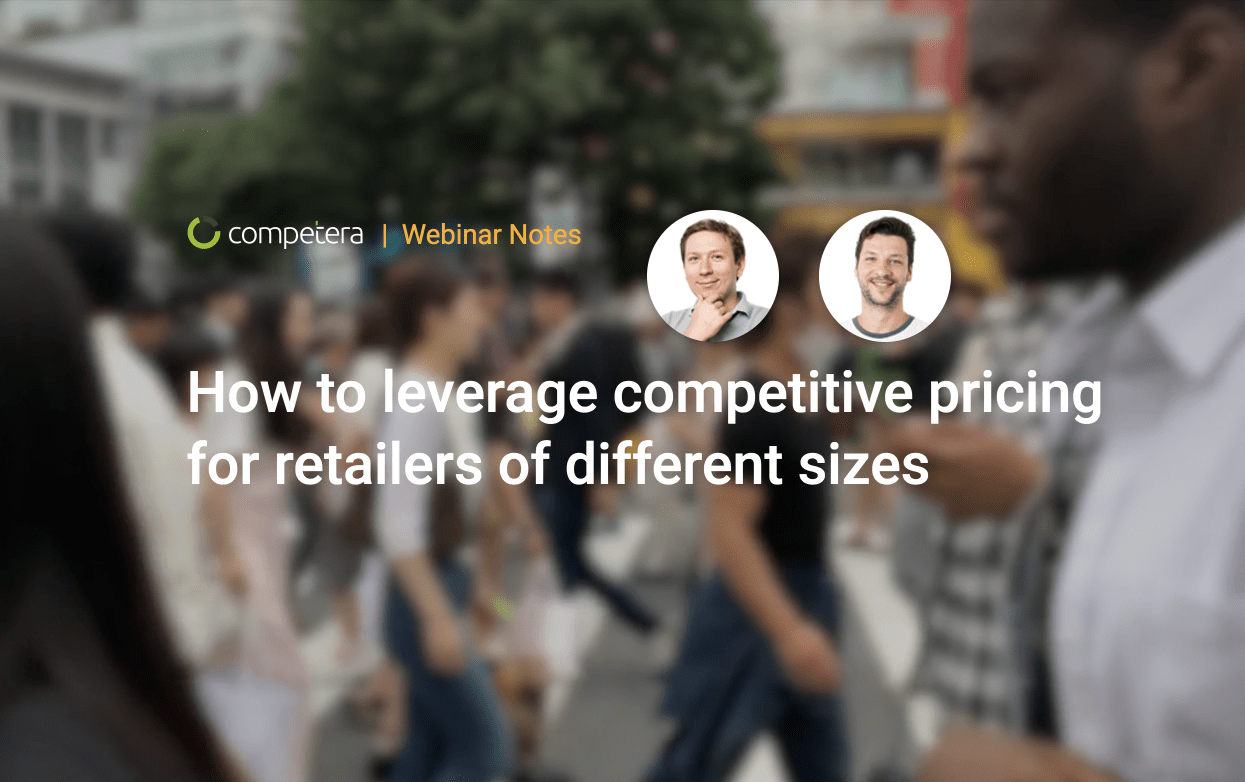 The goal of the webinar was to give important hints on an investment into competitive pricing and how to get the most of the value out of this investment. All information shared during the webinar is built upon real cases and the Competera team's experience of working with online retailers worldwide.
Why is Competitive Pricing Important?
There are three different pricing models retailers use generally:
manager-based pricing
cost-based pricing
performance-based pricing
All these models have their limitations.
Manager-based pricing, when category managers or product managers make pricing decision and apply pricing strategies based on their own judgements works well until the knowledge sharing, performance measuring, or long term planning obligatoriness arrives. Also this model is hard to scale up.
Cost-based model is simple. Apply target margins or markup to your cost and you're done. The limitation of this model, its disconnection from the market, leads to sales suffering and conflicts with manufacturers.
The most advanced in the list is performance-based pricing. It's useful when you're optimising your strategy for a particular goal: gain more revenues or turnover, or to secure your stock level. However, this model requires a lot of expertise or expensive enterprise-level solution.
Of course, besides all the aforementioned models there is competitive-based pricing.
The role of competitive pricing is to facilitate daily commerce pricing to pursue reaching of product management KPIs. The function of a competitive pricing suite is to create your pricing strategy but efficiently implement it.
The Right Time to Employ Competitive Pricing
When you start looking for a competitive pricing solution, the first question to ask yourself is whether it's the right time to invest in this venture. Here is some generic criteria what indicate if you're already there.
In general, if
you close more than 20 carts daily
your website is visited by more than 10-20K of unique visitors per month
your competitors are dramatically affecting your sales
you change prices manually more often than once in a month
Figures may vary from one retail niche to another due to the specifics of the business.
Before applying competitive pricing, you also need to make sure you have a person in your team who has the authority, time and competence, and will take care of competitive pricing once you are on board.
There should be no outstanding and blocking issues that might be more important than competitive pricing as well, e. g. lack of an employee, no funding for third party solutions, issues with audience capture, etc.: No automation would work well without a savvy human eye and engagement.
Short Note For Those Who are Already Work With Competitive Pricing Systematically
This section is for those retailers who already had an experience in competitive pricing automation and come across more complex challenges.
You are more targeted at compliance to your pricing strategy in a pursue to your pricing business goals of leveraging your profits and sales with some systematic competitive pricing already being enabled in this process. You know how your competitor pricing affect your sales and the value for the source of competitor data increases correlating with a quality of the data that you feed to your product management decisions.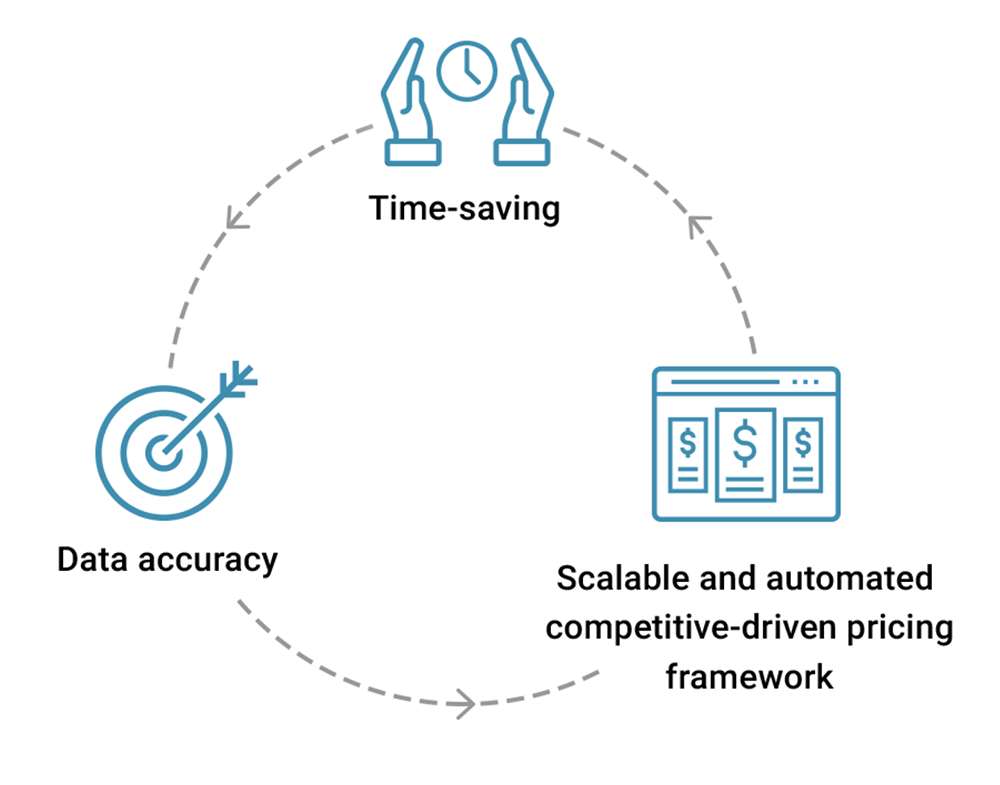 Thus, you start paying special attention to an accuracy and origin of your competitor data, estimate how much time you spend on the full-cycle competitive pricing, starting from getting data through putting an informed pricing to your storefront as you filtered it out through multiple layers of different variables:
competitor pricing,
availability and promotions,
your costs, sales and conversion per SKU stats,
markups and thresholds.
Ideally you would like to consider all the above mentioned and not to spend too much of your time on it.
The rescue is scalable competitive price management solution that combines a data accuracy guarantees with a flexibility to implement a facilitation suite for your pricing strategy. It should be easy to use for you and your colleagues. Also, it should be responsive and friendly to changes you will definitely make in it, powered with a neat support and onboarding.
Only one emphasis:
Such a solution is not something that fully automates everything and decides where to go for an optimal margin instead of you. This is a solution to save time, optimize pricing interactions and share successful competitive pricing framework expertise leaving you an architect and a person in charge of your pricing.
A Desirable Output for a Reasonable Cost Using a Competitive Pricing Solution
Optimal balance of SKUs and competitors for monitoring
Pareto law/ABC analysis/Top seller SKUs for tracking
Around 5 key competitors
Test it out, get a proof of a concept and scale your competitive pricing up
Different price management solutions charge their clients differently: by number of SKUs, by number of competitors, by number of data points, etc. The perfect start to hire a competitive pricing solution and to avoid excessive costs is tracking your top sellers items across key categories versus core competition.
According to Pareto law, items that generate 80% of your sales are somewhere in the range between 15-25% of your active assortment. You can also rely on ABC-analysis or BCG-matrix to define SKUs you need to monitor first. From the other hand, number of competitors who mostly affect your sales when they change price is usually not more than 5 per high-level category in one competitive sales channel, region, marketplace, etc.
To avoid an excessive and outrageous investment what some third party pricing tools would not be reluctant to encourage you to agree on—regardless the stage of your business development and background—try to stick to the most valuable products and direct competitors in the beginning of the way.
You will get a proof of a concept after a while using a tool and definitely move on more in this if it really drives key figures.
How to Choose Products for Competitive Pricing
ABC-analysis is a pretty common technique among the retailers to find out which products are worth monitoring. However, this analysis can be applied differently to the assortment.
Basically, retailers choose the products according their revenue count. Also they could apply more advanced ABC-analysis based on the sales count and margin revenue as well. There are three levels in this analysis. Those products that get AAA, are champions that make you money and retailer can be more aggressive in how often to reprice them or how many competitors are taken into account.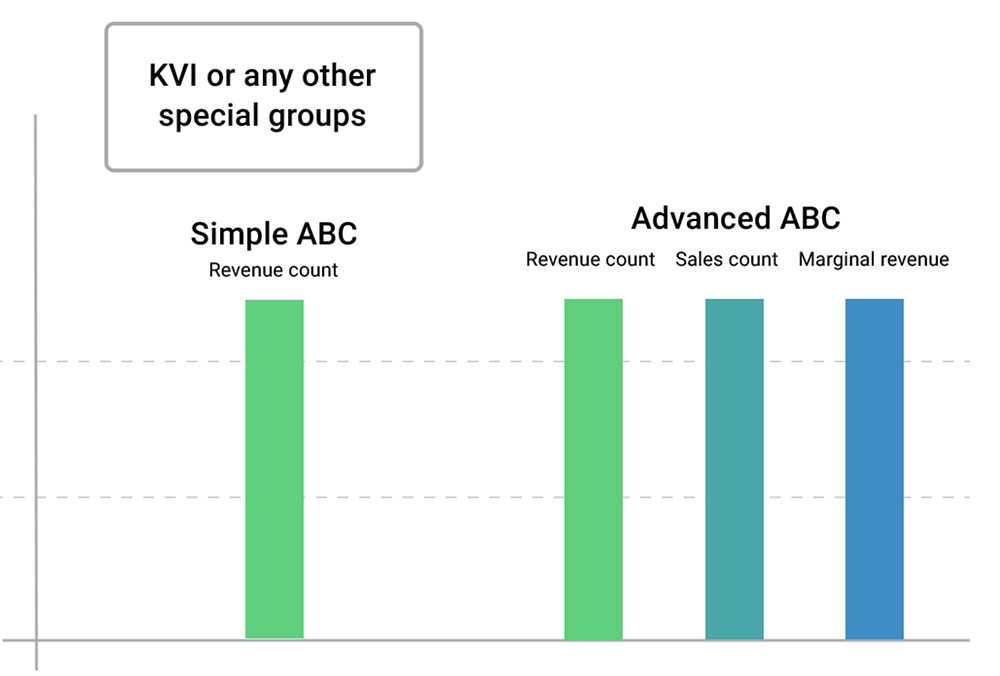 On the other hand—we've seen this among Competera clients—retailers do a simple or advanced ABC-analysis. Yet, on top of the analysis they put different set of products: KVI-positions, new products, etc.
The wise strategy here is to apply one of the approaches mentioned above to your assortment to identify most valuable products. Then you can use different repricing frequency to make sure you're always on top of the market for the most important products.
Quick tips: How to Сhoose Сompetitors for Competitive Pricing
One of the most valuable insights you can generate with the help of a competitive pricing solution is how your competitors affect your sales when they are changing prices. With help of your market Price Index and your sales data you're able to track down how exactly competitor pricing correlates with your sales. Thus you chart your competitors into a priority list determining who is taking your sales away the most.
What About All Other Products in the Assortment?
Since we recommend pricing your top sellers with a view to your competitor prices, what do with all other items?
The first thing you can do is to roll over less important from the most important in competitive price tracking, in other words remove some products and add other ones to have a glimpse of how they're overlapping with your competition and where are you at on them at that very moment of time.
Another thing is a margin-markup-cost-etc-driven pricing logic what is basically the logic that you follow to price products without taking a look at competitive landscape on these SKUs. The competitive pricing tool you use supposed to allow you not only price with a view to competition and internal data but also according to internal data separately in order to manage all assortment pricing in one tool, integral pricing environment for product management.
Competitive Pricing Solution Pitfalls
Often retailers could get into a situation when they're more than fully staffed with automated tools and solutions with a huge variety of features and do not even know how all of them work and mainly what value they bring, though it looks very impressive and workable at a first sight.
It is important to focus on the crucial tasks what have the biggest priority. There were many cases in Competera's experience when a shop that has a few sales per day never tried any sort of competitive pricing before start looking to employ an enterprise machine-learning pricing monster to predict all key metrics for 5 years to come. At the same time they're not aware of the competitive landscape, do not know how to optimally distribute their marketing budget, do not employ at least one IT specialist who could quickly build a product feed for a 3rd party tool…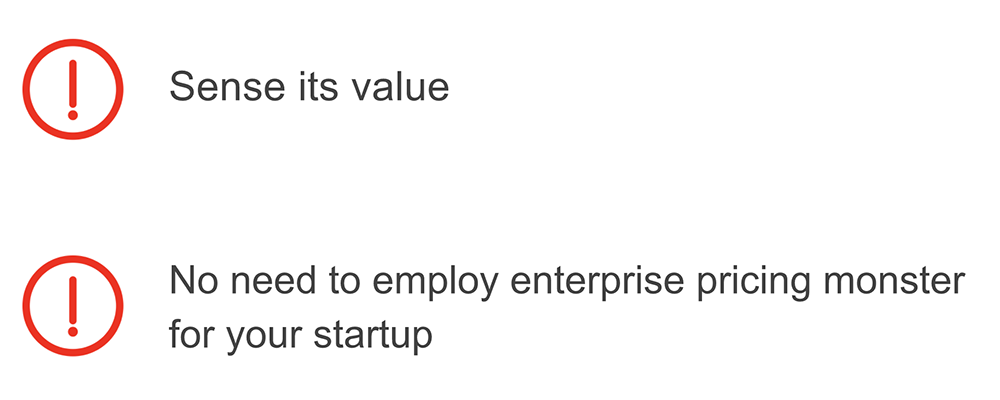 The solution for such a retailer is to employ a simple and scalable solution that solves outstanding issues at the right time.
Be agile
Define your key categories and products, monitor your competitors, see the ROI growth. Then, if it's necessary, employ more advanced enterprise-level solutions to maintenance your pricing processes.