«Jingle Bells, Jingle Bells, Rock 'em Sock 'em-Fight!»: How to Win a Seasonal Retail Battle
2016-12-19
The fight for customers' attention and money are looking to be smokin' hot this year.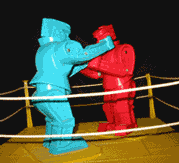 This year's Black Friday with an impressive 17.7% increase in sales over last year was a litmus test for online retail. Sales are growing. There is no need to be psychic to predict that sales grew during the holiday spending. The only question, really, is how high they are going to be. PwC in the 2016 Holiday Outlook says that the increase will hit the 10% level year-over-year, Rubicon reports a bit more at 12%...
50% of customers are going to shop online
And finally, according to all researchers, this year's shopping behavior finally shifted to online: 50% of customers are going to shop online to avoid the crowds, snail's pace checkout lines, poor merchandise, extra drive time, lack of parking, out of stock items/sizes, and so on and so forth...
This means only one thing: If you are an online retailer, you need to gird yourself carefully for this period. Especially in a world where 73% of customers say that they're going to try a new retailer! The main question now: Your retail store ready for this sales season?

Here are some tips we cooked up special for you, just to win this seasonal rumble.
Be A "Flash" In a Delivery
Reliable shipping is at the top of shoppers expectations for holiday season, so you need to factor it in, Deloitte said that fast shipping within two days is pivotal for 83% of shoppers.
Optimize Your Prices Immediately
There is a huge misunderstanding today between customers and retailers. The term "optimal" appears differently in both their perceptions. For some reason, retailers perceived the term as "cheapest", and act accordingly (We blame elves...). At the same time customer surveys shows that "optimal" is a price that fits a whole plethora of parameters: brand awareness, delivery options, and market situation (Like, how popular the item is, and how easily you can find it).
Top motivator to try a new retailer for 69% of customers (among those shopping at new stores) is "better" price
To optimize prices and meet the customer needs, a basic step for any retailer should be knowing the competitors' genuine prices, stocks, and promotions. During the holiday season event that's not enough, especially if your closest competitor is a retail giant: you need to update the information a few times a day and react pronto.

Summarizing all the hints about pricing in order to win the holiday battle, remember that "the quick brown fox jumps over the lazy dog"!
Promote Like Crazy And Use Emotions
At this time of the year, you definitely need to use all possible channels to promote your store (even offline). Search, social media, email, chat-messaging, and more... In the multi-channel world all these are total must-haves.
All-in-all your optimal prices, active promotions, and speedy delivery leads to impulsive purchases, especially if you're using psychological tricks to display prices in your online store:
Update Your Product Cards
You need to look carefully through the entire customer journey to make sure s/he will not be disappointed. Check out whether your out-of-stock products appears on the category page or elsewhere. Mark it accordingly, rename or hide it.

The next point is to show all the benefits the customer gets at your store just next to the product price:

Use Odd Pricing
Yes, we all (By "we", we mean people who do their pricing daily) tire of these .99 tricks, but they still subconsciously get the job done. So besides using optimal prices, use odd ones.
Odd pricing which describes the rightmost digits psychology known widely since 1996 after Robert M. Schindler's and Thomas M. Kibarian's published their research. Still be aware, that in some cases use of the exact .99 trick is dangerous. Yet, companies like Uber nowadays prove that this odd numbering still works, and round numbers are perceived as "capricious and unfair."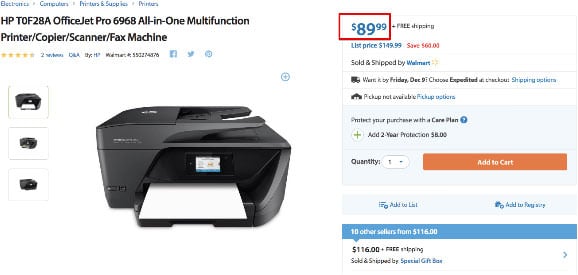 Use Pricing Psychology
The study shows that easy computations (e.g., 5.00 – 4.00, an arithmetic difference of 1.00) judged the magnitude of the difference to be bigger than for pairs with difficult computations (e.g., 4.97 – 3.96, an arithmetic difference of 1.01). So keep it simple if you show the old vs. new price.
Show more expensive products next to standard items you are going to sell. It worked with real-estate experts (they've been asked to estimate the value of a sample home, surrounded by "expensive" houses), and it definitely can work with holiday shoppers!
The holidays is a time when people buy gifts, not just products. So use it to sell more stuff ("buy one, get a discount for second", etc...).
Last But Not Least
Maybe you should still be skeptical about all the above mentioned, but before then let us ask you a question: which part of this $91.6 billion dollars pie can you win at the end of holiday battle with, and without, these tricks?