Bundle Pricing
5 tricks to Use a Product Bundle Pricing Strategy and Increase Your Sales
Bundling is a popular and effective pricing technique that helps to market goods and generate higher income. What's the magic formula? We're about to discover it.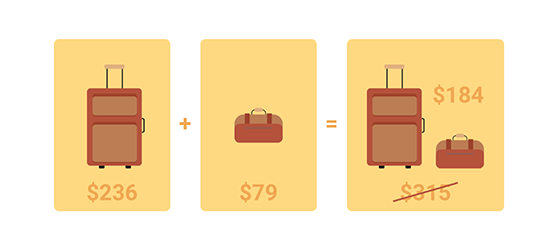 In the course of bundling, products and services are fused together and marketed as one unit. Perhaps, the most famous examples of it is a McDonald's meal.
Want that hamburger? Don't forget your fries and coke to go with it! In fact, can you imagine buying a burger without fries?
Obviously, it is a rhetorical question, but there's another one here, and this time it should be answered. Would you like to change the way your customer thinks of your products or services? Create a completely different philosophy, where every purchase entails another buy?
That's right, you can do that.
Bundle pricing advantages
A couple of tried-and-true product bundling strategies can bring you benefits the likes of which you may have never dreamed. At the same time, this tactic is well regarded. Customers like it, as bundling ads value to their experience:
shoppers are able to enjoy versatility in a single act of purchase;
they acknowledge cost and time savings;
avoid frustration while choosing complimentary products.
And what about you, the seller? Well, the advantages of a product bundling strategy are large in number and involve:
competitive pricing to combat your rivals;
sales intensification;
cost efficiency;
increased revenue;
new marketing channel options.
Some business owners consciously forgo catching this tide. They ponder (unreasonably) over the losses they might bear (due to discounts). What they forget is and per-customer charge and total cash flow, as these will go up.
Sounds good? It's just the tip of the iceberg! Smart bundles will entice your audience, leave them happy and willing to be back for more.
1. Dig out your talent to mix
Product bundling pricing strategies require basic knowledge of customer categorization. If you have a nose for clients' caprice, it's your win. If not, remember the following:
some shoppers are constantly looking for deals;
some feel a bit lost and need a good advice on what to buy;
for some buyers convenience and quality come first.
Do not go any further, until you answer the following questions:
Who are your clients?
Which products do they usually buy simultaneously?
How much do they spend?
Which products could encourage them to venture upon a little spending spree?
What budget-friendly items might be included into packages to give them added value?
Figured those out? Great! There's another set of issues to clarify. We have to bring our customers' aspirations and appetites into correlation with the market situation. Therefore, we analyze:
estimated demand and marginal cost;
pricing feasibility;
competing offers;
supply chain scheme;
product liability risks.
It's now time to draw a bundle draft, keeping in mind which audience you're trying to attract and which objectives to achieve. But make sure to take a look at every product bundling strategy technique before settling on your ultimate decision. One way or another, it's always worth trying to test different bundles and strategies to get things straight in each case.
Conducting a survey and asking your clients what they are looking for is another great method. Of course, you already know quite a lot about the habits and desires of your audience. However, extra curiosity will be helpful.
Try to really understand the choices they make, and don't judge by yourself too much. Your personal motivation may differ considerably. The only real luxury is the luxury of human communication, remember? Just talk to them!
2. Offer discounts
A big discount is not a must-have for every bundle. However, there should always be some financial reason to buy two or three items instead of one. Your clients should be able to see a good deal in your offer. Otherwise, pros and cons of bundled pricing might be questioned and weighed.
In the best-case scenario, customers will stick to the idea of buying one, because they can come back for more any time. At the worst, they might suspect some kind of fraud or attempt to throw dust in their eyes. Both the former and latter won't suffice.
It's better to make sure that the bundling benefit is obvious and adequate. After all, you will never regret stimulating your client's buying activity.
To track what discounts and special offers your competitors are launching, you may try using price and promotion monitoring software such as Competera. For example, on this screenshot you may see the "Promo" column with information on the current situation on the market.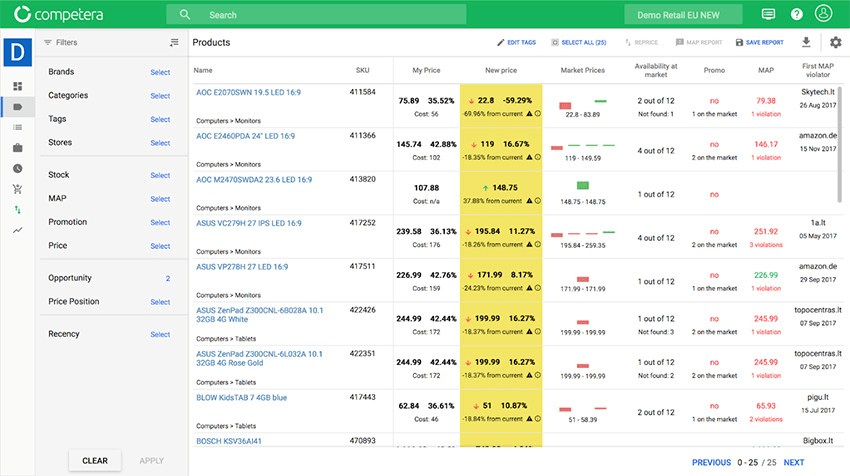 3. Be careful with pure bundling strategy
While in most cases we provide an opportunity to buy products separately OR in a package, some goods sell better when only available as a bundle. That's what many cable and software companies do. This method is known as a good sales booster.
However, it's important to think twice before you take the risk. Unless done masterfully, it might look like a limitation of consumer's freedom. There's a couple of pure bundling subcategories to take advantage of:
joint bundling – two articles are sold together at one price;
leader bundling – a core product is sold at discount once supplemented with a complimentary title;
mixed-leader bundling – a leader item can still be purchased on its own (but not extras).
Some companies have managed to utilize these type of products bundling in a full swing, but the issue of customer loyalty and compliance is always on the table. here's something else you should know about pure bundling, so keep on readin' on.
4. Choose a mixed bundle pricing strategy
Harvard Business School researchers have established a correlation between the demand for bundles and the opportunity to buy each product separately. It turns out consumers want to feel they make the choice by themselves, with no strings attached.
Once not given a priority of option, buyers tend to develop a so-called "negative synergy" which works against the bundle and its seller. Revenues demonstrate a tendency to decrease under such scenario, and only very careful planning can save the situation. Consequently, pure bundling should be treated cautiously and responsibly.
The mixed product bundle pricing strategy definition is far more simple and straightforward: you sell products individually and organize them into convenient kits to grant choice.
Offering goods separately and in package deals allows to unleash your creative potential and study consumers' preferences in a peaceful atmosphere.
No one forces anyone, it's just like at the movie house: you can order a combo or grab a single pack of snack. No obligations! It ensures the highest level of freedom and independence for buyers and sellers.
5. Make it plain and simple
Make certain that your offer is easy to understand and appreciate, and you will gain the upper hand. In a way, it is clarity that makes mixed bundling so effective and cherished.
The truth is, simplicity has always been highly-prized. When shopping, you will most definitely drop the handkerchief to clarity.
Employ psychology in Pricing
Psychology is always the key. It's the underlying basis of everything.
And marketing? You bet!
In the multi-mission pursuit of customer's needs and sales goals, we have to recognize the psychological aspect of product bundling pricing strategies. Bundling less popular items with bestselling hits is not out of the question.
There are plenty of shoppers who have good feelings for this type of offer. Once you put some passion into the process and care to factor your buyers' interests in, you will coin a longstanding opportunity for growth and revenue increase.
And your clients? They will be happy to be advised while enjoying optional extras.
Bundle Pricing Pitfal
Balancing transparency with a strong sales performance is not easy but attainable goal.
The recipe is fairly simple: stick to the total value of your offer while developing your pricing strategy.
That doesn't necessarily mean in-depth descriptions and calculations for over every service provided. According to Harvard Business Review, sometimes price decomposition does more harm than good devaluing bundles and individual products at the same time.
The bottom line is, bundling is a competitive tactic that can make you jump into the lead. To achieve your goals, absorb the theory, study your audience and don't get too carried away with out-there ideas. Those might be really good and effective, but make sure your down-to-earth pro goes first, scouting the route.
Have a happy bundling!
Manage your Promotions and Prices with Competera to maximize Sales & Revenue
Try Competera