Content navigation:
2022 was another turbulent year for the retail sector due to impending inflation and a recession. Businesses are concerned—and rightfully so—that consumers' purchasing on Black Friday will be badly impacted by rising gas prices, mortgage rates, and food shortages.
Still, there is hope! Despite the downturns, more US consumers compared to last year are excited about the Black Friday season, McKinsey report states.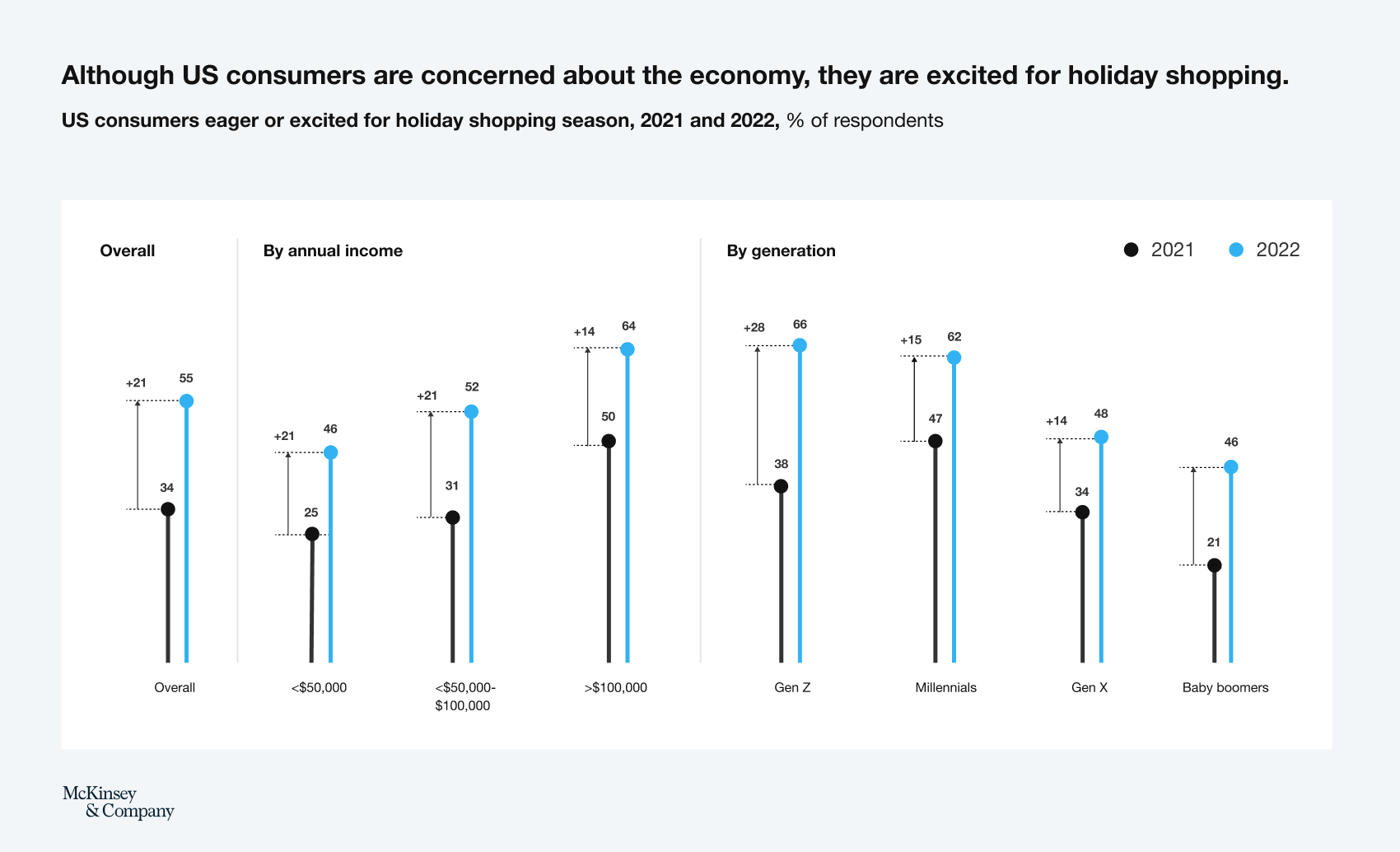 The question is how to accomplish profitable development through an omnichannel strategy. To assist you in staying on top of new trends and outperforming the competition, we've put together the main predictions and practical recommendations for the next Black Friday season.
Black Friday 2022 context overview
Black Friday remains one of the most important sales campaigns for businesses and an awaited event for consumers, even though we are confronting new crises. Inflation and the energy crisis will influence both the budgets of online stores for organizing Black Friday campaigns and the purchasing decision of consumers.
Given that, consumers will probably be more selective about where they spend their money. However, this may also make consumers more willing to purchase goods on Black Friday when they are offered at steep prices. Black Friday is frequently used by people who have been putting off upgrading their electronics and wardrobes to get the best deals.
Retailers should also keep in mind that the supply chain issues would likely continue. Earlier and longer-lasting shopping deals offered by stores will hopefully help prevent some of the supply chain issues that have plagued businesses and consumers over the last two years.
However, you should be ready to face high pressure on stock levels as before.
10 steps that will make the 2022 campaign your best Black Friday so far
This context may be confusing and overwhelming for consumers, as well as for retailers. Considering retail trends and the overall 2022 macroeconomic situation, we`ve gathered some practical advice for you.
Personalize offers as much as you can
A universal, one-size-fits-all buying experience is no longer acceptable. Customers want recommendations for products that are highly relevant to them and match their interests. This Black Friday, there is no other way to engage and convert customers. Down below you can see the visualization of what customers expect from retailers in terms of personalization by McKinsey.
84% of consumers say being treated like a person, not a number, is very important to winning their business. - Salesforce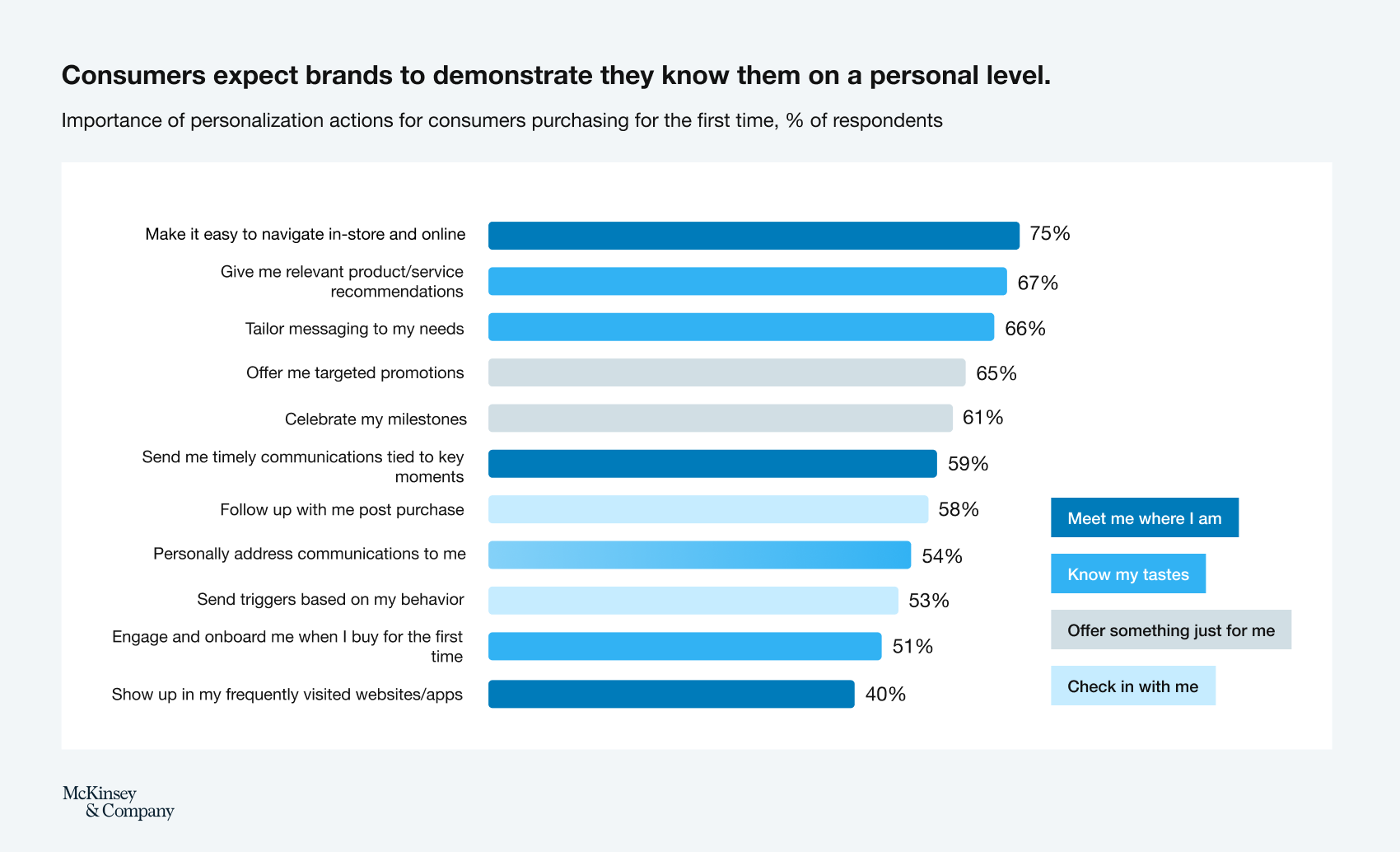 90% of U.S. consumers find marketing personalization very or somewhat appealing. - Statista
Since every Black Friday retailers get a bunch of first-time customers your strategy should include activities to turn them into your number-one fans. Those activities may include:
giving customers a perk at the register to sign up for a mailing list or loyalty program.

distributing a code that may be used on a future purchase.

sending them a follow-up email with recommendations in light of their initial purchase.
Use personalization to increase upselling and cross-selling
Increase the number of customized recommendation ribbons to entice clients with a variety of choices.
When you give customers recommendations that are specifically tailored to them, cross-selling and up-selling are considerably simpler. AOV growth should not be your main objective when running up-sell and cross-sell initiatives. Instead, make an effort to provide customized recommendation widgets that speak to their unique needs and foster stronger client loyalty.
Personalize ads
Every customer touchpoint in your Black Friday campaign needs to be significant. By adding personalized content and product recommendations to the platforms that are currently bringing in the most money, social media is a direct approach to broadening your audience.
By incorporating customization into your favorite paid media channels, such as Facebook ads, Instagram ads, LinkedIn ads, Twitter advertisements, etc., you maximize your advertising efforts and increase the relevance of your communication to clients who will be inundated with offers this week.
Run an omnichannel campaign
We believe Black Friday will return to being mostly in-person in 2022. However, because customers will be arranging their shopping visits based on what they see online, shopping will actually take place across multiple channels.
The omnichannel retailer must consider demographics, geography, cross-device targeting, and viewership statistics among other factors. Customers shop across all channels, including in-store, on their phones while in-store, from their laptops, etc. This makes using these channels easy for users and gives retailers an advantage.
More reliable attribution techniques are required for omnichannel campaigns that link together offline and online efforts. Geolocation tools may bridge the gap between physical and digital attribution by measuring campaign effectiveness and connecting your digital initiatives to actual results.
Retailers who have the ability to track their customers through several channels can give their customers a more customized experience. And as we already know, personalization is a must.
Businesses may utilize the omnichannel approach to obtain information on how to develop content and offer that will lead people to purchase more - not just online but also in physical locations. Businesses also should focus on increasing client interaction after setting up these channels. Improved consumer contact increases time spent on the site, which frequently results in increased conversion rates.
Companies can increase customer engagement in various ways, such as by running discounts, communicating with customers on social media, holding contests, boosting referrals, raising SEO rankings, and developing content specifically for their target market.
Remember, to provide your customers with a full-packed shopping experience despite which channel they use to shop, every marketing activity should be aligned with one another in your omnichannel strategy.
Refine your marketing strategy
There are various things that marketers need to take into consideration, from website optimization to the introduction of spectacular offers and giveaways. Here are some key marketing tactics.
Optimize website performance
Examining a website's hosting is one technique to get ready for a Black Friday promotion for an online company. Upgrade your browser if the website is about to reach its resource limit.
To support the number of products displayed, the quantity of projected monthly traffic, and a seamless shopping experience, the optimum plan should have plenty of bandwidth, memory, storage, and computing power.

Focus on lowering the cart abandonment rate
For eCommerce stores, cart abandonment has a number of detrimental implications, including data skewing, lower conversion rates, higher client acquisition expenses, and more.
By taking these steps to actively discourage users from leaving your website after adding items to their carts, you can most effectively beat this issue.
Improve your mobile shopping experience, which we'll dive into shortly.

Use Intent-Based Promotions to ensure your customers with high intent follow through with their purchase instead of abandoning ship early.

Add trust signals at checkout to reassure shoppers that your business is legit and creates happy customers.

Allow people to save their carts for a later checkout. Enable this, and you can send them a deal shortly after to help nudge them into completing their purchase.

Offer free shipping to shoppers who meet a certain spending threshold.

Simplify your checkout experience so shoppers can quickly make a purchase and be more likely to do so.
Review the product pages
Customers will spend the majority of their time browsing and purchasing stuff on product pages. Consequently, improving product pages help provide a swift and enjoyable purchasing experience.
Make the product descriptions better. Use sensory language to let the customer imagine how the product appears and feels. For SEO, use relevant keywords. To answer the most frequent inquiries from buyers, create a FAQ section.
Create cohesion across presences
We've already mentioned the importance of an omnichannel campaign.
Thinking of eCommerce presences as distinct from in-store presences and handling the marketing as such is a mistake that many retailers and brands can make.
Consumers see them as one and the same, and they are interested in knowing what is occurring in both.
Make sure your social media accounts are updated to reflect any in-store sales. You might post notices about an online-only deal in-store or ask cashiers to give customers a promotional card when they pay.
Make sure the social media advertisements you use for shopping, such as shoppable Instagram ads, accurately represent your entire campaign.
Even though the channels could be different, you should still have a consistent message, just like you do with your branding.
Deliver value to your customers with a pricing strategy
Key factors to consider when planning your Black Friday activities are sustainable and smart promotions management and defining your KVIs. Let's look at those factors in detail.
Healthy promo management
Planning your Black Friday promo activities and aligning them with a general marketing strategy is the key to margin growth. However, some companies tend to chase immediate results and the idea of outscoring last year's results.
Such promo pressure on Black Friday could lead to the opposite, killing the margin and messing up the annual retail strategy.
Therefore without planning ahead, companies may face such challenges as:
Lack of good information about previous promotional initiatives

Inability to identify each SKU's position in the portfolio and subpar analytics

Lack of openness in the promotion schedule

Not being able to forecast the results of specific promotional scenarios

Competitors and vendors are putting more pressure on promotions

Shoppers' stockpiling causes post-promo declines
Especially if you struggling with some of them even without Black Friday pressure - time to consider smart promo management. Using such a solution allows you to set up multiple promo campaigns in several clicks, get visual data about past promos, and plan future promotions. You will be able to test multiple scenarios and predict the results of different activities.
For example, using the Competera platform, retailers set up and manage regular elasticity-based markdown campaigns with predictable and controllable results.
In a number of ways, ML algorithms can improve how businesses manage different promos including markdown. The algorithms, for instance, provide data-driven evaluations of previous promotional efforts and offer insights that contribute to the sustainability of future promotions by processing historical promotional records.
Analyzing the effects of vertical and horizontal sales cannibalization is one of the most accurate ways to reveal the promotion's true business impact. Practically speaking, this involves deciding how promotions affected product stockpiling (horizontal cannibalization) and changes in the dynamics of sales for non-promotional items across the board (vertical cannibalization).
Worth mentioning once again that if you use a promo management tool, your business decisions regarding promo strategy will be smarter and more precise 365 days a year, not only during the Black Friday season.
Coordinate marketing and pricing activities
Retailers expect and get ready to greet tons of new customers during this season.
As we agreed before, the main goal is to keep those newcomers and turn them into loyal customers. So how a pricing strategy could make your customers return to your store again and again?
Let's talk about price anchoring.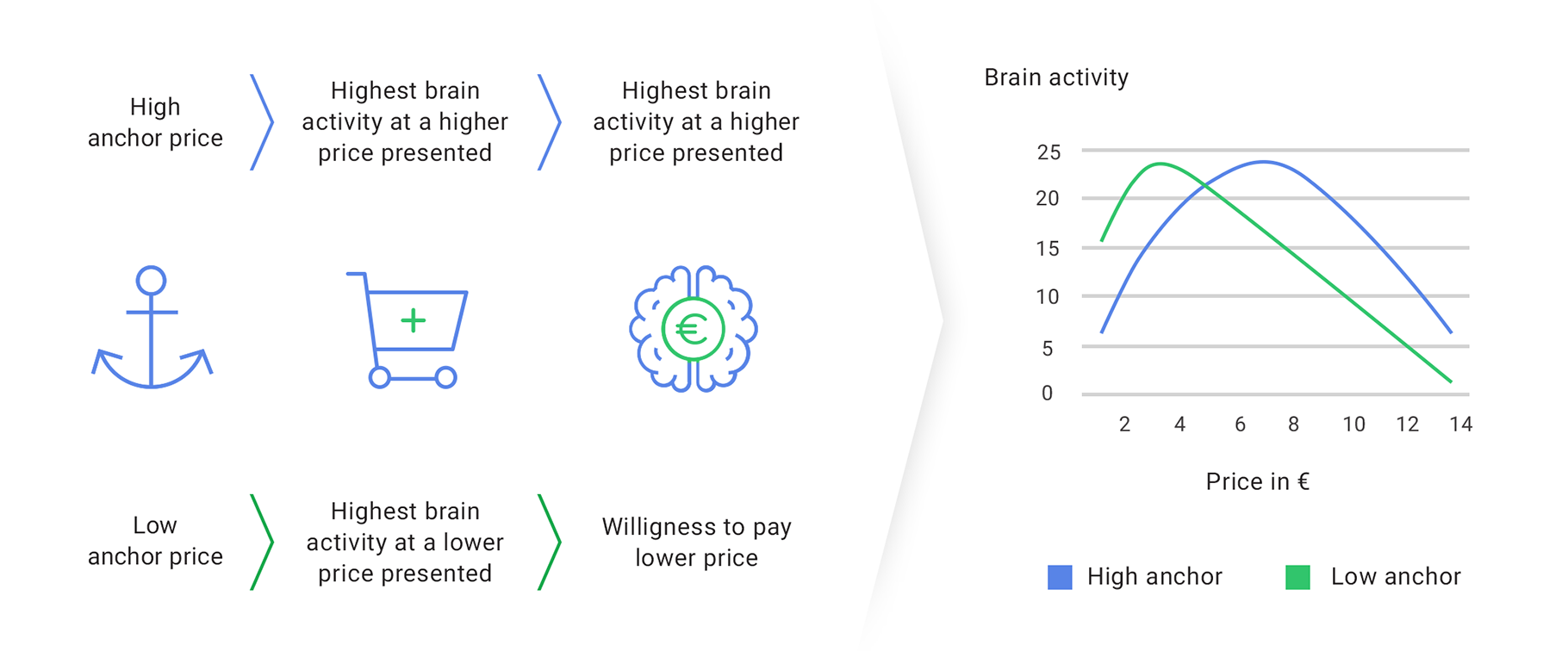 The new-coming customers would hardly notice all of your prices but would definitely compare the items they buy most often and know how they are priced by other sellers.
These are the products that must be offered with the most attractive discounts. It will help you anchor the customers that have come to your store for the first time. The little compromises on margin would even be acceptable if you manage to make a substantial number of clients return to your store after Black Friday.
In most cases, the clients are well aware of and compare the prices for KVI items. But you can't make the best offering to those SKUs without identifying the true KVIs first, right? Let's look at how advanced software can help you with that.
How to define your true KVIs?
Being aware of every product's role in the portfolio is crucial to make the right pricing decisions. The statement is even more relevant when it comes to KVIs. The right or wrong prices for KVIs can either sustain or undermine a retailer's price perception.
At Competera, we offer to carry out segmentation by ranking products taking into account price elasticity and cross elasticity, product characteristics (brand/category/...), sales statistics, analysis of competitors' influence, etc. To do this, we use deep learning bespoke machine learning algorithms.
The algorithms analyze the performance of particular SKUs in regard to the changes of both internal and external factors. In the end, the engine can segment products into different buckets (KVIs, Long tail, Cash generators, etc) based on particular product attributes identified as a part of the analysis.
Eventually, a retailer can apply the right pricing strategy toward each group of products, including KVIs.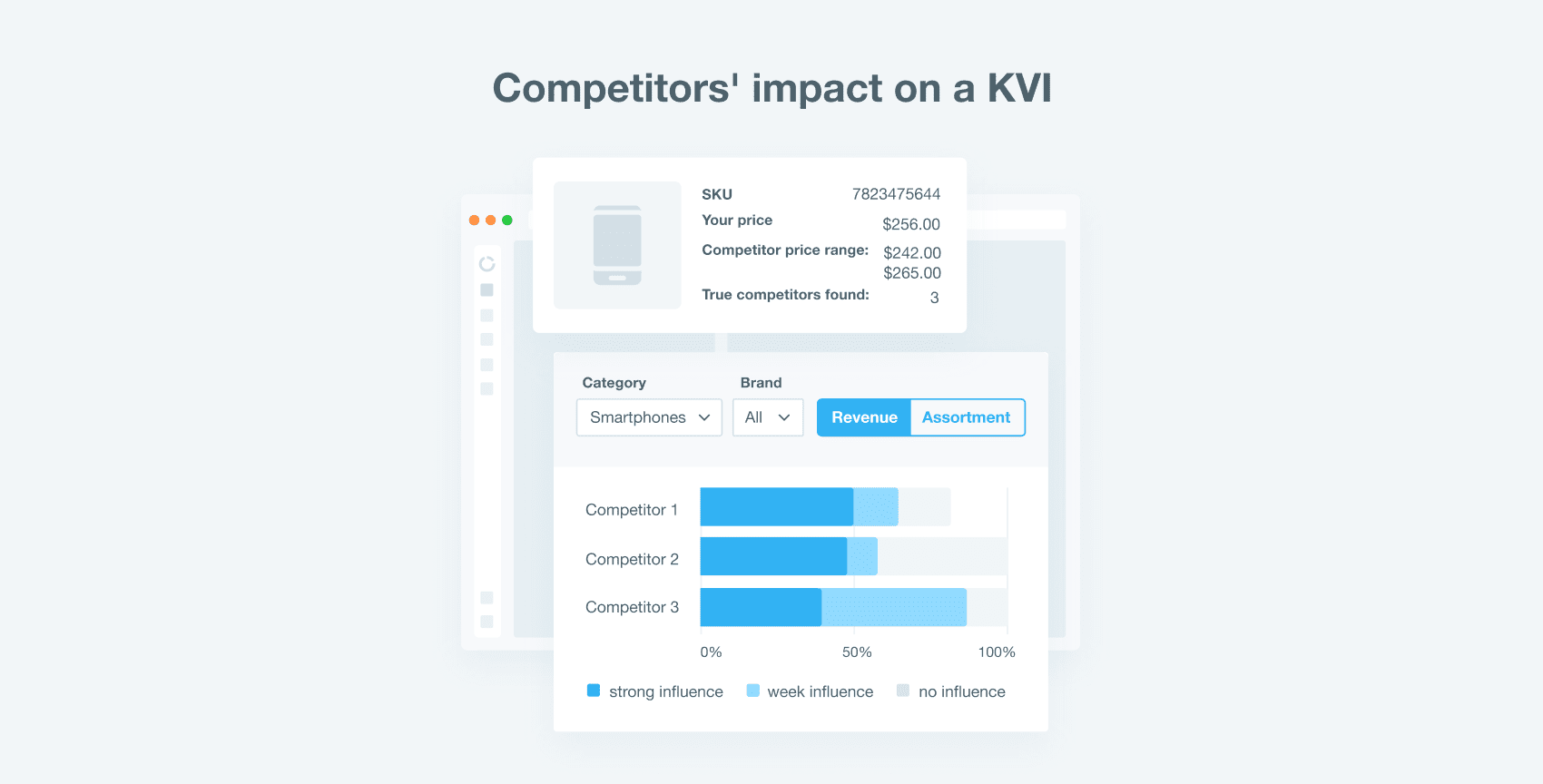 In addition, your margin will not be diluted by following unnecessary competitors. Competera's algorithm reveals the true impact every player has on sales by analyzing a retailer's and competitive historical data.
What it means is there's no need to set the lowest price for your KVIs to outcompete rivals. Instead, retailers can craft optimal prices based on multiple factors (e.g. promo elasticity, basket analysis, competitive data) to yield profit.
Final thoughts
Now that you know the Black Friday 2022 context and actions to take, you have everything in place to make it happen. Since it's not our first rodeo here at Competera, we have strong expertise in delivering optimal prices to your customers both during the peak holiday season and throughout the year. If you are ready to take the next step in your pricing strategy, contact us to discuss how exactly can your business win with Competera.