Best Price Optimization Software for 2018
If you you're looking for the TOP-10 list of price optimization software, you obviously need the solution which fits your business needs in the best way.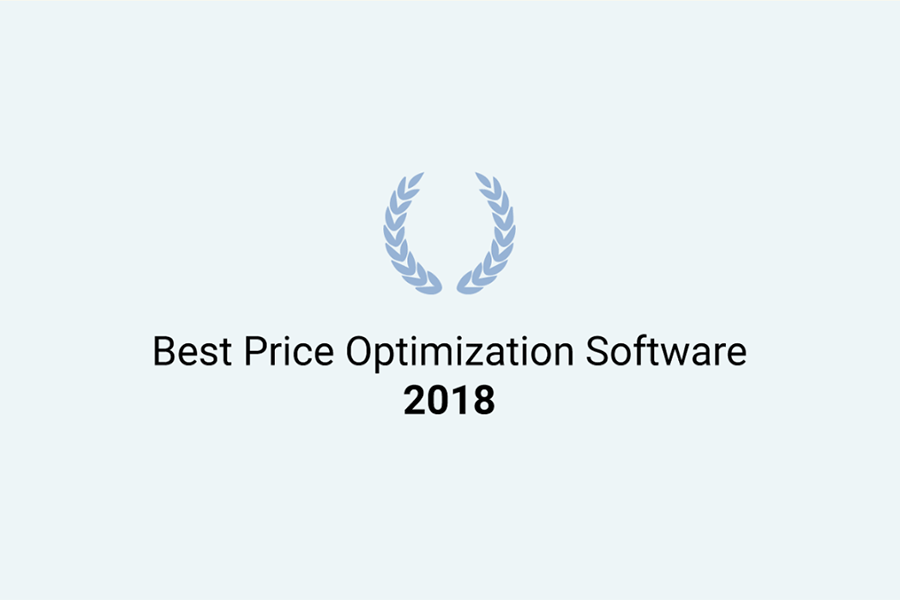 Here's the big idea.
Many pricing software providers promise to deliver you exceptionally qualitative data, but it doesn't make them the best ones. Good data is not enough nowadays, when customers have turned from traditional stores and websites towards marketplaces. They became extremely conscientious (which is the reason more than 3, 500 stores were closed in US in 2017).
We believe you compare Competera to other providers to ensure choosing the one which would significantly boost your company performance.
To help you choose, we prepared this Guide, which will introduce you to the current retail trends, explain the main functions of price optimization tool and get you acquainted with the types of solutions.
Current trends in retail
According to BRP Consulting, 81% of retailers plan to unify the commerce across channels to improve customer experience by 2020. That's the key point of retail transformation in 2018.
Retail gets more and more "real-time", because a shopping cart is available in store just as on mobile or PC. That's one of the pillars of the unified commerce, to achieve it retailers use a single commerce platform and implement omni-channel pricing strategies.
Why is omni-channel so important?
Being omni-channel means having consistent and tailored costs across all channels to build a strong brand, send appropriate marketing messages and higher retailer's profits.
Fact:
According to Aberdeen Group Inc., it helps retain 89% of customers, the percentage decreases to 33% for retailers with poor omni-channel strategies.
So if you're currently looking for the most popular price optimization software to unify your commerce...
Think about this:
The most advanced retailers are already applying virtual and augmented reality expertise to better serve their customers.
So it's about the right time to appeal to the modern technologies to be in trend, particularly to business intelligence software.
Let's get deeper to see what it has to do with the unified eCommerce.
What is price optimization?
The simple truth is shoppers choose the retailer because its cost is fair.
Price optimization is the process of maximizing income without losing customer willingness to pay due to a "fair" cost.
Price optimization is about finding the perfect balance
between value and profit.
Basically, every company aims to make the highest possible profit selling products quickly at the correct cost. If it is too high, the sales will decrease, and if it's reduced, there will be no profit for a business.
How to choose among the most popular price optimization software
Price optimization software helps retailers meet competitive goals while following the general business and pricing strategies in different channels and for different product categories.
The definition itself contents some crucial benefits of such a solutions, but there are a few more pros:
financial benefits thanks to the ability to concentrate on goals such as sales volume or markup increase
automation of competitive comparison which reduces the amount of human error, alerts on deviations
consistent costs in all channels which improves general perception and helps avoid confusion among consumers
quick decision-making thanks to systematic recommendations made on the base of machine learning and cloud computing
automatic alignment with strategies for each category to achieve the goals for each category
Though, introducing the pricing solution into your business may have some cons, such as time consumed for the integration of solutions and testing new pricing strategies.
Anyway, having thoughtfully categorized your inventory, you may test pricing strategies separately for each category, and get excellent results.
Just imagine, that you're constructing something great like an electric car but you start from making a scooter, then a bicycle to achieve the final goal.
Important advice. To choose right pricing software fitting your business needs, you have to think a little bit in advance and understand the future goals of your business.
Supposing you only need competitor monitoring and you integrate the business in a solution which provides only this function. In a few years you want to optimize pricing and use predictive pricing.
Seriously, wouldn't it be effort-consuming to reintegrate with the new, more sophisticated, pricing solution?
Our advice is to choose the software which will fit you future business needs, not just the current ones.
Why are we saying this?
Because the price optimization software for 2018 provides you with several possibilities.
Price Monitoring
Price management
Optimization & Prediction
You need to know the main characteristics for each of them. Let's take a closer look at them.
Price monitoring
That's what you start from: track the competitors data (costs, discounts, promotions of the main rivals) to make your own pricing decisions.
Just keep reading and we'll show what the main requirements are.
First, you need to make sure the data provided by price monitoring software is of high quality. There are such indicators of data quality as percentage of errors, depth of comparisons, number of product page scans, depth of matches etc.
The product match process is important here, it's best if matching quality is achieved by combination of automatic and visual comparisons.
Good pricing software should provide retailer with at least 95% quality data, to deliver it within two hours at the internal system of merchandiser exactly at the required time.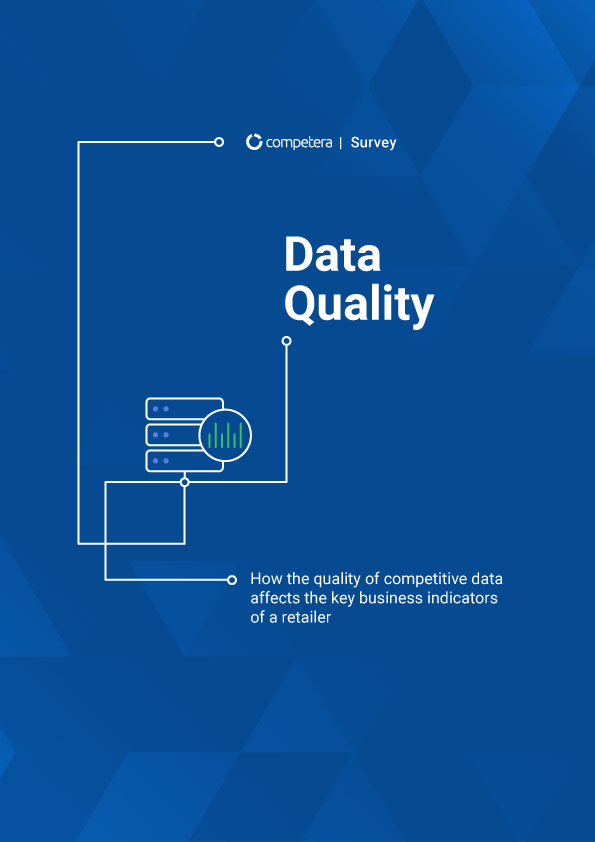 Survey on the quality of competitive data and how it affects business indicators
The parameters which influence the selection of software regarding the delivery of data, industrial standards, value of data quality indicators and their effect on business results.
Read more
The second issue is that some providers are delivering competitive data at some particular time, so you can't set up your own scanning schedule. It means that you will receive the data at the same time when your competitors do.
It's worth choosing the software will provides you with scanning schedule and enables to choose the time of data delivery (if you need data at 8 a.m. strict — it will be delivered at 8 a.m.).
Third issue:
You may have difficulties with data processing because of user-unfriendly interface and disintegrated data. Actually, data should be available to the final user in a clear easy-to-comprehend interface.
The informative data unveils anomalies, deviations, tendencies. Access to any report in 3 clicks is required, just as alerts on deviations to respond to the market as quickly as possible.
Your competitive data provider should oblige himself to provide you with certain matching quality and delivered data quality in a Service Level Agreement.
Price Optimization software for vendors provides them with alerts on MAP violations. That's the way for manufacturers to protect their brand.
The next question you may be asking yourself:
What exactly to monitor?
Your position on the market, whether you're within the market costs, and what competitors influence your sales.
The promo-activities of your competitors to optimize your offers and advertisements.
Availability of products. Know when you're competitors are out of stock!

Now you know most of the requirements for the price monitoring solutions. Data collection and rules-based repricing are good, but weren't you aiming higher?
Bear with us here, because we're going to show you what else to expect from the price optimization solution.
Price Management
Retailer's experience in competitive monitoring allows for moving to the next level, the price management.
It's the process of aligning business strategies and goals with repricing.
It includes advanced inventory analysis and development of an extensive library of pricing rules based on competitors, sales, costs, profitability or elasticity.
This is the part where tailored pricing programs are developed and incorporated into the solution to maximize its performance. They are improved on the basis of historical reports.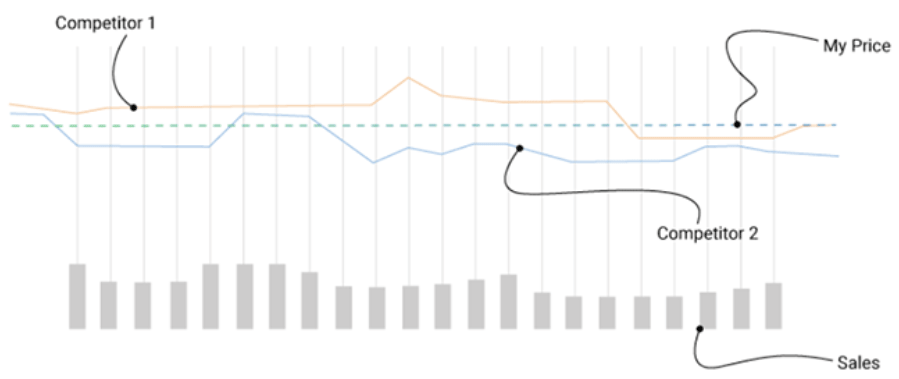 Here's another way to think about it:
A good price management solution is an all-in-one platform, which combines internal retailer data and competitors' in an insights bar allowing a retailer to create custom reports, to manage sales, profits, margins, set goals and monitor the company performance in a convenient and visually clear form.
Another quality of a price management solution is automation of the repricing process in connection to the market changes, which makes a retailer proactive.
A pricing platform provides the retailer with Guidance Hub to learn the necessary concepts of pricing and to use them in practice, as well as with a dedicated manager to help the retailer incorporate the platform into his business.
Testing (A/B, if/then) allows thoroughly explore different pricing rules and models in order to choose the most optimal ones. Test the impact of particular discounts and offers on your sales, show different costs to different users, revise pricing over time, then see which versions of your products performs better.
It's never too late to beat even the currently winning cost!
Performance Optimization & Predictive Pricing
Performance optimization is seeing the results of a decision, getting all insights, choosing the best-working models and fine-tuning them afterwards. Predictive pricing is forecasting of the outcomes of pricing decisions, alerts on pricing possibilities all with the help of special algorithms.
At this stage you segment inventory and label product groups, you set the goals for each one of them, you calculate the cost potential and as a consequence — better execute the pricing strategy.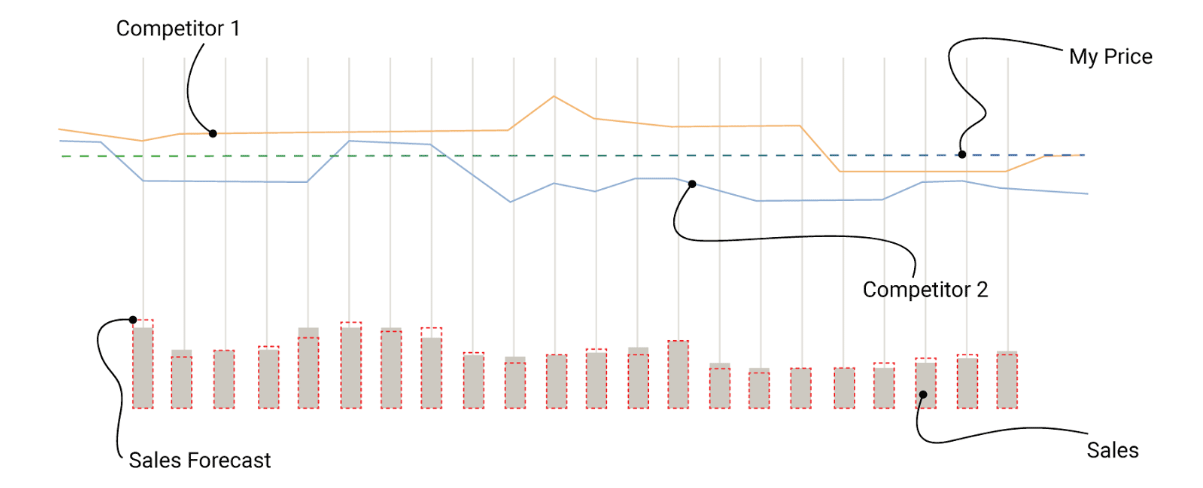 Why does it matter for a large enterprise?
As mentioned before, you may always get better. At this stage your pricing has predictable results, and you start accurately measuring the effects of every decision and counting the elasticity (well, actually your pricing platform is doing that for you).
Just imagine,
your price management software is actually able to predict the future! Machine learning and cloud computing are enabling it to forecast how cost changes will influence the demand. It allows for finding a magical point where both revenue and sales are at their maximum.
Simulation comes into action here, enabling you to model the effect of costs not losing customers loyalty and harming your sales rates.
Predictive pricing helps manage promotions and deals with your pricing software. It's important because guesswork here may harm your business.
Incredible promotions were around for such a long time that the discounted cost becomes a new retail, wearing off the novelty. You don't want to participate in promo wars, which lead to low revenue.
Now when you know all options the pricing software should provide you with, just keep reading to know actually what kind of software to choose.
SaaS vs On-Premise Software
If you're choosing between the regular desktop pricing software and SaaS (software-as-a-service), let us point out some advantages and disadvantages of the last one.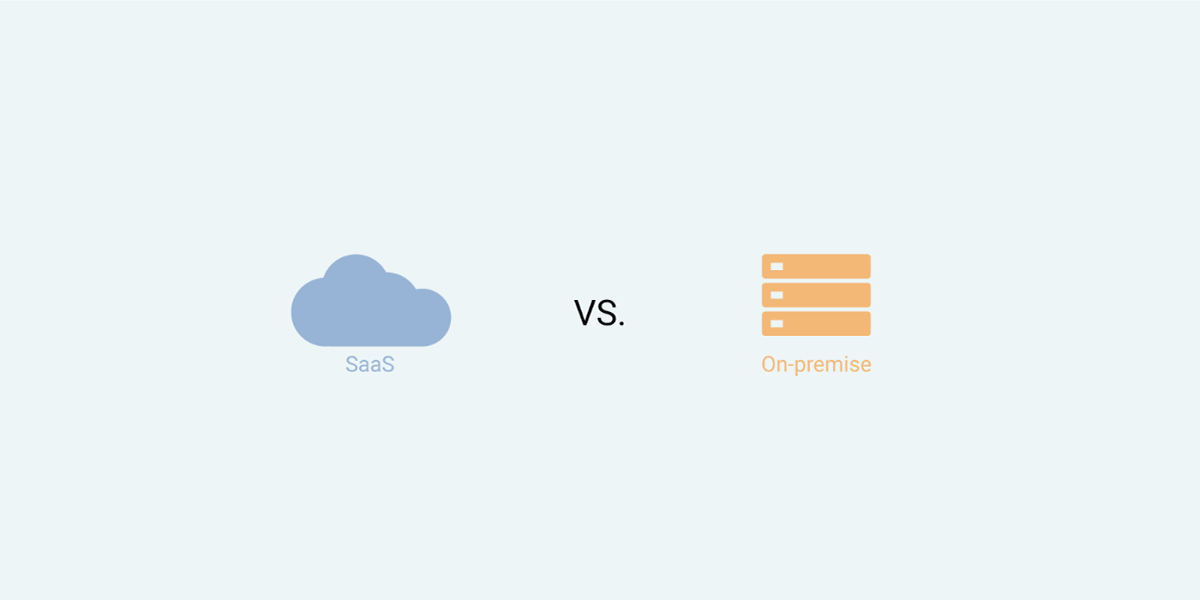 Pros:
You don't need to manage the infrastructure. SaaS is usually cloud-based, and it's up to the provider to pay for the hardware and software maintenance.
Quick configuration. You can minimize delays caused by regular software deploy by using SaaS which is pre-configured for you.
Easy to access. Just open your browser from anywhere in the world to access the dashboard online from any device.
Scalability and many subscription plans allow you to easily accommodate the solutions to your new business needs as it grows.
Cons:
Some disadvantages include lack of control as the software is mastered by a third party and you can't control updates and changes. As the software isn't hosted on your local hardware it may affect the performance. Also, you are dependent on the internet connection, as SaaS is web-delivered.
The types of price management solutions

(in terms of management requirements)
"Do it yourself" solution (here we use DIY in an uncommon meaning) requires your constant participation in decision making. It collects and integrated data, but all other actions are provided by you — applying the pricing rules, and implementing the repricing itself.
"We'll do it better" type of solution is actionable: it manages and automatically optimizes your pricing, sends alerts, analyzes the performance and predicts the best moves to make your business more profitable.
Mixed type, as the name implies, combines both types. Depending on how your business strategy is sophisticated and on the size of your business you may either make all decisions by yourself on the basis of data collected by software, either automatize decision-making in order to free up your time for strategic thinking and development.
Choose your software with this simple comparison template
Before choosing pricing software, make sure it fits all retail requirements. These requirements might change according to a retailer's stage of business and closest goals. Yet it's always easier to make stats-based choice instead of guess-oriented.
We've created this simple checklist to make this process easier:
Write software providers names
Check boxes with features
Sum quantity of 'checks' to calculate top score
hoose appropriate software
Example: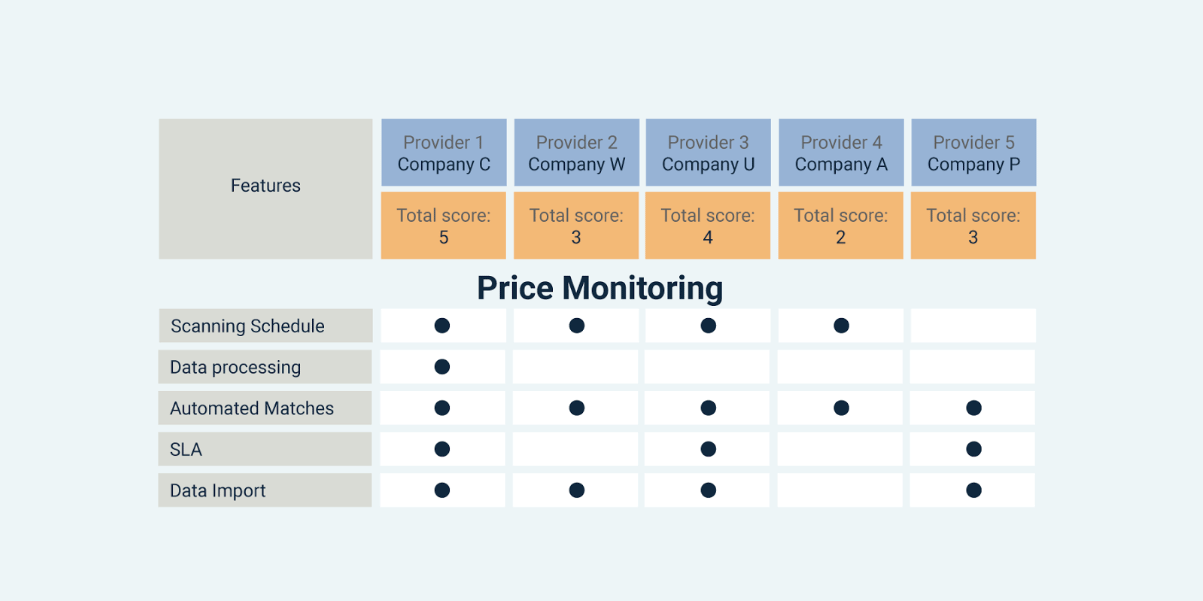 Where to choose price optimization software
Just as if you were choosing a new refrigerator, you might want to google your options and to check the public opinions on different pricing solutions.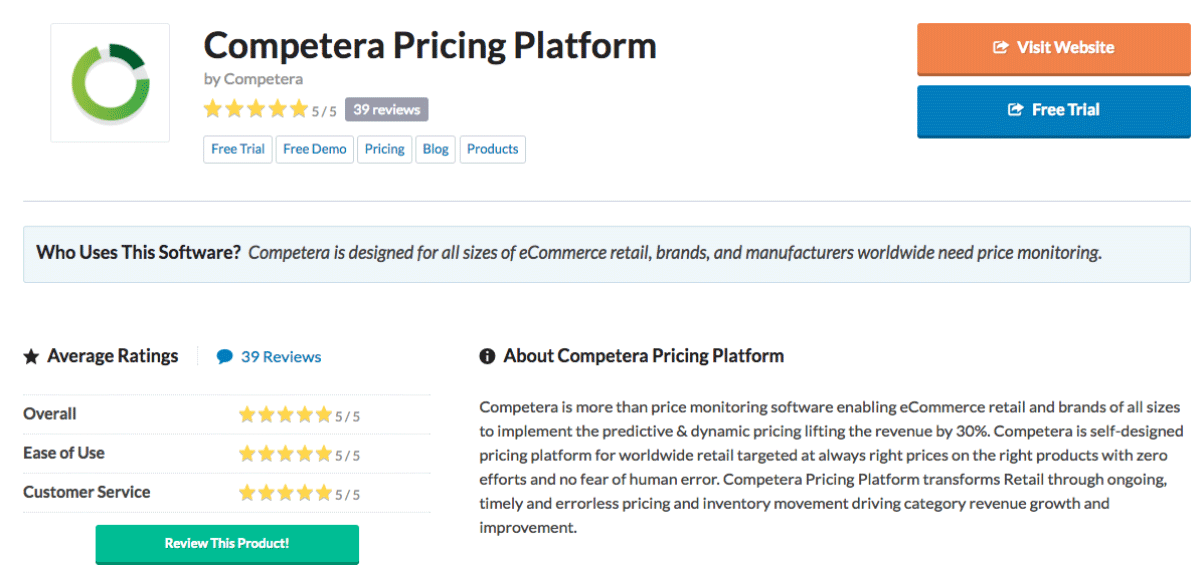 Check this out:
Listings for price software comparison, such as GetApp or G2 Crowd. Check the reviews, see the notes to make your own opinion. You will also see the advantages and disadvantages of every solution (great point: the disadvantages field is required, so the reviews are pretty objective).
Services such as Quora, where people like you ask questions on pricing solutions to make the right decisions: the answers will give you some keys on general impression that or that pricing software gives to potential customers.
The list of clients the contractor works with. Trust in those companies, especially in the known ones, is the best sign of high quality of the service.
The awards (if there are any) that the provider received for innovative approach or great new technology or any other achievement.
The page about company on the website: let the provider tell you more about him and about how the solution works!
Conclusion
To become a retail winner, you need to choose the price management solution which would fit not only your current business needs, but also the future ones.
First, you have to define what your business needs, at the current stage: simple price monitoring with high-quality data delivered at time; price management to align pricing with your business strategies; price optimization to masterly execute various pricing strategies and forecast the outcome of every move.
Choose the type of software and check the listings, awards, and company page of the contractor.
Fill in the checklist and when it's done, and the perfect price optimization tool is chosen — start a new path on your eCommerce journey.
Fulfill your current and future pricing needs with Competera
Request Demo