Any person familiar with the world of retail knows that the final price for any goods is affected by many different factors, starting from procurement conditions and finishing with the cost of rent (as is the case for traditional brick-and-mortar players). The factors influencing the final price of a product can be divided into four main factors: pricing, supply chain management, mix or assortment management, and marketing.
It's no surprise that currently, as innovations and technologies have penetrated almost all spheres of life and business, retailers have a choice of companies that can help optimize costs and set the best prices for the market. At Competera, we decided to bring retail startups together and make a visual showcasing the promising technologies that could help you to obtain the best price on the market. Without further ado, here is our list of companies whose objectives, although differing, indirectly impact the final prices of products.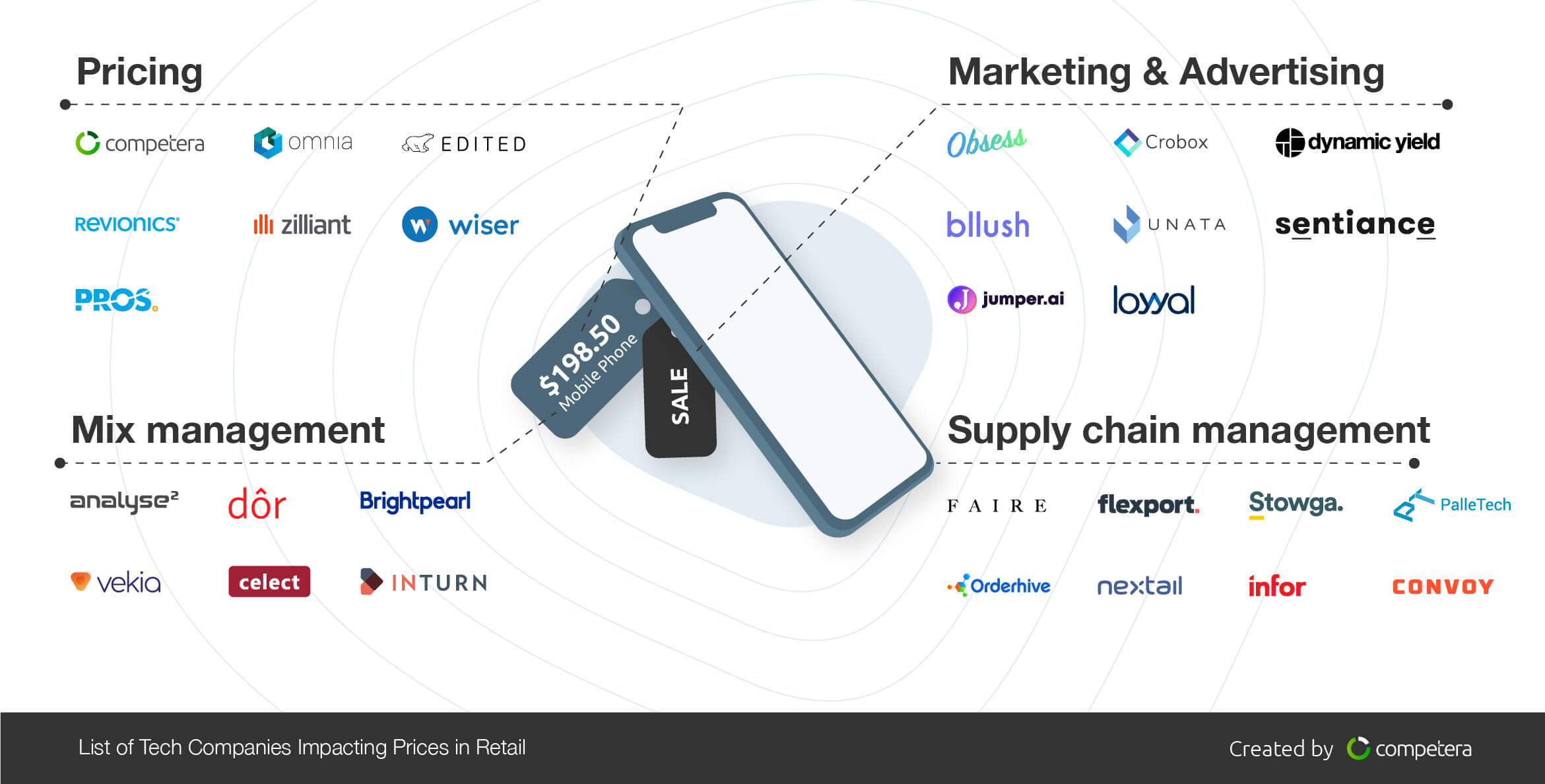 Pricing
The first category, pricing, features several companies specialized in market auditing software, price optimization software, and other pricing-related solutions.
Competera is a technology pioneer leading retailers of any business maturity to optimal pricing. Insights and analytics, competitive intelligence, and price optimization are the company's core capabilities. Revionics is another software vendor providing promotion, pricing, markdown, and space solutions since 2002.

Pros helps retailers to embrace AI making digital sales smarter. The core functional capabilities of Wiser cover MAP monitoring, pricing intelligence, and retail auditing. Zilliant offers end-to-end solutions in price management, deal management, and price intelligence while data tracking and dynamic pricing are the core capabilities of Omnia company. Finally, Edited is specialized in data collection and pricing recommendations for retailers working with apparel and fashion.
Supply chain management
Supply chain management tech influences the final price of goods via optimizing and automating payments and shipping as well as providing detailed analytics of these processes. Infor helps retailers to build complete supply chain suits in the cloud, merging user experience and big data. Faire can help you to find unique products and improve assortment management practices. Stowga offers an easy-to-use solution enabling retailers to find the best warehousing services in the UK.

If you are looking for a comprehensive supply chain solution, look at Orderhive: these guys cover the entire cycle from ordering products to shipping and inventory management operations. Flexport is another promising vendor helping retailers to improve supply chain transparency and optimize operational costs while Nextail specializes at AI-driven solutions improving decision-making in merchandising. If you look for high-quality carriers or shippers, Convoy company is definitely worth your attention. Check out PalleTech, if you're triggered by innovation just as we are. This company improves inventory management with what they call 'smart pallets'.
Mix and assortment management
Third, we have mix and assortment management companies, which create solutions to help retailers select the right products and prices to enhance the customer experience. In this list, we should separately highlight the full-fledged platforms that include multi-level solutions offering order management, assortment planning, retail accounting, inventory, and more. For example, A² is allowing retailers manage macro-level product mixes, create category assortment strategies, and plan item-level assortments accordingly. Or Brightpearl, who claims that have everything retailers need to streamline their back offices – from sales order management to POS solutions.
Celect builds on a fundamental advance in customer choice modeling using AI and Vekia, who specializes in optimizing client's inventory management and replenishment with the help of artificial intelligence. At the same time, Dor offers special devices which help count the client's foot traffic and collect metrics to understand how well stores of retailers are performing instantly. And Inturn, who position themselves as the first global off-price B2B marketplace, states that it's solution re-invents the way brands and retailers sell and buy excess inventory.
Marketing and advertising
Lastly, marketing and advertising help retailers expand and personalize their marketing strategy, optimizing promotional offers, advertising, and adding entirely new types of interaction with customers. For this section, we tried to select companies that solve problems in this area using new approaches or technologies. For example, Sentiance uses data science to study and change customer behavior; Jumper carries the so-called Conversational Commerce enabling automated conversational checkouts everywhere the customers are; Bllush helps to sell better with expert content created with the help of own community of experts and influencers; Obsess suggests a complete turnaround of buying experience using engaging online virtual stores.
There are also companies that use artificial intelligence technology. For example, Dynamic Yield delivers individualized experiences at every customer touchpoint, and Crobox technology uses AI to test thousands of combinations to serve the right message and design to each visitor. Loyyal leverages blockchain and smart contract technology to provide loyalty and rewards network infrastructure solutions. Finally, we have Unata, an end-to-end digital grocery platform designed to connect retailers and customers across all digital touchpoints.
The extent of which technology impacts the retail world is near-limitless, with a multitude of companies playing unique roles within it. That being said, we concluded these companies to be core influencers in their respective fields of retail tech.