12 Practical Retailer Tips for Selling More
2017-03-21
There is an entire blue ocean of content out there on how to sell more. It covers promotions, assortment management, pricing strategies, market intelligence, winning of the buy box, and using psychology pricing. We combined the best of tips within one single article. So pack yourself a lunch, grab a seat and read, apply, and check your growing KPI.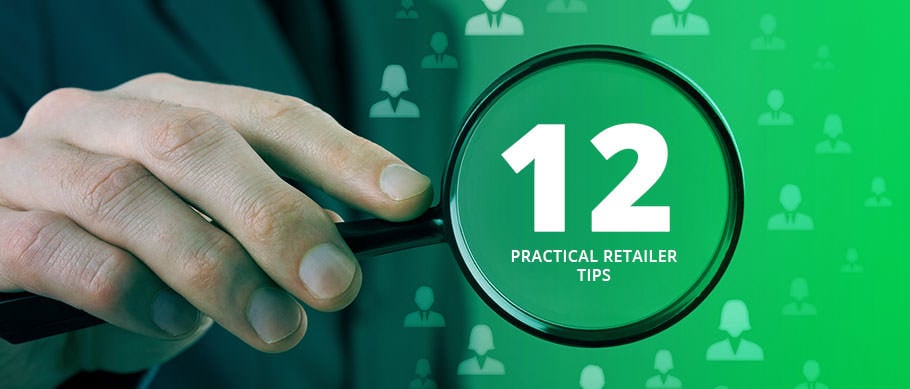 There are five global areas every retailer need to maintain: assortment management, pricing, competitor monitoring, marketing activities, and workflow optimization. Of course, there are more but these are the essential ones, and we've structured all tips accordingly.
Tips for Inventory Analysis
Tip 1: The Importance of Inventory Management
Inventory management is important. If you know the product groups that are driving your sales, or traffic, or engagement, or loyalty, you can manage your inventory wiser than ever before. There are several inventory analysis types you can rely upon for product assortment planning. You can always find more inventory management types, but those are most popular among retailers.
ABC-analysis use the Pareto rule to explore the importance of a particular product group when the whole inventory is split into three segments according to the sales indicators.
XYZ-analysis is also required in a grouping based on the item's demand through the particular period. X, Y, and Z segments describing the inventory demand and allows forecasting of sales for the retailer.
Longtail analysis is an inventory management approach that is built upon unique items that have a lower popularity but sell during the long term. They create a significant share of the total sales volume over time.
Tip 2: Start Small, Provide ABC-Inventory Analysis
Start with the simplest of assortment management types, ABC inventory analysis. A simple grouping rule applies here. It's based on a principle that you need to choose:
The most profitable products, 5% of inventory
The least profitable products, 15% of inventory
The "stuck in a stock" products, 80% of inventory
The best thing about ABC-analysis is its agility. The numbers above are not set in stone, and they are different for every retailer, every brand, and every category.
Tip 3: Use the Inventory Analysis to Outperform Your Rivals
When you have chosen the most relevant inventory groups for your business objectives, it's time to merge them with competitor monitoring. This will keep you abreast of your competitors' stocks. Check the appropriate chapter to learn more.
Tip 4: Smart Inventory Management
Hire a centralized inventory solution to manage all your product segments to avoid running out of stock or being overstocked. It can be done within your current retail ERP system or with the help of Competera Solution.
Smart inventory management solution not only helps control your stocks and forecast inventory needs, but also gives the ability to switch between different analysis models and choose suitable one for your business.

Just to make sure you're running efficiently, don't forget to provide a new KPI, inventory turnover.
Price Management
To remind you of just how important pricing is to retail success, we'll leave links to a PWC survey mentioning price as the main reason for 60% of customers choosing a retailer, and an Amazon numbers link of 2.5 mln repricings per day.
Tip 5: Create a pricing strategy using market intelligence
Determine your business objectives and build the pricing strategy upon them. By creating a retail pricing strategy, you can easily correct your prices, add pricing rules, and grow your KPIs according to your goals. There are many pricing strategies today, e.g. cost-based pricing, competitor-based pricing, discount-based pricing, rules-based pricing, and so on and so forth. We think one of the most efficient ones is an Agile PricingTM which combines benefits of all strategies mentioned earlier, and has only one disadvantage. Want to learn more? Get the free Agile PricingTM e-book.
The retail market has many players who offer similar products, so you will be competing on price. To act wisely, you need to monitor your competitor prices. Check tip number 7 for more details.
ценообразование, основанное на себестоимости;
конкурентное ценообразование;
дисконтное ценообразование;
ценообразование, основанное на правилах, и т.д.
Tip 6: Add Pricing Rules to Your Inventory
The next tip after pricing strategy creation and market analysis is to set the inventory prices and applying them to particular brands, categories, and products. There are two primary ways of doing so, manually and automatically. We are not going to talk about manual one, as long it's tough enough to manage hundreds and thousands of prices daily. Usually, ERP systems are providing such an option, but it's also possible to use a price management solution for accomplishing this task.
Competitor monitoring
Tip 7: Know Your Real Competitors
Real competitors are not always the rivals that first come to mind. More often, it's those companies affecting your key business performance indicators through their price changes, sales promotions, offerings, and other activities. To find out who your real competitors are, you need to monitor and align their key indicators to yours.
Tip 8: Consider Only Correct Sources for Monitoring
The prices a retailer uploads to marketplaces such as Amazon or Google Shopping are often different from those on retailers' websites. That's why it's essential to do competitive intelligence research from all sources, marketplaces and competitor' websites.
Tip 9: Choose the Right Competitor Monitoring Time
Last, but not least, about competitor monitoring topic is an actual time of price tracking and analysis. You can change your prices according to relevant market data, at an appropriate time, and win the game.
Marketing activities
Tip 10: Smart Marketing for Retail
There are two marketing approaches in the business world. The first is to depend on luck, 'we will try this and see what is going to happen.' The second relies on data, 'we know our competitors' prices, stocks, and marketing promotions so that we can build our marketing strategy upon this information.' Both approaches offer the retailer a chance to win the race, but the second one is more efficient and predictable.
And the smartest marketing approach for retail is a combination of three components:
Quality of transaction place, i.e. UX of the product card on the web storefront.
Efficiency of chosen acquisition channels, e.g. google search, marketplaces, etc.
Optimal prices for your products.
Yes, it's that simple: Prepare your website, choose the traffic channels, know your key competitors, and use actual data to create promotions and advertisements for different marketing campaigns.
Workflow Optimization
Tip 11: Category Manager Time Saving
This tip is all about choosing the right tool. When the category manager can save at least 60 minutes per day for repricing, you can quickly count the quantity of days he can save throughout the year. Choose your price intelligence and inventory management tool wisely.
Tip 12: Efficient Team Work
A pricing software dashboard can connect all of your teammates for price and inventory management, not unlike what Slack does with the communication. It can change the whole way you're doing your daily tasks and boost your team's productivity.
At the end of the day we're all asked the same question: have you been efficient or not. Moreover, those who applied at least 80% of the tips mentioned in this article answered 'Yes*.'
With all this said, please, don't hesitate to apply these tips.
* the information is based on a survey among 20% of Competera customers.