How long ago did your resellers see your suggested retail list price?
Are you sure they do not violate the recommended retail prices and do not adversely affect your brand positioning?
It is possible to make retail work more visible for your business and get full-length information about providing a minimum resale price policy with the help of network monitoring map.
Get immediate visibility of violations with MAP monitoring
What exactly is MAP monitoring and what is suggested retail price?
Minimum advertised price is an agreement between vendor and retailer about protected products, which cannot be advertised with a lower than stipulated price.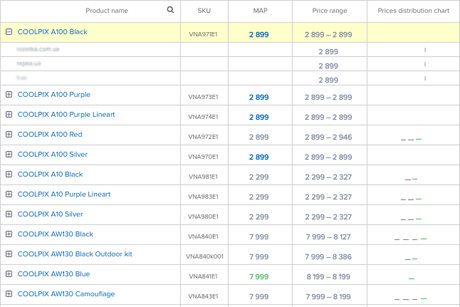 Does that mean that retailers would not sell the products with lower prices?
The truth is manufacturers suggested retail price makes retailers appreciably limited in the pricing of your brand products.
However, the habit of frequent promotions and sharing of stocks tempts retailer to get around map pricing, but, as a result, such a price policy inflicts harm on the customers' brand perception.
The leaders of the market usually monitor MAP and lend weight to their own suggested retail price to build brand authority and avoid similar problems with the next partners.
MAP price monitoring is an efficient tool to prevent heavy discounting, protect distributor margins, and quickly identify violations.
Receive timely information about actual retail prices and react quickly to violations is how vendors can keep control of product pricing.
MAP pricing
MAP policy monitoring is a tool which helps to identify the suggested selling price violators and quickly influence such a retail pricing policy.
Everyday access to the main information about the price policy of online stores, reports of MAP monitoring helps to control the brand's market position.