Retail strategies
Ever-increasing competition in the ecommerce makes a challenge to the managers of online stores to upgrade the content marketing activity in order to increase the conversion rate of the website.
To stay ahead of the game, retailers are searching for possible ways of conversion optimization of their ecommerce website, which determines the increasing of retail gross margin.
Competitor price monitoring
Retail analytics says that 8 out of 10 customers compare retail prices before making purchuase.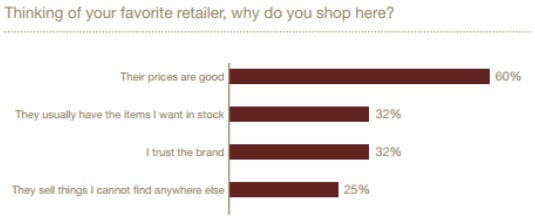 The conversion rate is highly affected by ecommerce pricing as one of the most important aspects of ecommerce conversion optimization.
The market leaders experience demonstrate that the retail best practices of the efficient conversion optimization are always based on competitor price monitoring.
Retail software
Best retail software has to include accurate, reliable competitive insights, therefore, it allows timely and instantly reacts to market fluctuations.
That is why managers of online stores typically try to find the solution in software.
Competera helps to produce integrated solutions for retailers who provide all data need to optimize ecommerce pricing.
Case study on conversion optimization

Competera has a case study on how to increase the conversion of email campaigns by using the competitors' prices.
An email campaign is one of the largest motivating factors of spontaneous purchases, preceded only by free delivery and promotional events.
The standard package of marketing practices is widely used among the retailers. But the question is: does this package implementation really bring an intended effect?
Managers of online stores have to remind the price is the most attractive factor for customers shoping decisions.
Boosting the conversion of email campaigns marketing expert should turn attention to the current information about the product market status and the competitors' prices as a reference.
Competera had fined 3 easy and efficient steps to the increasing of conversion by using market price data.
Get more information about the conversion optimization solution here.