Nikon Ukraine implemented a cost-efficient solution to set and enforce minimum advertised prices
2015-12-11

Challenge
Nikon Ukraine management team faced the task of improving profit margins by fighting parallel imports and enforcing the MAP policy more effectively. This was necessary to reassure partners that they remain in control of distribution channels and will continue to sell Nikon products profitably. To achieve this, Nikon Ukraine had to review its methods, reliant on manual price searches for almost 30 resellers offering more than 150 Nikon products. With sale volumes this large, it was a daunting task to stay on top of MAP violations and consistently enforce the pricing policy. Therefore, an automated solution was needed to help maintain a lasting "price neutrality" in the local market.
Results
50% less MAP violations and violators
Minimum administrative costs due to automation of the routine and time consuming tasks
Stronger position in dealing with unscrupulous resellers, supported by hard data
Average response time from the management team was reduced from two days to two hours
Solution
Competera provided Nikon Ukraine with a software solution, enabling effective MAP control with minimum involvement from the management. Considering the snowballing effect of MAP violations (when retailers quickly race to the bottom), a fast response time was required to promptly localize and rectify any price disparities. To meet this requirement, the price monitoring system was configured to capture the market data several times a day. When an irregular price drop is detected, Competera automatically notifies the party involved in the MAP violation.
Further action can be taken by the Nikon Ukraine management team, based on system logs and alerts. When the price is corrected, this event is also logged by the system and reported. As a result, valuable time can be spent on relationships with resellers, not on manual searches and sending out notices.
The following information can be conveniently accessed via the Competera Dashboard:
Daily violations rankings
Top violators
Pricing irregularities log
Market overview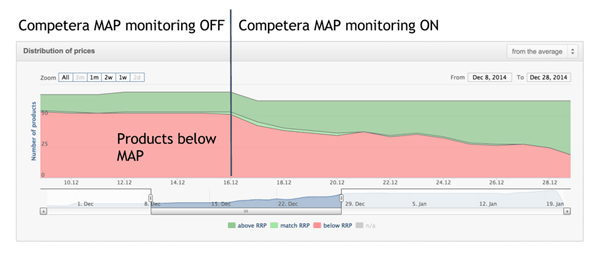 Before the Competera price intelligence solution was implemented, more than 40% of retail prices (including those from unauthorized resellers) of 50 Nikon products were falling below acceptable levels. Automation helped cut those numbers in half. As Yuriy Govorun, head of Nikon Ukraine, testifies, "This used to be such a time consuming task to set and maintain retail prices at an optimal level. Competera price intelligence suite gives us a clear view on the market and allows us to promptly intervene, dedicating just 5-10 minutes a day to the problem"