Optimal prices
for every product.
Every day.
Competera is an AI-powered platform helping retailers to set optimal prices. Dominate your market with the cutting-edge Machine Learning technology combined with the best econometric practices.
Address the most complex pricing challenges
In the times of the "new normal" price becomes one of the most important parts of efficient communication between the retailer and the consumer. 60% of your customers choose products based on their price.
Competera helps to prevent losses in profits by switching businesses from outdated pricing approaches. Focus on the whole portfolio instead of separate SKUs.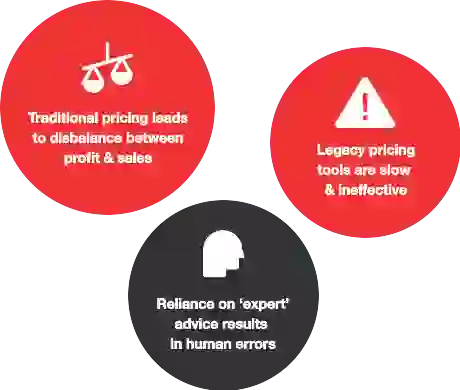 Success is a journey. Let's complete it together
Competera is an industry-agnostic solution suitable for online, offline, omnichannel, mono- or multi brand retailers. We help your team get optimal prices for each product across all selling channels by using a unique combination of pricing tools.
Cost-plus
Margin-centric
Ad hoc repricing
Human-driven decision
Market-driven
Competitor-centric pricing triggered by market changes
Regular repricing
Constant manual check
Data dependence
Rule-based
Based on rules and business constraints
Automated real-time repricing
Human-supervised
Market-share focused
Elasticity-based
Mix of rules & demand-based pricing
Goal-oriented repricing
Manager as a strategist
Portfolio coverage
Personalized
Shopper-centric pricing
Individual offers based on LTV
Balance between customer demand and business goal
Competera Pricing Platform
A unified workplace with an easy-to-use interface
Competitive Data
High-quality, timely product matches and data scraping covering any region, currency, or language in a single dashboard – designed for retailers with tens of thousands of products. Details
Pricing Automation
Coherent, fast and flexible pricing with defined workflows and a transparent cause & effect analysis of every price change. Details
Price Optimization
Elasticity-based price setting driven by demand patterns, products cross-impact and more than 20 pricing and non-pricing factors. Details
Competera Case Study
We believe that modern machine learning technology could empower humans with better decisions
Discover the ART of pricing
AI-driven
Competera adapts the latest AI, machine learning and deep learning algorithms to the needs of retailers, helping them switch to fact-based pricing. It brings a shopper-centric experience with prices and a balance of margin and turnover.
Rapid
High speed equals getting to profits quicker. It takes from 2 weeks to fully deploy a customized Competera platform that fulfills client needs. Compared to other types of solutions, our
time-to-value is outstanding.
Tech Made Simple
Competera allows each pricing team to play by their own rules and choose different pricing solutions and modules for specific tasks. Your team members will do so with ease and convenience – in one dashboard.